Press Release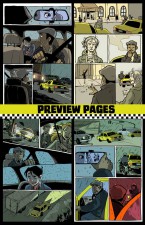 Cyrus Perkins and the Haunted Taxi Cab is a four issue supernatural crime noir comic series. When a young boy named Michael dies from a gunshot wound in his taxi cab, Cyrus Perkins is thrust to the role of unlikely hero as Michael's spirit is trapped in his cab. Cyrus must solve his murder, and give him the peace to pass into the afterlife.
Described as part murder mystery and part buddy cop story, Dave's inspiration for the series comes from an..unusual source.
"Last year, amid several health issues, I misdiagnosed myself with food poisoning. Days later I was being rushed to the hospital in a taxi cab as my body was shutting down. In between bouts of unconsciousness I muttered, "If I die in this cab I'm haunting it." to the cabbie. This was the inspiration for Cyrus Perkins." Dave states on his Kickstarter page.
Dave Dwonch has been a comics writer and artist producing indie titles for over a decade. In 2010 he founded Action Lab Entertainment with fellow indie mavericks and as Creative Director for Action Lab helped produce several of their titles including the Eisner nominated series Princeless. Recently he penned several titles, most notably Vamplets (with Gayle "My Little Pony" Middleton), Ghost Town, and CBR's Top 100 of 2013 series Double Jumpers.
Joining Dave as artist is Anna Lencioni.  A graduate of the Savannah College of Art and Design,  Anna has been working as a sequential artist on such titles as NFL Rush Zone and Miss America. Cyrus Perkins is her first long form project.
"Cyrus Perkins and the Haunted Taxi Cab is a 100% creator-owned project, and truly a labor of love. With your help, Anna and I are hoping to cover the production cost of the first issue of the comic. This series is a huge undertaking, and your donations will allow us to take time out of our schedules to produce the fully colored artwork and limited edition Kickstarter Edition of Cyrus Perkins #1."
Cyrus Perkins and the Haunted Taxi Cab is now on Kickstarter.com