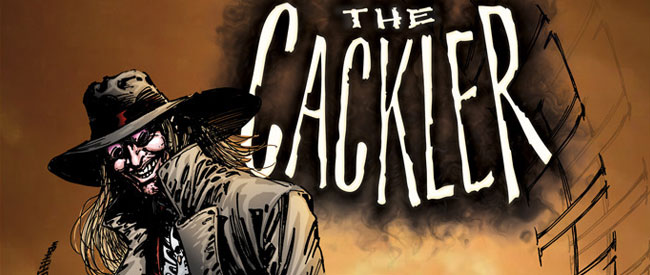 Currently in the closing days of its Kickstarter campaign, Deadlands: The Cackler is a horror-western written by Deadlands creator Shane Hensley and drawn by veteran artist Bart Sears.
In this edition of Inside Look, Broken Frontier's director's commentary-like feature, Hensley and Sears take you behind the scenes of the latest volume of the hit series from Visionary, Image and IDW.
Pages 2-3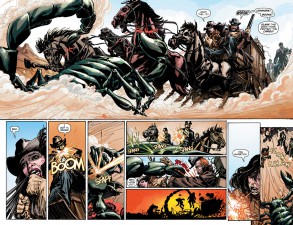 Shane Hensley: The Cackler has been pounding on the walls of my skull since 1996. The Spawn animated show was coming to HBO (or maybe already out) and we really thought that format fit our new property, a Weird Western called Deadlands.
There was never any question what the story would be. It leapt into my head fully-formed and ready to be told the minute we decided to go for it. A mysterious figure called the Cackler would abduct a young girl, Rachel, from her father, a gunslinger returned from the grave itself to save his little girl. The undead hero—we call them "Harrowed"—would chase Rachel and the Cackler about the Weird West, visiting all its amazing locations like the Great Maze or the City o' Gloom. Each season, he'd get a little closer—coming to grips with his undead powers and defeating the Cackler's lieutenants until he finally had the showdown with the grinning goon himself.
Then we'd reveal exactly who the Cackler would be. It's a big deal. You know him already, even if you haven't played the game. At least a little. Some will be surprised, some will have figured it out, but we hope everyone will love the mystery when it's finally revealed in the last few pages.
As the years rolled by, our partnership with Visionary Comics finally allowed the story to be told in the glorious color of a graphic novel. I wrote the script, C. Edward Sellner and Matt Cutter edited it and made it much better, and then the incredible Bart Sears sat down and told the tale.
The story changed a little with the format change. The Cackler hadn't found Rachel yet, but was chasing her instead. At least at first. The opening scene now featured a group of selfless Texas Rangers leading the Cackler deep into the deserts of Arizona on a wild goose chase. The story started in media res, as they say. It allowed us to see the true evil of the Cackler, the heroism of those out to stop him, show off the beautiful colors of the Southwest, and even conjure up a giant critter to prove this isn't any ordinary Western. Most importantly, the hero changed from our undead gunslinger to Rachel's sister, whose arcane background fits the girls' twisted family tree perfectly.
There was the setup. The script was written. Edits were made. Bart Sears came on board. When I got Bart's first page, I knew we had the right guy. When I got this page—with the giant scorpion and the fantastic action you see here—I wanted to read it as if I hadn't actually written it. Bart is a true partner. He works with the writer to make the result far more than the sum of our collective parts. I'll be honest. It's magic.
Bart Sears: Horses… horses are tough to draw. Many, many, many years ago, when I was but a wee lad and attending the Joe Kubert School, the great Jose Delbo was teaching us to draw horses, and he would look at my or someone's drawing and proclaim, "No, no, no, that looks like a dog! No dog, draw a horse!" To this day I still cringe inside – a little bit – every time I attempt to draw a horse, Jose's voice ringing in my ears, desperately hoping I produce a competent horse and not a horse-ish dog.
More than nervous and excited to be working in the Deadlands world again… role-playing games have always been a favorite of mine; I remember Deadlands when it first came out and love the mix of the western genre with sword and sorcery. Shane delivered big-time with the Cackler, the story rockets along depicting the weird and weirder west, I just hope I do it justice.
A giant scorpion attacking a stagecoach? Crazy stuff, but a blast. Setting the scene, setting up the characters so you feel you almost know them, and whipping right into high-energy action—Shane sets a high bar for an artist… and he also allows you the freedom to bring your vision to the story. I think the end result, especially lettered and beautifully painted, shows what a powerful, inspired team effort this project is.
Page 4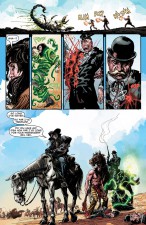 Hensley: The action in the top half of the page is great and speaks for itself. What really draws me in is the perfect positioning of the Cackler and his cruel posse. I didn't describe these exact poses, but if I had, I hope it would have been just like this. Stone Crow—the Indian—slouches, ready for the next atrocity. Mr. Collins sits erect in his saddle, having just killed a Ranger with a single pinpoint shot to the badge. And oh…creepy, evil, mysterious Tlachtga lurks almost hidden by her dark magic. I can't wait for readers to see what she can do.
But look at the Cackler and his horse. Soak in the tilt of his head and that leering smile. The lazy way he sits the saddle. The forlorn look that poor, tainted nag gives the viewer.
Bart's composition and attention to the body language tells so much more than my meager words.
Sears: Blasting the scorpion to smithereens had to be a long shot and super-clear… there can be no question that's the end of the scorpion, because our three survivors are immediately dispatched(or almost dispatched) by our titular villain and his dastardly crew.
With creating characters we always hear about the silhouette (the concept that a character should be easily recognizable amongst other characters even if all we can see is his/her/its silhouette) and TAGS, specific details that quickly identify a character (such as Superman's 'S' curl) and while those are both terribly important, I've always felt that body language is equally important. How does a character stand, or walk, or throw a punch, or in this case, how does the Cackler sit on a horse? Shane's writing gave me such a clear picture of the Cackler, I was seeing his crazy head tilt and almost lazy, but strangely controlled posture from the very start… made it easy.
Page 8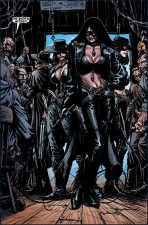 Shane Hensley: One of the many spinoffs of the Deadlands property is a miniatures game called "The Great Rail Wars." One of the factions is the Black River Railroad, run by a vicious and beautiful sorceress named Mina Devlin.Her number one lieutenants are the Wichita Witches. It was such an obvious name we just had to make them part of the Weird West.
One of the things I'm most proud of with Deadlands is our inclusion of women and minorities as heroes. We tend to dress most folks as makes sense too, even our heroines. But if there's ever any "cheesecake" in the Deadlands universe, it's the Wichita Witches. They're bad girls. Very bad girls. And yes, they wear leather and crack whips. It's perhaps a bit overused in games and comics, but it just fits this particular group perfectly.
The leader of the Wichita Witches is Violet Esperanza. I've been seeing her in my head for 20 years. Once again, Bart nailed it. She looks even better and badder than I could have hoped for. And she has such a great part to play in the story.
Sears: The bar scene: every great role-playing experience I've had has started with a great bar scene, and I was thrilled we had one here; creepy, desperate characters, shadowed corners, mystery and intrigue, we've got it all.
There's a lot to think about when laying out a page where you have to establish a new setting, and have lots of important conversation, and introduce new characters, as well as make it interesting and exciting. On page 8 we had to establish the Monkeywrench Bar, introduce 4 new characters, and set up the bit characters and action happening on the following few pages—and make sure we had room for all the information/dialogue that the story required. Makes me sweat right now thinking about it. I think we pulled it off.
Page 11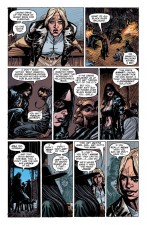 Hensley: This was a fun scene to write. It includes some exposition that sets up the various  back stories, but I hope in a way that feels natural and exciting rather than forced. Bart certainly did a great job massaging my pacing along each panel.
The other part that really makes me happy here is seeing 600 LB Sally get her due. Sally isn't 600 lbs—that's how much her gyrocopter lifts. She's a delivery agent for the Smith & Robards scientific company. I wrote a setting book with Sally as the narrator years ago and seeing her play a cool and important part in The Cackler really feels like visiting an old friend. I also like Sally because she's not gorgeous, slim, or dressed in leather like Violet or the heroine, Morgan Lash. She's an average-looking, middle-aged woman who does the right thing even when it's hard…or in this case, extremely dangerous.
Sears: I like how in the scheme of this story and calling on the wealth of Deadlands material the witches savagery and violence can happen in the background, barely shown… it's subtle, but I find that very interesting. No wonder they are feared and hated.
Shane called for another subtlety, how Morgan's face is reflected in the mirror, originally completely fragmented, but as Sally talks, Morgan's face is seen more whole, symbolic of the internal struggle she's having and the decision she makes. Very cool stuff.
If you enjoyed this little peek behind the scenes, download the first half of issue 1 FREE to preview then go and join the Deadlands: The Cackler Kickstarter campaign before it ends at high noon (est) March 5th.