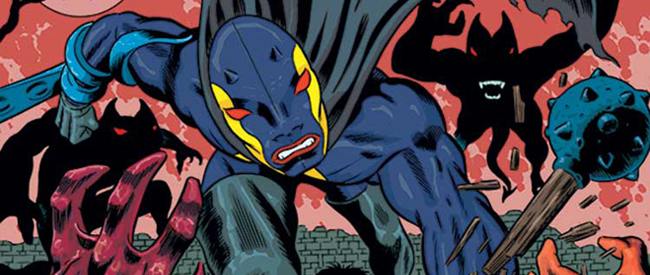 When Nightworld #1 makes its debut this week, the new miniseries blending the occult, superheroes and gothic romance is bound to be one of the most unique looking comics on the shelf. It's only fitting then, that the story behind how the series came to be is also quite unusual.
It began when Italian artist Paolo Leandri sent in some of his sample pages to the Kirby Collector magazine as an example of a modern artist working in a Kirby-style. Adam McGovern was a contributor to the magazine at the time and something about Paolo's pages resonated with him, not just the style, but the concept itself. As Adam put it, "The moody story and gothic atmosphere and tragic character dynamic started to haunt me,"
Adam offered to translate the story should Paolo wish to publish it in the U.S., but since he didn't actually have a full script, Adam came aboard as writer. He began fleshing out the concept and characters more fully and it wasn't long until Paolo realized he needed to redo his original pages in order to have them match their collaborative efforts.
In this exclusive Inside Look, the creative team of Nightworld takes us back in time to Paolo's original pages and share with us their team effort in turning them into the finished version used in their new series published by Image Comics.
We'll begin with Paolo's explanation of how he come up with the concept:
PAOLO LEANDRI: I was trying to think of something popular enough to attract first publishers and then readers; horror and superheroes are always on-trend so I made a blend of the two elements; hardly an original idea, but we have tried to enrich it with some theatrical eccentricities. At the beginning in my mind it was more like a kid-oriented book; Adam added some depth and made it come of age — a good example will be the final episode of the first mini, which in my plot would have been an all-action final battle but Adam completely rewrote as a revelation about the background of the characters.
ADAM MCGOVERN: Pace was a concern in the entire evolution of Nightworld; Paolo had done a version on his own two years before we started, and you can see how the stirring of the scene varies between that early version and the one that will soon be published.  The elements were much more compressed in Paolo's original. In just two pages we see the approach to the undying lovers' haunted home, the tortured sleep of Plenilunio, the first drifting of Lidia, and Plenilunio's nightly rise. In the final version, after the slow, approaching scene in Page 1, we open out into Plenilunio's troubled bedchamber, followed by Lidia taking the stage for a whole page, and then Plenilunio standing revealed:
That last page demonstrates the partnership of picture and word as the first page did — the page I'm most pleased with for my own writing in the issue, is the one with exactly two words. The tortured space between identity and action — "I. Rise." — the suspended pace that gives the words an eternity of waiting but also an inexorable weight. If you hear a spooky off-key organ chord when Paolo's image appears and Plenilunio's spirit rises, we've done our job.
One page later we see one of the many layers I always get from looking again at Paolo's art, no matter how many times I have before — in the first version, we see Plenilunio striding out into the night, in a chilling but merely decrepit scene of a decomposing castle room. In the published version, the way he is positioned seems to cut in two a heart-shape implied by the arcs of the windows, or make him seem to stand before the judgment of these tablet-shaped spaces, like commandments he is breaking; projections of his unnatural state and his sad severed emotional link with Lidia.
Between when this process happened and when Paolo produced the actual pencils, an entire new character had been added: the hell-raising Hotspot. From Paolo's first sketch I could tell we had a wiseass Robin figure to Plenilunio's literal bat-man; here is that sketch, when our boy was still perhaps unwieldily called "Demoon":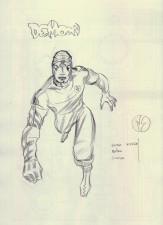 I suggested "Hotspot," and it's funny to go back and read my rationale: "an American term that can refer to areas of social trouble, centers of intense nightlife or points of sexual arousal, which all go well with the character's devilish edge, hip-hop fashion-sense and adolescent fervor" — of course in the Wi-Fi era that has emerged in the nine years since we started working on Nightworld, "hotspot" has another meaning on everyone's mind. The character is introduced in issue 1 and we learn a lot more about him in Issue 2. Here's a preview of the next issue showing Paolo's original pencils followed by the finished inked and colored page.
###
If you want to see more of Nightworld #2, you won't have to wait long. It comes out in September as the four-issue miniseries is already finished and will ship monthly from August through November. As Adam put it, "It's not wise to keep the devil waiting!"
For more on Nightworld visit the Image Comics site here.