It's a sad reality that some artistic endeavours are as relevant today as they were when they were created decades ago, however much we'd prefer that not to be the case. Coming in November from
Dark Horse Comics
and Berger Books,
Death Strikes: The Emperor of Atlantis
is a fascinating project from Dave Maass and Patrick Lay with an incredible history to it. Check out the press release below for more details.
Berger Books and Dark Horse Comics Present DEATH STRIKES: THE EMPEROR OF ATLANTIS
A Timely Graphic Novel by Journalist Dave Maass and Artist Patrick Lay 
Based on a Suppressed Opera Written by Two Concentration Camp Prisoners
An Unforgettable, Genre-Blending Satirical Tour de Force 
Mixing Dystopia, Sci-fi, Mythic Fantasy, and Zombie Horror 
Includes Designs From the Original Opera, A Historical Essay, Photographs, and More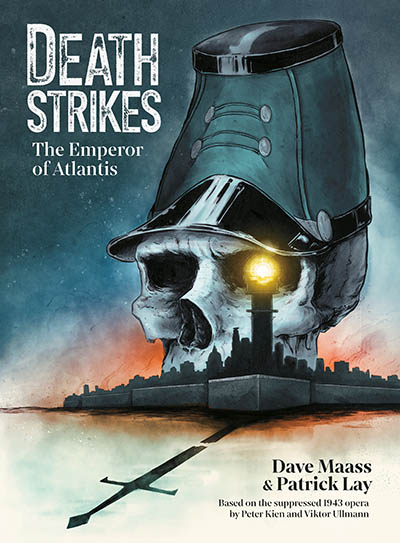 DEATH STRIKES: THE EMPEROR OF ATLANTIS is a timely and timeless original graphic novel by EFF journalist Dave Maass and artist Patrick Lay, based on a suppressed opera written by two concentration camp prisoners. In 1943 Peter Kien and Viktor Ullmann, two prisoners at Hitler's Terezín concentration camp in Czechoslovakia, created a gripping one-act opera. They did not live to see their masterpiece performed. This fall, Berger Books and Dark Horse Comics are proud to present their story in a form that the two authors never imagined: as a riveting graphic novel that combines dystopian sci-fi, mythic fantasy, and zombie horror to create a one-of-a-kind reading experience.
DEATH STRIKES: THE EMPEROR OF ATLANTIS is written by Electronic Frontier Foundation Director of Investigations Dave Maass and illustrated by Patrick Lay, and features character designs by Ezra Rose and lettering by Richard Bruning. The graphic novel's extensive back section will include a historical essay on the opera's creators, the horrific circumstances in which it was created, and the unlikely path of the composition's survival. The book also includes Kien's artwork, photographs, and more.
"Written in a concentration camp, Peter Kien and Viktor Ullmann's opera is the truest form of artistic resistance, a middle finger to the Nazis and all authoritarians across history," said writer Dave Maass. "By adapting this fierce, genre-blending satire, we hope to introduce this nearly lost masterpiece to new audiences–and to challenge the tyrants of today."
"We've incorporated Peter Kien's own incredible artwork, excellent character designs by Ezra Rose and the architecture of Terezín and Prague to craft visuals draped in passing shadows, smoke and vapor," said artist Patrick Lay. "From the book's 'Realm of the Unreal' to the streets of Atlantis, the history of resistance against oppression and censorship is ingrained in the world."
In DEATH STRIKES: THE EMPEROR OF ATLANTIS, it is everyone against everyone. The book — like the opera, Der Kaiser von Atlantis, that inspired it — presents a world where Atlantis never sank, but instead became a technologically advanced tyranny, one where a power-mad buffoonish Emperor declares all-out war. Death goes on a labor strike, creating a hellscape where everyone fights, but no one dies. Can the spirit of Life stop this terror with the power of love?
"With the frightening rise of anti-Semitism, book-banning and political condemnation of the 'other', Dave and Patrick's powerful adaptation of this dark and dramatic satire about the ravages of war and fascism feels as relevant today as when it was created 80 years ago," said editor Karen Berger. "It's a remarkable story that, despite or possibly because of the tragic circumstances in which it was created, is underscored with hope and humanity."