One for the ailurophiles out there today as Dark Horse Comics have announced a first translated volume of Frédéric Brrémaud Paola Antista's French album series in Cats! Purrfect Strangers. More details and a cover reveal in the press release below.
From French Publisher Paquet, 'Cats! Purrfect Strangers' Launches September 2021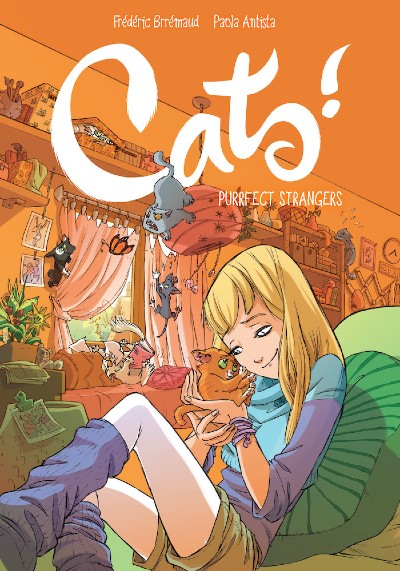 From author Frédéric Brrémaud (Love, Little Tails) and artist Paola Antista (Disney Frozen, Sorceline) and translator Annie Gullion comes an all-ages humorous collection of all the joys of being a cat owner. Published for the first time in English, this volume collects three of the original six French albums.
Best friends Manon, Erika, and Camille see adventure every day, but when all three become cat owners, everything changes—for better or for worse! One cat's mischief gets him into trouble when he decides to play chase with the wrong prey. Another surprises the girls with his new skill—mimicking scary movies! And just when the girls decide to wind down for a calm and relaxing night, the cats declare playtime! Grow up with these quirky cats and share in all the excitement, frustration, and fun that comes with raising a cat.
Cats! Purrfect Strangers arrives in comic shops September 29, 2021, and bookstores October 12, 2021. Pre-order now through Amazon, Barnes and Noble, and your local comic shop for $14.99.