The clash between Godfolk and Demonfolk rages hard in the trade paperback collection of Best Jackett Press's ComiXology Original We Have Demons from Dark Horse Comics.
Back in March of this year, I reviewed issue #1 of this promising new horror series by Scott Snyder and Greg Capullo, which blends horror, faith, and superheroes. "Like the Saturday morning cartoons we grew up on," writes series creator and writer Scott Snyder in the rough outline for We Have Demons included at the back of this volume, "…but very R-rated." And R-rated is an understatement. From foul-mouthed demons that would make Spawn's Violator tremble with intrepidation to depictions of demons that make medieval depictions of the Black Plague pale in comparison, this first book of We Have Demons takes us on a journey through the history of the universe through two opposite sides and perspectives of the ages-old battle between good and evil.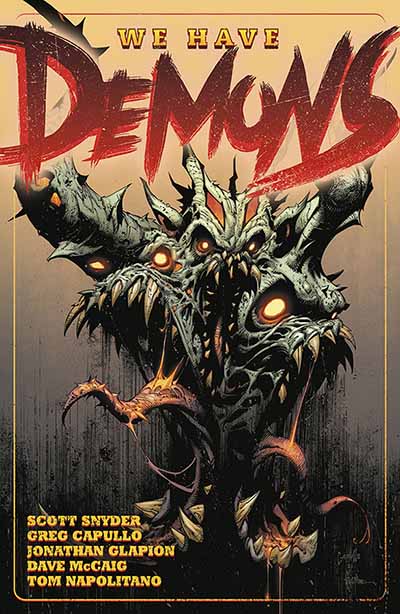 The overarching story tells the tale of a young girl named Lam who inherits a legacy of hunting demons from her late father. In this world, there's Halo, represented by Lam and a group of other faith-based heroes called The Glories wielding weapons forged from pure halo, and Horn, nasty demonic beings that seek to corrupt the world. The legions of horn are winning, unless the remaining Glories can get more halo to forge more weapons to fight off those hordes of demons from Hell. But halo is about faith, and Lam and her partner Gus, a demon himself, must learn just how far a little faith can go, even in a world en route to a hellish downfall.
I was excited to be able to give a review to this entire first volume of We Have Demons, comprising issues #1 through #3. When I read the first issue, I was enthralled by the story, the artwork, and the terror that I felt at reading every page. However, while the first issue delivered a knock-out horror story from the start, the story seems to have evolved into a sort of paranormal superhero tale that, if I'm being honest, took me out of the terrifying world it had initially created, which I felt was solidly grounded in the real world.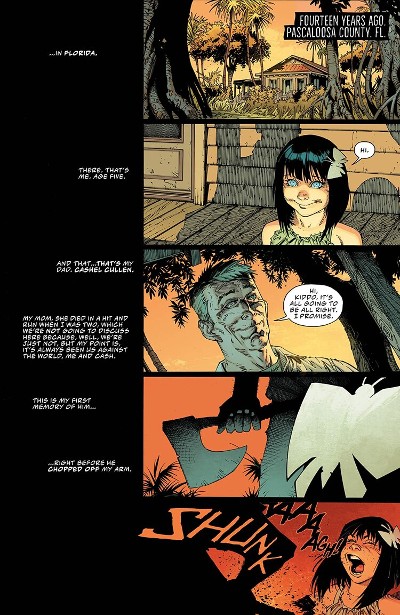 Now, I've been a long-time reader of Snyder's stories––obviously his unparalleled work with Capullo on Batman is top shelf storytelling, but I've also come to appreciate his knack for the horror and thriller genres in comics series and graphic novels like Swamp Thing, Wytches, and even Severed, which he co-wrote with Scott Tuft. (Snyder has also fallen flat for me, too––feel free to read my Broken Frontier review of Nocterra #1.) And again, the first issue of We Have Demons set up a story of good versus evil, of Halo versus Horn. The shift in genres, however, read to me as quite arbitrary, and for me, the superhero aspect of The Glories doesn't really connect well with the premise of the book. Our celestially-inclined superheroes, for instance, wear spandex-style uniforms brandishing a giant halo on their chests, and it's mentioned that the suits are "woven with silver to help with halo conduction." I personally would have preferred The Glories be more akin to the Vassals of the Morning Star, the secret organization that hunts and kills vampires in Snyder's own American Vampire, plainclothes men and women who stay out of the limelight (and oftentimes the sunlight) to better blend into their surroundings and thus keep the elements of horror and suspense intact.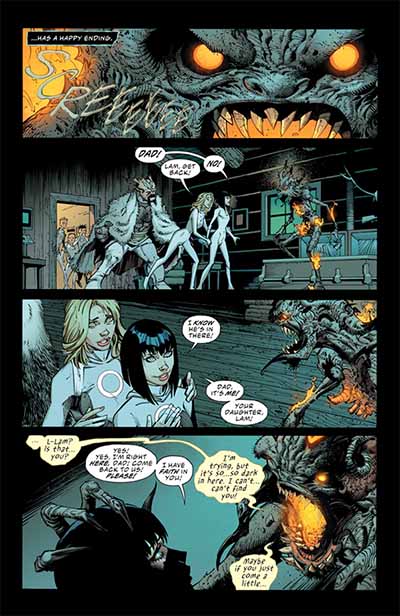 All that said, however, and putting aside my own dislike for this particular mixing of the genres of horror and superheroes, the storyline itself is both a horrifying tale of the F.O.M. (fall of man) as Lam points out a few times through the graphic novel, and a touching parable of faith and its importance in not only this world of God and Demonfolk, but also in our own world of everyday human beings doing ordinary things, yet still believing that the extraordinary is not only possible, but belief in it absolutely plausible.
As with many other collaborations between Snyder and the top illustrators, colorists, and letterers in the comics industry, the artwork throughout this entire first volume is nothing short of stellar. Capullo's pencils, paired up with Jonathan Glapion's inks and Dave McCaig's vibrant colors, give the graphic novel that old cartoon feel to it. And Tom Napolitano's letters, particularly the lettering of the Demonfolk, enhances the sense of tension and terror each time one of these hellish creatures opens its pottymouth to spew bile, blasphemy, and F-bombs all over the page.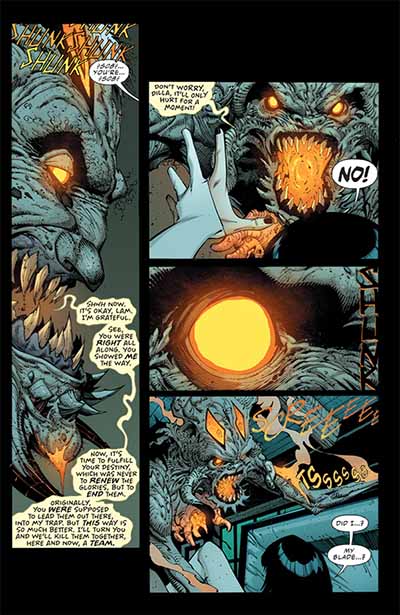 Aside from some confusing "chapter breaks" (each issue consists of about three "chapters," but each issue of We Have Demons in this collected volume is labeled a "chapter," as well––so, in issue #2, which is labeled as "Chapter 2" of the graphic novel, we begin at "Chapter Four: Tough Mothers" of the overall story, so it's a bit confusing) and the fusion of horror and superhero melodrama, We Have Demons is definitely a worthwhile read. And the book also includes a ton of extras, like Snyder's original rough outline and script for issue #3; an impressive "Art Process" gallery by Capullo, Glapion, and McCaig; logo process and cover gallery, which gets into the evolution of the story and characters and gives us a peek into the process of putting together this story. One that reaffirms the faith we have in comics to go places that other mediums simply can't and to dare to try new things, to believe that anything is possible.
Scott Snyder (W), Greg Capullo & Jonathan Glapion (A), Dave McCaig (C), Tom Napolitano (L) • Dark Horse Comics/ComiXology Originals/Best Jackett Press
Review by John T. Trigonis