Press Release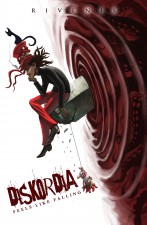 The fundraising campaign for Diskordia: Feels like falling is live on Indiegogo. Funds will go toward printing a run of deluxe Hardcovers collecting volume 1; the first 9 issues of the series that were initially published on the creator Rivenis' blog http://diskordiacomic.blogspot.com/ and later on Comixology.
'Everything you think you know about the world is at worst a lie and at best simply a pale facet of a truth so terrifying and overwhelming that madness is preferable.'
Diskordia is a surreal dark fantasy comic that explores themes such as the nature of reality, consciousness and self-determination. It does so with equal doses of hilarity and mind numbing horror
The main story follows Jackal Black, a cynical and sarcastic young man as he is yanked from his dull life into the bizarre dreamtime; a transit hub between dimensions. He will travel through these strange and varied realms encountering curiously odd creatures and terrifying foes while discovering the true horrific and baffling nature of the world he thought he knew.
The comic is a very personal work of creator Rivenis who has been working on the series since 2009. It is his attempt to interpret the human condition and force us to question our reality as conscious beings.
The saga has developed a small cult following due to its unapologetic nature, unique visuals and rampant unpredictability. It has been compared to other works in this vein such as Neil Gaiman's Sandman, the work of H.P Lovecraft, Lewis Caroll's Alice in Wonderland and most recently Pendleton Ward's Adventure time cartoon series.
The hardcover will be 330 pages with standard comic dimensions and sewn binding. The campaign is seeking to raise funds to cover the cost of printing a run of between 500 and 1500 copies as well as shipping.
Campaign link: http://igg.me/at/Diskordia/x/6161108
Facebook page: https://www.facebook.com/diskordiacomic
Comixology link: http://www.comixology.com/Diskordia/comics-series/10575
Creator's Website: http://rivenis.net/