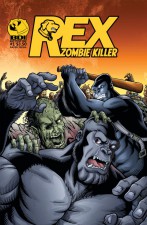 This Halloween, three dogs, a cat, and a gorilla with a baseball bat continue their battle against the walking dead in the new four-issue miniseries REX, ZOMBIE KILLER from publisher Big Dog Ink.
And if the zombies weren't bad enough, Rex and his pack are now also being pursued by an aggressive group of primates from a zoo!
"It's going to be dogs versus apes versus zombies in the first issue…and then things are going to get REALLY crazy from there," said writer Rob Anderson.
REX, ZOMBIE KILLER tells the story of a hyper-intelligent Golden Retriever named Rex, a sign language-speaking gorilla, and a small pack of animals making a perilous cross-country journey to find safety…and a home.
Rex is trying to reach the doctor who raised him, but the doctor's been relocated to an underground military bunker in Nevada," Anderson said. "So even if they make it across a zombie-infested California, there's not necessarily a cozy fireplace waiting for them."
Issue #1 picks up right from the end of the one-shot from 2012, and will make a great jumping-on point for new readers.
"We're extremely pleased to have REX, ZOMBIE KILLER back on the stands," said Big Dog Ink Publisher Tom Hutchinson. "The double-sized one-shot received acclaim from both horror and comics outlets, and fans have been asking for more, so here it comes!"
REX, ZOMBIE KILLER #1 is written by Rob Anderson (MY LITTLE PONY: SPIKE MICRO, GREAT ZOMBIES IN HISTORY) with interior and cover art by DaFu Yu (GRIMM FAIRY TALES, WONDERLAND ANNUAL), interior colors by Juan Romera, cover colors by Kevin Volo, letters and design by E.T. Dollman, and edited by Paul Allor (TMNT: FUGITOID MICRO, ORC GIRL).
Issue #1 of the bi-monthly four-issue miniseries ships on October 30, 2013, just in time for Halloween! Each issue will be a full-color, 28-page, standard trim comic book, priced at $3.50, and may be pre-ordered at your local comic shop. (Diamond Previews Order Code: AUG131097) It is rated TEEN+ (13 & up) for mature themes and zombie violence.