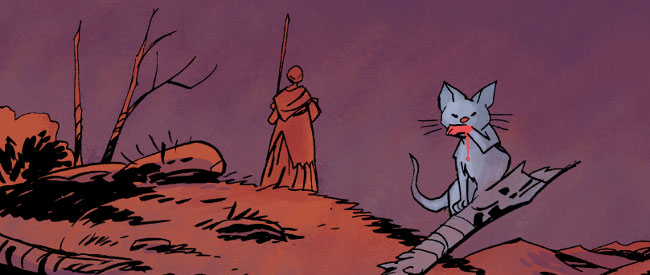 A modern fantasy drawing from Slavic mythology, Peter Bergting's Domovoi is a journey through a world hidden just beyond our perception.
Upon the death of her grandmother Vasilisa, free-spirited waitress Jennie becomes the target of two Poleviki – field spirits working as supernatural hit men for the sorcerer Bolshoi Korol. Korol seeks to claim a small bag of bones that once belonged to him, a bag that Vasilisa kept hidden throughout her life. But Jennie is not without protection. Her "uncle" Ivan is in fact a Domovoi, a household guardian spirit, and her cat Bulka has a few secrets of her own. Together, these three must reach the spirit world of the Thrice-Tenth Kingdom and confront Bolshoi Korol once and for all.
Although Domovoi echoes the work of other masters of the fantasy genre, Peter Bergting creates a graphic novel very much his own. An interesting choice is his handling of the heroine Jennie. While not a sorceress, Jennie is also no stranger to the world of magic. She has long known about Uncle Ivan's true nature and encounters with talking cats or deadly spirits are commonplace for her. Jennie is no Alice thrust into a Wonderland she does not understand. Instead, it is the reader who is thrown into this world unprepared and must learn its rules and inhabitants. While disorienting at first, we quickly acclimate and marvel at the strange creatures hidden in the shadows of an otherwise contemporary world.
Particular standouts are the Poleviki assassins, Nivek and Ethr. At first, they called to mind the characters Croup and Vandemar of Neil Gaiman's Neverwhere with their unusual speech patterns and relentless pursuit of the heroine. Yet these killers are not without honor and soon change from enemies to uneasy allies in Jennie's adventure. This adds uncertainty and tension to the story, leaving us wondering where the Poleviki's true allegiance lies. The titular Domovoi Ivan is also a charming character study. Ancient and wise, Ivan nonetheless cannot resist a flea market or a free meal, regardless of the danger imminent in their travels.
One minor criticism is the abrupt resolution of the story. Some readers may be left wanting more from the final confrontation with the villain. However, perhaps a dream-like ambiguity is all we can expect from a sojourn in the spirit world.
Peter Bergting is both writer and artist for Domovoi and many of his influences are apparent. Visually, his style owes much to Mike Mignola. Several supernatural beings look as though they could have stepped out of the pages of Hellboy or BPRD. From the blank, shadowed eyes of the Poleviki to the bizarre hybrid bird-creature Gamayun, there are numerous stylistic choices that will strike a chord with Dark Horse Comics readers. There is also an element of Hergé's Tintin in the dot-eyed, squat design of Uncle Ivan. Bergting successfully integrates these influences into his own style, creating a world that is both familiar and unsettlingly alien.
Domovoi is an impressive graphic novel sure to appeal to fans of contemporary fantasy, lovers of mythology, or those who appreciate a good story, well told.
Peter Bergting (W & A) • Dark Horse Comics, $19.99, Released June 19, 2013.