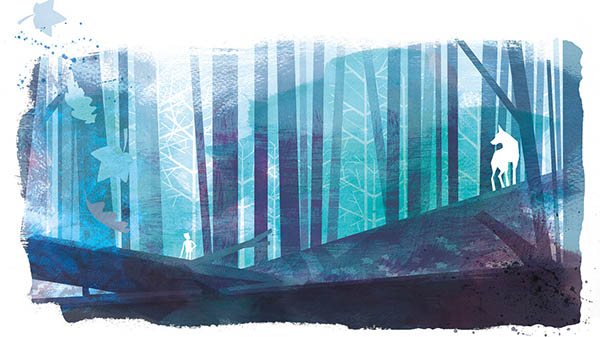 Back in 2020 I said of Norm Konyu's first graphic novel The Junction "this is one of the most accomplished debut books I have ever reviewed for Broken Frontier." My confidence in that statement was echoed in the slew of positive commentary the book got across the board. I also stated that "bigger publishers should be looking at it with an eye to taking it to the far wider audience it deserves." I was right there too, with Titan picking up the previously crowdfunded book and publishing it themselves in 2022. With barely a week to go on Kickstarter Konyu currently has another eerily haunting book, Downlands, crowdfunding and it's proof positive that the 2021 Broken Frontier 'Six to Watch' artist was never going to suffer from difficult second graphic novel syndrome.
Konyu has proved himself to be that all so rare things in comics over the last three years – a genuinely original voice. In the near-300 pages of Downlands he takes us on a morbid yet somehow still uplifting journey of discovery, where seemingly disparate supernatural elements and ever mutable timeframes slowly come together as their places in the larger puzzle of the story begin to link together.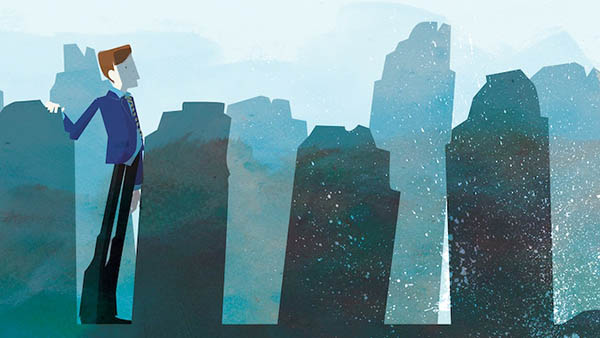 Set primarily in 1996, but with many timeframe jumps across history, Downlands is the story of 14-year-old James Reynolds whose twin sister Jen dies suddenly after witnessing a mysterious Black Dog. James quickly becomes focussed entirely on the existence of this canine portent of doom and, with the help of his elderly neighbour Mrs. Walker (known locally as "the witch"), slowly begins to break through the borders of our mortal world and sees the supernatural echoes of the past within the environs of his village.
It's a location filled with a rich history that is both literal and folkloric in nature. James's story is interspersed with ghost stories from across the village's many eras. Phantom hitchhikers, spectral babies, family disappearances, and the legends surrounding the local standing stones are all explored and, as the narrative progresses, we begin to see just how interlinked each of these folk tales really is. Konyu pulls the storytelling strings and manipulates the readers' expectations as all these seemingly unrelated subplots eventually start to tie into James's investigation of the Black Dog and Jen's final fate.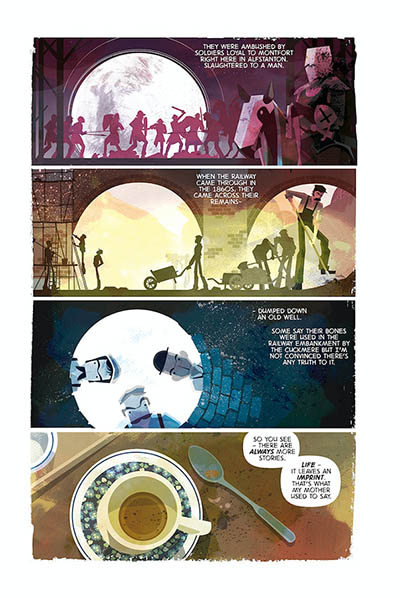 Downlands isn't just an expertly crafted and paced story, though. It's also finely written in terms of Konyu's considered use of language which brings the tragedy of James and Jen's separation to the fore with a sensitivity that never descends into the mawkish. The world-building is phenomenal in its gradual revelations but this is also a very human tale with the underlying themes of grief, bereavement, loss and acceptance always bubbling away just under the surface.
Transitions in emphasis allow us to feel we are making discoveries alongside James via artefacts like a book of local history explaining the Black Dog legend and other otherworldly legends of the area's past. The letters to Jen that James leaves at her grave also allow us to experience his feelings from a different vantage point. And objects and locations in early sequences tease us with fragmentary hints at future plot points. It's one of the great joys of Konyu's work. That feeling that you're being asked not just to be an observer of his protagonist's investigations but to be a participant in them too.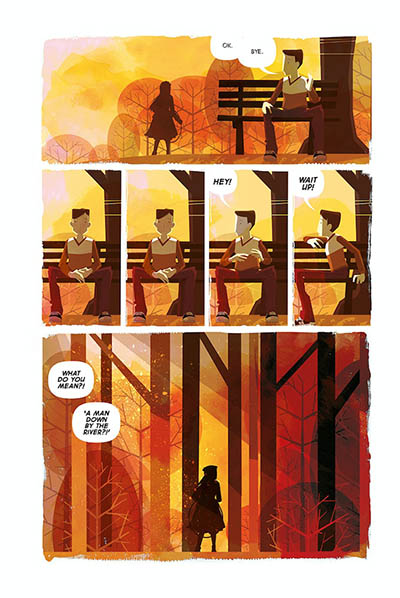 What makes each section of Downlands feel all the more atmospheric is Konyu's colour choices with, for example, a chapter set in 1976 using a period-specific palette for the interiors, or the sepia tone of a 19th century flashback giving the events depicted a melancholy truth. Each page is a studied triumph in perspective, character placement, pacing, and page structure as Konyu adeptly evokes the required emotional reaction from his audience whether that be sympathy, sadness, anger or shock. Downlands is the finest new comics fiction I have read so far in 2023 and a book that is undeniably sophisticated in delivery but also so accessible that you could see it being published by everyone from Image and Dark Horse through to Fantagraphics and Drawn & Quarterly. You have a week or so to back the crowdfunding campaign on Kickstarter and a little longer on Crowdfundr. Don't miss out!
Norm Konyu (W/A) • Self-published
Review by Andy Oliver