The Gosh! Comics and Broken Frontier Drink and Draw is back this week, retooled and re-imagined as an online extravaganza! We'll be kicking off tomorrow, Thursday March 26, at 7.30pm on Twitter and Instagram and we're looking forward to keeping our D&D community going through social media, hopefully reaching an international audience as a result.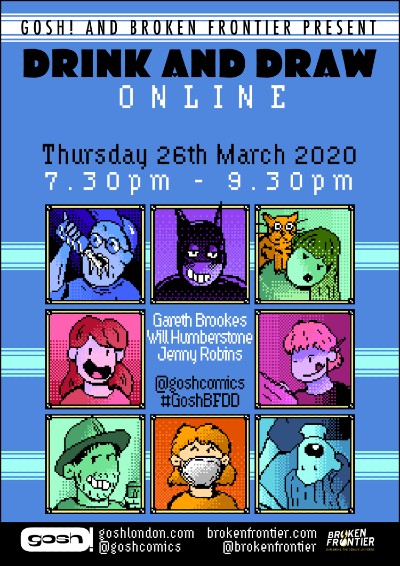 We'll be using our regular format, adapted for a digital platform so if you've never attended one of our monthly sessions this is how it will work. Our guest artists will each choose a drawing theme for three sessions across the evening. We'll post each of these prompts with the hashtag #GoshBFDD in three batches at 7.30pm (GMT), 8.15pm and 9.00pm from both the Gosh! Comics Twitter account and the Broken Frontier Twitter account. You have 30 minutes to draw something fitting that theme, after which we'll spend 15 minutes picking a winner before the next round begins.
Don't forget to post your drawings with the #GoshBFDD hashtag so everyone can see and join in. And also so we can easily retweet!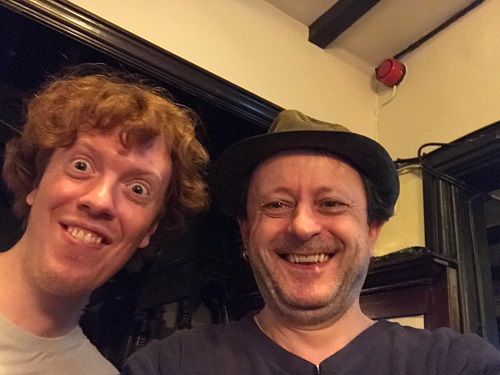 As ever the event is co-hosted by Will Humberstone (who designed the poaster above) at Gosh and Andy Oliver at Broken Frontier (above). Our guest artists choosing themes this time are Gareth Brookes (The Black Project, A Thousand Coloured Castles), Broken Frontier's own Jenny Robins (the upcoming Biscuits (assorted) from Myriad) and Gosh's Will Humberstone himself.
Catch you tomorrow night at 7.30pm. One more time, don't forget that #GoshBFDD hashtag!