Press release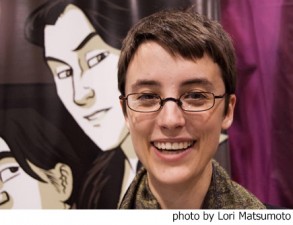 Webcomic staple PvP (PvPOnline.com) began publishing online May 4th, 1998 at a time when the World Wide Web was still dialup and most self-published comics were being printed in zines. Chronicling the tales of a videogame magazine of the same name, PvP and its creator Scott Kurtz became a fixture in the comics and gaming industries over the next decade-and-a-half. For its 15th Anniversary, PvP is again breaking new ground in the comic medium with the creation of the PvP Writers' Room and the addition of its first new staffer, Dylan Meconis (Family Man, Bite Me).
"The last fifteen years has been an amazing ride and I'm not interested in stopping anytime soon," commented series creator Scott Kurtz. "We've always tried to stay ahead of the game, remain fluid and never be afraid to experiment. That's why the creation of the PvP Writers' Room and bringing in Dylan is the first step of the next decade of PvP."
"In early January of 2013, as we were in pre-production for our 2nd webcomic Table Titans (TableTitans.com) Scott injured his back. Being laid up and unable to draw for eight hours a day, we reached out for help," said PvP Director of Business Development and Brand Management Cory Casoni. "I'd met Dylan on several occasions and knew of her love for PvP, so we asked if she'd be willing to fill in for a week. The scripts she delivered were dynamite and one week turned into almost three. That's when Scott started talking about adding her to the team."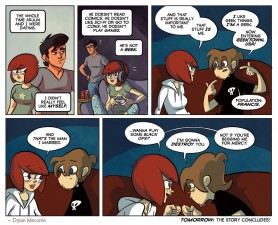 New writer Dylan Meconis added, "I'm really excited to be working with Scott on PvP. I've been an avid reader for years, but when Cory and Scott invited me to fill in, I was surprised by how natural it felt to step into the world of the strip. Being asked to continue as a regular contributor is a delight, not least of all because I might get to talk Scott into drawing things I've always wanted to see, like Brent riding a llama. Writing for a beloved daily strip like PvP is a big departure from my previous projects. I'm used to toiling over long stories without the benefit of a collaborator, much less one with the talent and experience of a Scott Kurtz. I can't wait to see the results."
"The problem with deadline-based comic strip writing is that sometimes you're forced to go with your first idea over the best idea." said Kurtz. "Being a part of a writing team on other projects I learned that with more than one writer, you can get the best idea and maintain the schedule."
Readers may not realize it but they've already been enjoying Meconis' work. The current PvP storyline, leading up to the New PvP, has all been a product of the combined efforts of Scott Kurtz and Dylan Meconis in the PvP Writers' Room.
"If you've never read PvP now's the time to start and if you're a long time fan of the strip get ready for an all new chapter in the series," concluded Kurtz. " In just a couple of writing sessions, Dylan and I have laid down the broad strokes for some exciting changes in the PvP comic strip. This is only the beginning of what's to come. We have big plans, a lot is going to change, and the future of PvP is bright!"