Press Release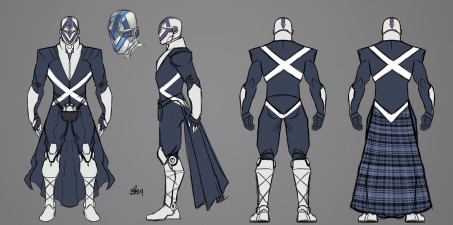 In anticipation of Scotland's historic independence referendum on Thursday 18 September 2014 which will decide if Scotland becomes an independent country, publisher Eco Comics has released an early sneak preview of its new super hero character, Scotsman.
Full artwork is set to be unveiled on the award-winning publisher's blog on the morning of referendum day itself.
The publisher has yet to reveal whether the Scottish hero will star in his own comic book or appear in its recently launched series, Englishman.
Whether Scotsman will be an ally or enemy of Englishman has also yet to be determined.
The publisher says: "Is Scotsman on the Yes or No side of the referendum? No to independence will certainly make him an ally of Englishman, but will Yes result in him being ally or enemy?"
The blog will offer glimpses into Scotsman's costume design, powers, and friends on foes in the run up to the referendum on 18 September 2014.
"We don't want to let the wildcat out of the bag, but it is clear from the sneak peek art that this hero truly embodies Scotland. Even his supporting cast will include world-famous Scottish legends, many appearing in comic book form for the first time.
"Whatever the outcome of the referendum, Scotsman will certainly be taken to heart by the public he protects, as the Scottish are clearly proud of their country and heritage.
"Poor Englishman on the other hand has to face 'England' being branded a dirty word and even his Prime Minister labelling Britain a 'country'. Maybe this new Scottish super hero represents a lesson to be learnt during this historic juncture."