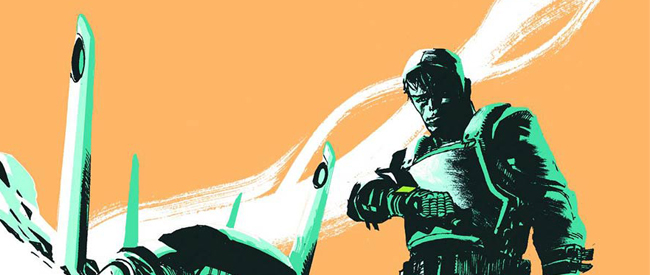 Smart and crafty, Rafael Albuquerque and Mike Johnson use color and character development to take the artist's former webcomic Tune 8 to the next level.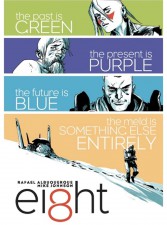 There's more to being a successful comic-book artist than drawing pretty pictures. As a visual medium striving to find relevance as something more than fodder for the next big Hollywood blockbuster, it's increasingly important to hone one's craft and explore different genres and media to create stories that appeal to an older, more sophisticated audience.
Marvel's new Secret Wars aside, the days of throwing a handful of four-color powerhouses into a situational slobberknocker of epic (if forced and unwieldy) proportions are long gone. And while I'm not sounding the death knell of the superhero or turning my nose up at the cape-and-spandex crowd, as seems to be currently popular amongst critics and fans, it is heartening to witness the exploration of genre that has gripped the medium in recent years.
Perhaps inspired by the emergence of books like Vaughn and Staples' Saga or Brubaker and Phillips' Fatale, publishers are turning away from the superhero power fantasies traditionally favored by North American consumers and embracing fresh, exciting takes on sci-fi, detective fiction, and westerns to drop a bit of spice onto our flagging, stagnant palates.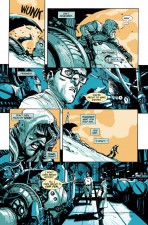 Starting life as an unfinished Brazilian webcomic called Tune 8, self-published by Albuquerque a few years back, this print version, published by Dark Horse, adds layers of characterization and expands the world of the Meld in ways difficult to achieve digitally.
With the advantage of the more robust and dynamic printed comics page, both Albuquerque and Johnson have much more room to breathe from page to page, even if they are somewhat confined by the limited series format.
The plot is simple and straightforward: temporal guinea pig Joshua allows himself to be jettisoned through time and space in a last-ditch effort to save the woman he loves from a deadly disease that also threatens the rest of humanity. Albuquerque and Johnson are playing with tried-and-true science-fiction themes, juxtaposing one man's desires against the needs of an entire species. What makes Ei8ht different from other time-travel stories is the Meld.
A pocket dimension that acts as a repository for all of the lost people and things that accumulate over the course of a planet's history, the Meld is a dangerous, volatile place that defies easy description. Beholden to its own twisted set of laws and a strict hierarchy presided over by the sinister overseer known as the Spear, the Meld also has the distinction of being the comic-book artist's definition of creative paradise.
Populated by everything any self-respecting comics artist wants to draw within a single book, from dinosaurs to spaceships to dystopian post-humans, the Meld represents a cornucopia of visual treats for the reader. Rather than descend into the realm of pure spectacle, however, Mike Johnson's tight script helps to ground Ei8ht with crafty pacing and spot-on character development.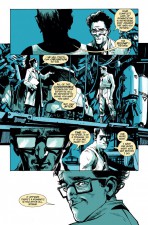 Brought in by Albuquerque to smooth the rough edges of his original concept, Johnson anchors the stunning visual storytelling by building a world populated by well-rounded, distinct personalities. From Joshua's achingly realistic reaction to finding himself stranded in the Meld to the feral survivors traversing the realm's dangerous wastes, Johnson's script lends weight and credibility to Albuquerque's concept.
That being said, the true draw here is Albuquerque's brilliant visual storytelling. His focused use of a limited color palette elevates this book to the next level by utilizing an element of comics art often considered little more than decoration as an integral storytelling tool. In Albuquerque's deft hands, color defines setting, tone, and atmosphere, with each of the major hues chosen representing different temporal epochs and, by extension, different places and people as well.
Exhibiting a wonderful balance between storytelling and spectacle, Ei8ht is a series that showcases the true potential of graphic narrative by one of its modern masters. Slick, stylish, and substantive, this is a book full of heart and sophistication, perfect for either the discerning comics connoisseur or the sporadic reader looking for a quick escape from the everyday.
Rafael Albuquerque (W/A) & Mike Johnson (W) • Dark Horse, $3.50, February 18, 2015.