"Dave McKean remains the master alchemist of comics imagery." That was how Broken Frontier's Tom Murphy described the acclaimed artist's work when reviewing McKean's Pictures that Tick and it's a perfect soundbite to encapsulate the talents of a creator whose practice crosses mediums with such graceful fluidity.
Today Dark Horse have announced a handsome packaging of McKean's short films and an accompanying behind-the scenes book for 2018. For McKean enthusiasts this is a collection that will no doubt be an essential pre-order item from the boundary-pushing auteur. The press release is below…
DAVE MCKEAN'S SURREAL SHORT FILMS COME TO DARK HORSE
Presenting the Complete Short Films of Dave McKean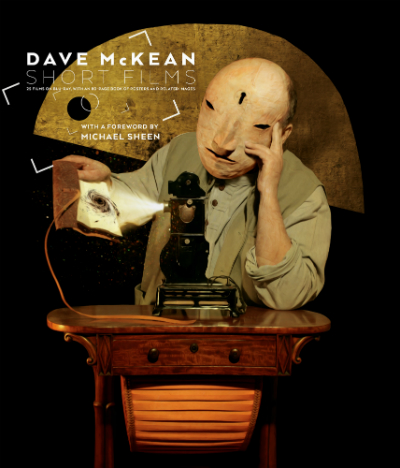 MILWAUKIE, Ore., (December 4, 2017)— Dark Horse proudly presents Dave McKean's short cinema on Blu-ray included in a 9 ½" x 11″ hardcover book featuring photos, posters, stills, drawings, and more. A must-have for McKean fans!
Best known for his work with Neil Gaiman and his Harvey Award-winning graphic novel Cages and Eisner Award-nominated graphic novel Black Dog: The Dreams of Paul Nash, Dave McKean also created inventive, surreal short films. McKean's films have been collected in this Blu-ray release, accompanied by a behind-the-scenes hardcover book.
"Dave demands his characters agonize over the meaning of life but he forces us to take the rollercoaster ride as well . . . right to the heart of the creative process—his words and drawings cascading across the page in perfectly structured cacophony. Beautiful!"—Terry Gilliam
Praise for Cages:
"One of the most important works of comic art in the last decade."
—The Comics Journal
"It is compulsively readable, with a lyrical tone that moves the reader through the rougher, more elusive passages as it strives at the very edge of the form's limitation."
—Comic Foundry Magazine
"The finest comic being created today. Get it and see what heights narrative graphic art can achieve."
—The Fine Print
Dave McKean: Short Films HC goes on-sale June 27, 2018 and is available for pre-order at Amazon, Barnes & Noble, TFAW, and your local comic shop.
About Dark Horse                                                              
For more than thirty years, Dark Horse Comics has proven to be a solid example of how integrity and innovation can help broaden a unique storytelling medium and establish a small, homegrown company as an industry giant. Founded in 1986 by Mike Richardson, the company is known for the progressive and creator-friendly atmosphere it provides for writers and artists. In addition to publishing comics from top talent, such as Eric Powell, Mike Mignola, Geof Darrow, Brian Wood, Gail Simone, Stan Sakai, and Guillermo del Toro, and comics legends, such as Will Eisner, Milo Manara, Kazuo Koike, Neil Gaiman, and Frank Miller, Dark Horse has developed its own successful properties, such as The Mask, Ghost, X, and Barb Wire. Its successful line of comics, manga, and products based on popular properties includes Dragon Age, Buffy the Vampire Slayer, Aliens, Conan, Tomb Raider, Halo, The Witcher, Serenity, Game of Thrones, and Avatar: The Last Airbender. Today Dark Horse Comics is the largest independent comic book publisher in the US and is recognized as one of the world's leading entertainment publishers.