Press Release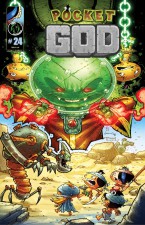 Ape Entertainment and Bolt Creative announced today that the latest issue of Pocket God #24"The Pygmies Strike Back, Part 4 of 5"is now available on the App Store  for iPhone, iPad and iPod touch. You can check it out at http://itunes.apple.com/app/pocket-god-comics/id380752345 to get it today!
The Tribes are still divided!  The Wayfinder thingy has lead Ooga's team to a temple in the desert where they suspect their missing companions are being held. But it's guarded by some large hulking gem-powered constructs.  Time to use that old Pygmy ingenuity and break them out!  Hmmm…on second thought, maybe Kinsee and Nooby should just bust their own selves out!
At least Klik's group is safe in the Nest city of the Bird-people, right?  Wait…there are mysterious goings-on there also?  Well crud.  Some days a pygmy just can't get a break!
And don't peek ahead to the HUGE surprise on page 4!  …But don't worry if you do, the EVEN HUGE-ER surprise at the end of the story will completely blow your mind!
The Pocket God Comic App is updated frequently with all kinds of FREE extras such as The Pygmy Peril newsletter (which includes free Little Green Men comic short stories), and an EXCLUSIVE re-mastered version of the first Pocket God animated short!
And don't forget that PYGMY PERIL #30 is available right NOW!  And if you have already downloaded the App itself, then every issue of PYGMY PERIL is absolutely FREE!  This issue of the 'Peril is packed to the gills with the usual whacked-out Fan-Art, freaked-out Fan-Mail, and also the 'Dangerous Dialog' contest!
And of course it closes out with those itty-bitty imbeciles of invasion, the LITTLE GREEN MEN!