Cities have always been mythologised. Whether it's the lost wonders of Babylon, the sacred ruins of Machu Picchu or the modern day city that never sleeps, cities are a universal source of legend, adventure, and remarkable stories. That is the legacy that Hyderabad taps into.
Hyderabad covers 650 square kilometres and holds 6.8 million people – that's enough to make it the fourth largest city in India. A cultural hub and a historical trading centre, it boasts the title The City of Pearls. The Hyderabad Graphic Novel Project is a creation of Jai Undurti, a bid to capture the essence of 'a city in argument with itself'. For Hyderabad is several cities in one, modern and ancient contradicting and complementing. Fighting and making up with each other to wind memory into reality. This Indian graphic novel is part of publisher Syenagiri's Every City is a Story project; a unique initiative to tell stories focused not on characters or events, but on cities and the tapestry of time and fable that makes them so alive.
Detailed and classic illustrations draw together four vaguely interwoven stories from across the eons, some no longer than a handful of pages and all stretch across the gulf of time and space. Some are in black and white, others are in gorgeous dazzling colour – delights to look at and visually explore before you've even started delving the depths of the stories they tell, or faded to only cleanly cut grey-blue against black lines on a pure white backdrop. All are penned with delightful detail, artisanship and meticulous care by the hand of Harsho Mohan Chattoraj. His elegant yet muscular crafting of shape and form through intensely detailed linework shows an astonishing display of talent that many a renowned artist would sell their soul for.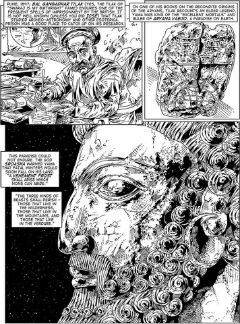 Hyderabad shifts from quirky tales of time-travelling taxis and a displaced big game hunter to metaphysical meanderings of the mathematics of a game of chess (and the inevitability of life), to an epic tale of the sorcery and strategy of architecture and the creation of cities, through to the story of a young student of poetry, lost across time, filling the role of the life he once studied and finding a love that existed eons before his own time and birth. The richness and beauty of the language and prose further envelop the reader in the world of Hyderabad's fantastical memory, when the city was new and young and wayward strangers could duck into the Chaikhana and buy tea with a poem.
What makes this project spectacular is the wealth of age and antiquity that Undurti manages to bring to life in a way that is not only modern and exciting, but doesn't lose that weight of time resting on the story; spilling centuries old sand to reveal gems of tales and words that twine together to create the tangled webs of myth, legend, fairytale and brushed-off conversations that build a city of life and love and wonder out of well-trodden streets and statuesque buildings. These are the things that make a city what it is, and these are the things that Undurti and Chattoraj capture so elegantly in Hyderabad.
Jai Undurti (W), Harsho Mohan Chattoraj (A) •  Syenagiri, June 2014

For more on the Hyderabad Graphic Novel Project visit the website here.