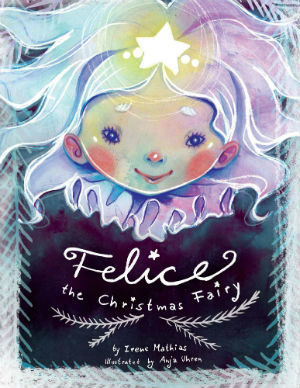 To be completely upfront, Felice the Christmas Fairy isn't strictly comics (though it does employ some of their specific structural tools) but this charming children's book is still a graphic narrative and more pertinently, from a Broken Frontier perspective, Irene Mathias's enchanting tale is quite beautifully illustrated by our 2018 'Six to Watch' creator Anja Uhren. Uhren's versatile approach to the page and cross-genre capabilities have ensured she's one of the rising stars of the UK indie scene; very much in evidence in her confident and captivating work here.
Like many of the most memorable Yuletide tales Felice the Christmas Fairy is a story about redemption. In this case the focus is on a spoilt and demanding young girl called Becky whose sense of entitlement sits at the core of the narrative. But it's also an account of the titular Christmas tree fairy Felice's journey of self-discovery as her temporary nighttime displacement (after a breeze knocks her off the top of the tree) gives her a new perspective on her world. Making the arduous trip back to her perch atop the Christmas tree Felice will learn the value of collaboration and friendship, and use the experience to enlist the aid of a certain legendary Christmas figure himself in improving Becky's attitude to life…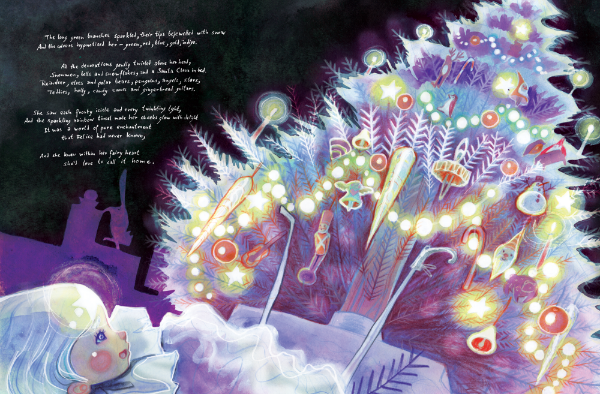 Told in melodic and jaunty rhyme, Mathias's story has a vibrant energy and an accessible tempo to it that positively invites its audience to read it out loud. But it's Uhren's stunning use of colour – such a trademark aspect of her practice now – that gives the narrative an added layer of emotional authenticity. From its suitably seasonal hues that fully capture the spirit of the season with a magical twinkle to her clever use of perspective that makes the Christmas tree seem like a world unto itself, its's a delightful adventure with an appeal to all ages. Visual characterisation is expressive throughout, ensuring that the spoilt Becky is both obnoxious in the early stages and yet sympathetic when the requisite Scrooge-like transformation occurs.
Mixing the familiar and the domestic with the otherworldly and the festive, Felice the Christmas Fairy is a delightful morality tale with a very apt holiday message. A perfect book to introduce the younger readers in your life to the hypnotic hues of Anja Uhren's art.
Irene Mathias (W), Anja Uhren (A) • Handersen Publishing, $11.95/$17.95
Review by Andy Oliver