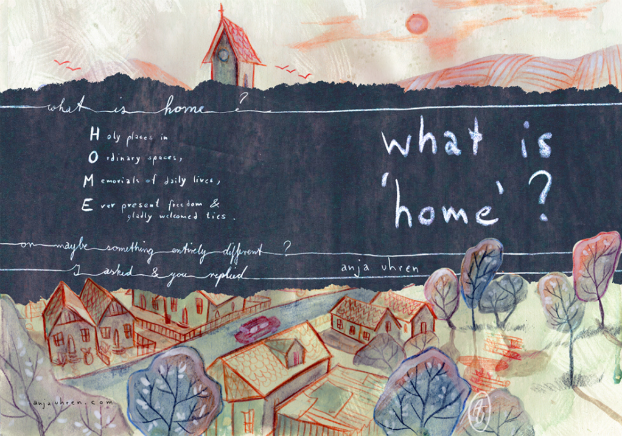 Anja Uhren's What is 'Home'? invites us to consider how we characterise a concept that on one level embodies the most comfortable familiarity and yet on another proves to be nebulous and almost intangible in its definition. Uhren collated the thoughts of somewhere in the region of fifty distinctive voices on that central question in this absorbing offering before visually interpreting their musings with her gorgeously dreamy artwork.
Given that the responses to the titular enquiry are so international in scope the variation in perspectives is hardly surprising. What proves to be more intriguing, however, is just how diverse even the very interpretation of the word "home" is throughout these pages. For some it is a literal physical environment, for others it may be a sense of family, and in some cases it may be something more spiritual or even abstract.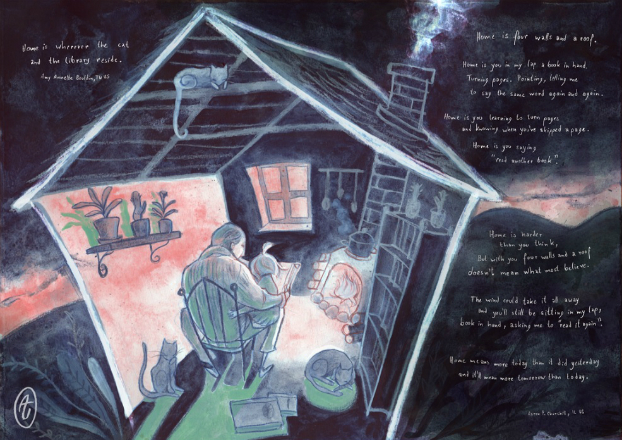 Memory proves to be a vital component for many when discussing what home means to them; the cosiness of areas associated with childhood innocence, perhaps, or the contentment that comes from a recognisable familial routine. Security is also a major factor for many; a grounded refuge from the travails of the world around us, free from the judgment of others. Sometimes home represents a lifetime of remembrances while on other occasions it can be encapsulated in a single small moment. And, occasionally, and most poignantly, there are those for whom the very notion is ethereal and ungraspable; their loneliness and vulnerability being distressingly palpable in equal measure.
Uhren fuses comics, graphic narrative and illustrated reflections in What is 'Home'? and, rather than trying to provide any definitive answer to that question, she instead seeks to communicate experience and bring us into the worldview of her contributors. It gives the book a welcome sensation of kinship; that the audience is being invited to share in something intimate and profound, and to relate it to their own lives and personal histories.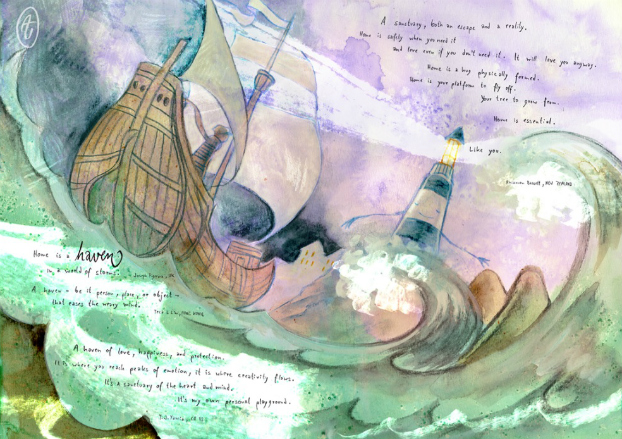 A constant playful experimentation from Uhren in translating these anecdotal or philosophical accounts to the comics page is in abundant supply. There are occasions where Uhren is entirely representational in approach for example – parents and siblings enjoying the fun of family life. On others she employs visual metaphor – a friendly anthropomorphic lighthouse guiding a ship to safety through the storms of life. Elsewhere she creates several mini-tales across pages – insights into the lives of a number of inhabitants in an apartment block, for instance, allowing us to construct our own narratives around the action.
Uhren's captivating and almost melting layouts give each spread an engaging charm that sublimely captures the emotional resonance of the accompanying text. There's a flow to the imagery that is hazily hypnotic; skewed, slightly distorted but always mesmerising.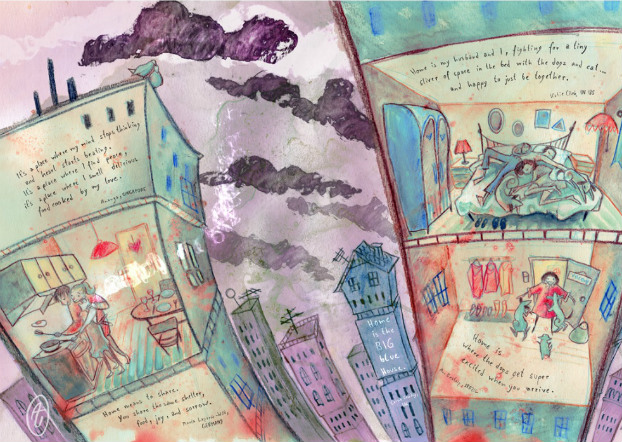 In terms of composition, powerful use of colour to accentuate mood, changing layouts and the constant shift between symbolism and realism, What is 'Home'? proves to be a remarkably potent exploration of its subject matter. This is also a very tactile read with those extra flourishes – like a fold-out element nearer the centre of the comic and the hand binding – adding an extra appeal that is evident on all of the artist's work that I have seen to date.
What is 'Home'? is a touching and gorgeous collection of vignettes that are imaginative in design, expressive in message and stunningly rendered in delivery. If you're unfamiliar with her comics then your entry point into the lyrically beautiful work of Anja Uhren should most assuredly begin here.
For more on the work of Anja Uhren visit her website here and follow her on Twitter here. You can buy What is 'Home'? from her online store here priced £6.00. 
For regular updates on all things small press follow Andy Oliver on Twitter here.