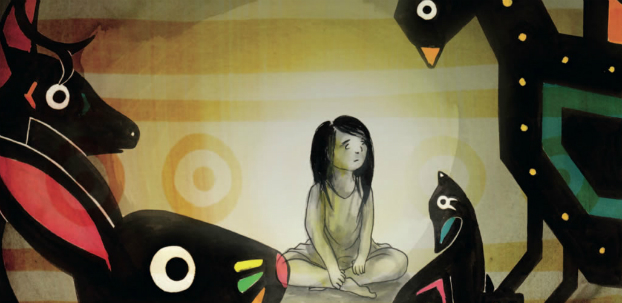 DEBUTING AT THOUGHT BUBBLE!
To date the output of the Big Brown Eyes Collective has focused on the comics of the three sisters who founded it – Freya, Karis and Emily Lambert. The trio have published their own comics and zines as well as two anthologies featuring their different approaches to the page. These have included their first group effort Beginnings which launched at Bristol Comic and Zine Fair two years ago and last year's themed Myths and Monsters at Thought Bubble.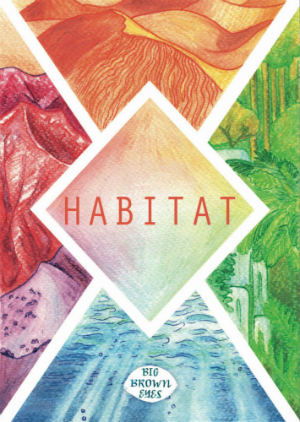 This year sees another TB first from the threesome but with a marked difference. Habitat, their new collection of stories, was open to submissions and presents comics from fourteen other names from the small press scene alongside original material from the sisters. These include no less than five of our Broken Frontier 'Six Small Press Creators to Watch', from all three years of the programme to date, in the shape of Rozi Hathaway, Emma Raby, Anja Uhren, Peony Gent and Emily Lambert herself.
Habitat is a mix of short stories and single illustrations that revolve around themes of home environment, the spaces we inhabit and our relationships with them. Interpretations of that title vary throughout with some stories investigating a wider definition of the anthology's title. Joe Latham's opening four-pager, for example, contrasts the physical environs of a building with ethereal human concepts of home by juxtaposing the natural world and human-made structures.
Myfanwy Tristram's layered ecological short (below) about environmental impact on multiple levels takes a similarly broader view. Tristram's comics often make use of the lushest colouring and that adds an extra layer of resonance here to a beautiful tale of generational perspectives. Colour is also an essential part of the moment of epiphany that occurs in Jade Wall's pages to signify her protagonist's sense of release as claustrophobic containment is replaced by an appreciation of her wider surroundings.

Other creators interpret the subject in a more personal way. Anja Uhren (below left), whose comics have entered new realms of empathetic slice-of-life storytelling this year, echoes the thematic heart of her own What is 'Home'? comic last year with a piece of autobiographical comics about a new beginning that reminds us that a home is what we make it. Uhren's visuals have such a remarkable quality in the way that they give the world she depicts both a lyrical, magical appeal and yet seem recognisably down-to-earth at the same time.
Peony Gent (above right) provides another of her short pieces of distinctive graphic poetry in 'Landlocked' proving once again that she is that rarest of creators in any medium – a genuinely unique creative voice. From her minimalist layouts to her subdued and evocative use of blue hues through to her delicate use of language this is one of the true standout offerings of the book.
One-page "narrative illustrations" break up the comics work in Habitat with Rozi Hathaway and Emma Raby two of the contributors. Hathaway's page (sample on top banner image) reflects that recurring theme in her work of children interacting with elements of the otherworldly while Raby's beautiful snapshot image of the piscine world adopts a rare use of colour in her printed work.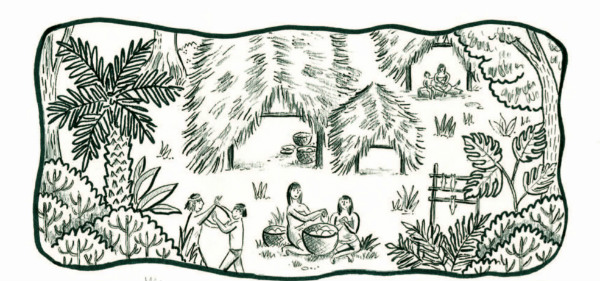 Fittingly, the Lambert sisters all provide some of their best comics to date. Emily's tight-panelled, detailed strips are always a delight but her three-page exploration of the life of an indigenous tribe (above) veers off into unexpected territory in an effective tale of worlds colliding. Freya's story of environmental displacement makes intelligent use of fractured-looking panel construction to emphasise its themes and Karis (below) uses a very different technique to create a sense of time progressing via overlapping fluid panels depicting the camaraderie of a house party.
There are a lot of books debuting at Thought Bubble this year but if you're looking for titles that give you an overview of the range and diversity of artists in the UK small press (and beyond!) then anthologies like Habitat are a perfect entry point to the self-publishing scene. An engaging mix of established stars of the small press alongside some newer names this is another book for that all-important essential Thought Bubble shopping list…
For more on the Big Brown Eyes Collective visit their site here and their online store here. You can also follow them on Twitter here. You can find them at Table 82a in the Cookridge Street Marquee at Thought Bubble.

For regular updates on all things small press follow Andy Oliver on Twitter here.