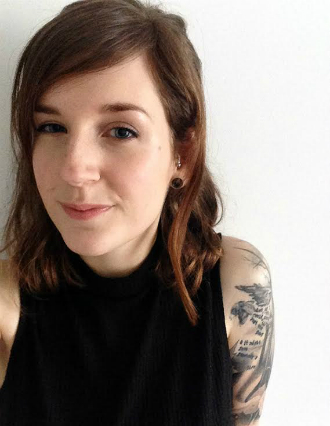 The indie comics fair Comica Comiket returns this Saturday 14th May as part of the final weekend celebrations for the House of Illustration's Comix Creatrix exhibition with one of its great traditions – its multi-artist Drawing Parade – at the forefront of its programming.
Joining an esteemed line-up of creators – including Rachael Ball, Roger Langridge, Owen D. Pomery, Sean Azzopardi, Jessica Martin and Paul B. Rainey – practising their craft live on the big screen on the day is Broken Frontier Small Press Yearbook artist Rozi Hathaway (right); one of our original 2015 BF 'Six UK Small Press Creators to Watch'.
Rozi's recent Kickstarter for her new comic Njálla – "an original comic story based around the myths and legends of the Sámi people" – reached its target within just a few short hours on its launch day. She has received critical acclaim for her first self-published work The Red Road, was a contributor to Ravi Thornton's HOAX Psychosis Blues, and has been a part of anthologies like A Bit of Undigested Potato, Dirty Rotten Comics, Home and her own Sneaky Business. You can find out more about her work on her site here.
Paul Gravett chatting with Drawing Parade participants Jade Sarson and Emmanuel Guibert at the British Library Comiket in 2014. Photos by Dean Simons
The Drawing Parade is always hugely entertaining fun and, once again, the selection of so many diverse comics voices ensures that plenty of contrasting approaches to the form will be on show on the day. You can catch up with the very first Comiket Drawing Parade in the video below.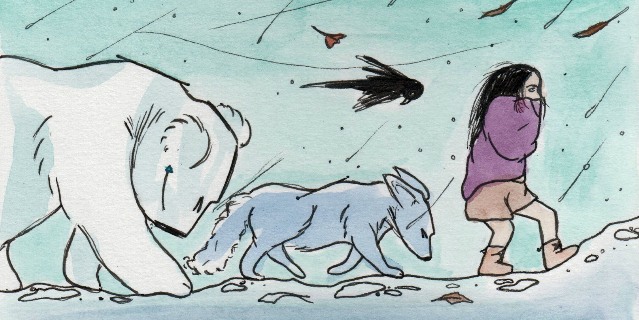 Art from The Red Road
Broken Frontier will be tabling at Comiket selling the Broken Frontier Small Press Yearbook and selected comics from both generations of our 'Six Small Press Creators to Watch' initiative. You can meet Rozi on the day when she will be signing both the Yearbook and her own comics. Don't miss her Drawing Parade slot at 3.30pm! For more on Comiket visit the site here and the Drawing Parade section here. You can order the Yearbook online here priced £6.00.
Drawing Parade Celebrity Cartoonists include:
Rachael Ball (The Inflatable Woman)
Kripa Joshi (Miss Moti)
Alexis Deacon (Geis)
Roger Langridge (Fred the Clown, Muppets)
Owen D. Pomery (Between the Billboards)
Nicola Lane (Beryl and the Perils)
Paul B. Rainey (There's No Time Like the Present)
Alexander Tucker (World in the Forcefield)
Maria Stoian (Take It as a Compliment)
Sean Azzopardi (Necessary Monsters)
Rozi Hathaway (The Red Road)
Jessica Martin (Elsie Harris Picture Palace)