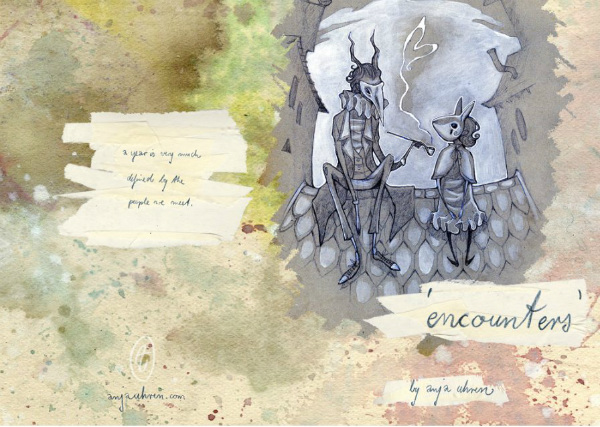 Anja Uhren's beautifully presented Encounters follows an assortment of whimsical characters across a year and their encounters with each other. The simple yet engaging story guides you through the year with each month telling a different tale; some more melancholy in tone but all heart-warming.
'I first saw her at a warm summer's evening in June. Too shy to show myself I simply listened in silence.'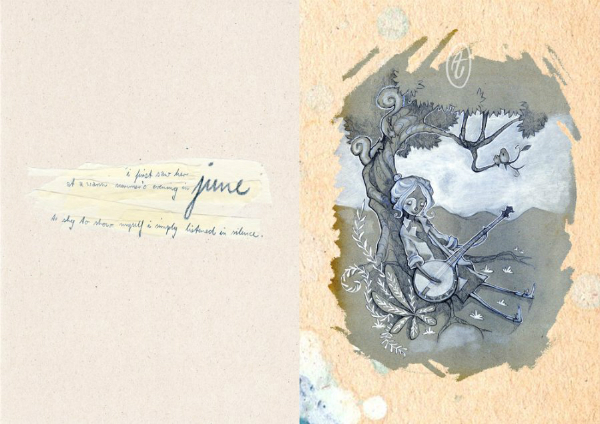 The tactile nature of the book immediately drew me in. The digitally printed mixed media artwork is printed on a gloss stock with heavy weight matte textured cover with an added twine along the spine of the book.
The story transports you to a more extraordinary world than the grim reality of the encounters we actually face on a day to day basis and forms a reassuring and comforting story that you could read again and again. There's a magical nostalgia to its simplicity, reminiscent of reading illustrated nursery rhymes or fairy tales.
As an illustrator, I couldn't put this book down as the artwork is stunning. Each page is well composed, immediately drawing focus to the beautifully illustrated central characters. The figurative work is dynamic and expressive which complements the tone of the writing.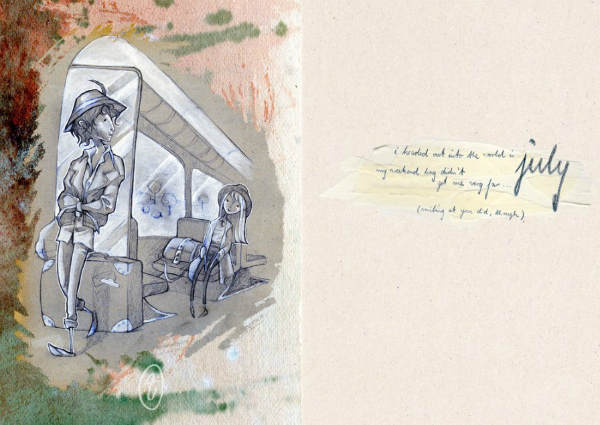 The mixed media approach seems to start as hand-drawn, using white and black line on craft/brown paper to create a muted palette with colour added with digital manipulated backgrounds of textures and mark-making with the accompanied text written over masking tape and stuck to sugar paper. The delicate marks and line add to the fragility of the story, making it feel even more like you have discovered something precious that needs to be treasured.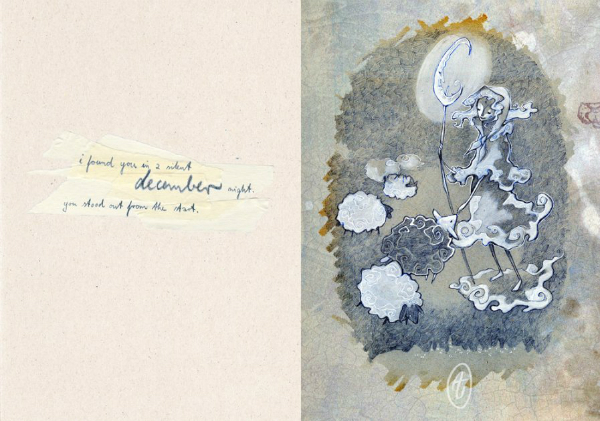 From the gorgeous inside cover art to the carefully selected materials used to construct this fantastic piece of work, Encounters is an enchanting tale from start to finish. The exquisite artwork reflects the story well and builds further into the narrative; transporting you into a world filled with characters that have a magical, unearthly, fairy tale feel to them.
Encounters is available to buy online from Anja Uhren's store here. She is also one of Broken Frontier's 'Six Small Press Creators to Watch in 2017'.
Anja Uhren (W/A) • Self-published, £6.00