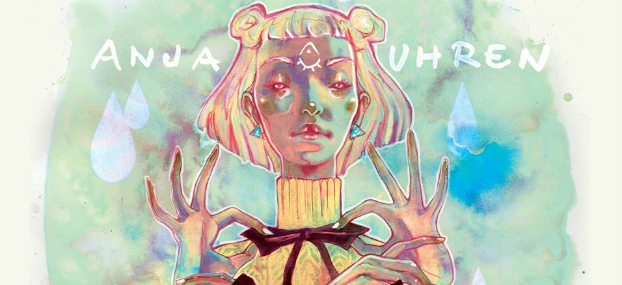 One of our 2017 Broken Frontier 'Six Small Press Creators to Watch', Anja Uhren's work is notable for its sometimes dreamlike, sometimes haunting and almost lyrical quality. Having made a name for herself with tactile self-published work with a distinctive fantasy element this year saw her practice shifting significantly towards the slice-of-life and the autobiographical.
I first reviewed Anja's work at BF when I looked at What is 'Home'?, an illustrated exploration of the titular question from the viewpoint of around 50 different voices. This year has included the release of a huge near 200-page volume of her sketchbook series Visual Thoughts, her fold-out concertina zine A Portrait of Sheffield and a memorable contribution to the Big Brown Eyes Collective's Habitat anthology.
I chat with Anja today about the emotional connectivity of her comics, her artistic process and the new direction her practice went in 2017…
ANDY OLIVER: Before we talk specifically about your comics and zines can you tell us about your artistic background and wider practice?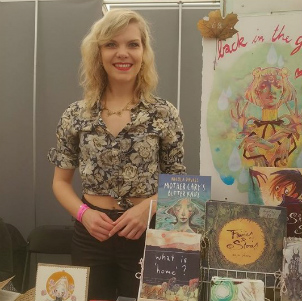 ANJA UHREN: Drawing has been a substantial part of my life for as long as I can remember. I've always felt I could express my thoughts and feelings better through pictures and my mom always says I decided to become an artist when I was 4 and never changed my mind about it.
I attended some art courses back in Germany where I was taught the basics of drawing and painting and then came to the UK to study Illustration. There I learnt about the creative industry and what's required to make a living in the field which I somehow managed to achieve since graduating in 2015.
And even though I still feel like I'm making it all up as I go along I start to see the bigger picture and how it all slowly falls into place which is very fulfilling and rewarding.
What was your entry route into comics as a medium?
Sequential art has always fascinated me. Even my early childhood drawings often came with instructions for my mom to be stapled together in a certain order because they told a story. I became obsessed with Manga in my teens which were the first comics I religiously consumed and which had a great impact on the development of my work. The Manga community was huge in Germany at that time and I only discovered Western comics when I came to the UK; especially since Manga was quite frowned upon and discouraged at University, which was good in a way because they can be a bit prescriptive at times and in the great variety of graphic novels I quickly discovered a renewed sense of artistic freedom and new possibilities for storytelling which I happily embraced.
You've made your home in Sheffield so I'm going to start by asking you about one of your more recent offerings A Portrait of Sheffield (video and art above and below, reviewed here at Broken Frontier). What was the story behind the commissioning of that project and can you describe the distinctive way in which you incorporated found objects into it?
I was invited by fellow artist and former mentor Sarah Grace Dye to come to Sheffield as an artist in residence. She and her partner Mark frequently hosted artists in their beautiful attic apartment and supported them with their art organisation SIX by arranging exhibitions and documenting their projects. It's not a commissioning process in that sense – rather, artists applying with proposals to benefit from this opportunity. I was a bit stuck in Bournemouth after graduating and didn't quite know where to go next. All I knew was that I wanted my work to be less based on fantasy and imagination and more rooted in real life experiences and encounters.
So I applied to come to Sheffield for one month with the sole purpose of drawing the city. It was also a personal challenge to move away from over-planning my projects and going more with the flow. I came with two blank sketchbooks and some art materials and the project unfolded by itself and consequently took my life into a very new direction which I'm very grateful for.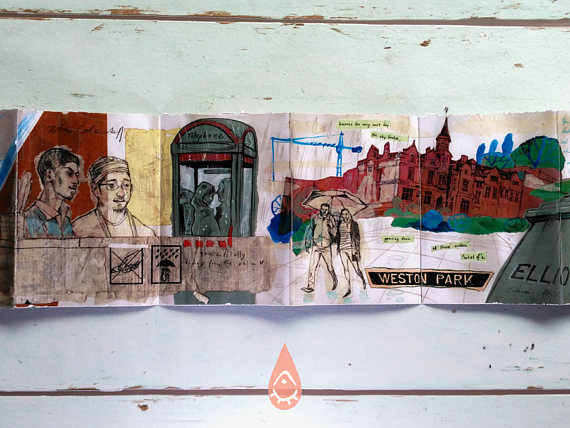 A Portrait of Sheffield is both a celebration of a city and also a graphic narrative study of the interconnected lives of the people who live within it. It's also very indicative of both a thematic and stylistic shift in your work over the last year or so. Why did you want to move away from the fantasy-based material you had become known for to a more slice-of-life/autobio approach?
When artists develop and change as people so does their work.
Inspirations, motivations and values are always shifting but sometimes manifesting that transition into your creative output is difficult.
It's a very valuable thing to tap into an audience – to gather a group of people who follow and support your work. Social media makes it so easy to analyse audience behaviour – what get's the most likes, shares, sales, commission requests, etc.
Of course this is super important – after all I'm trying to build a business here.
But it's also easy to get side-tracked. I had to step aside and figure out whether the work I was creating was just following a trend and fulfilling audience expectations or if it was actually still what I wanted to create as an artist. It wasn't. So I knew I had to make some changes.
I'm still in the transition and there's one last big project I have to get out of the way but at least I now know where I'm heading and that sense of direction is very important.
I first reviewed your work in What is 'Home'?, a graphic narrative that saw you illustrating the interpretations of around 50 individuals on the concept of home. What was the genesis of that book?
The final major project for my BA course was a 250 page graphic novel called 'Home – forgotten places remembered'. It was a personal reflection of all the places I had lived at growing up – which were quite a lot. With all that moving around I frequently deliberated on where or what 'Home' was for me, so this book was a collection of all those musings. It was also quite a therapeutic way to deal with the places, feelings and people I had left behind over the years.
To fund the printing of the book I created a Kickstarter campaign which was successful and when it came to asking all the backers who had supported the project for their details I also asked each of them what home meant to them personally. I didn't really expect many replies and was very surprised by how many people took the time to reply and overwhelmed by how completely different all those responses from all over the world were. Some witty, funny, philosophical, others almost desperate, moving and many very touching.
I knew I had to make something out of these quotes. That's how What is 'Home'? emerged and it's still one of the most fulfilling projects I've worked on to this very day.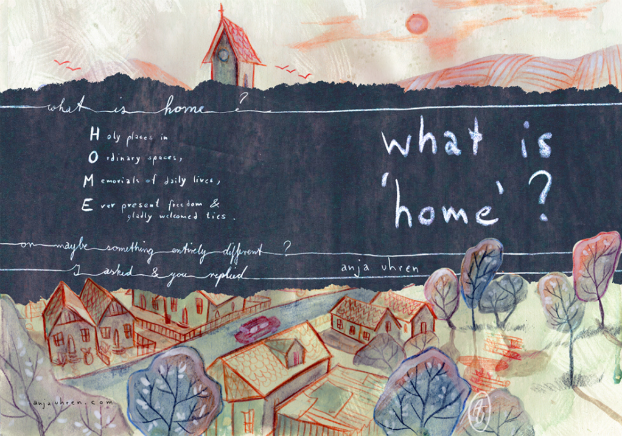 How did you approach bringing those varied definitions to the page in What is 'Home (below)? What were the particular challenges in adding extra visual layers to the contributors' thoughts?
The main challenge was to sort through all those lovely quotes and to decide which ones to include and in what order. I had over 200 so really had some cutting down to do. I wrote them on little post it notes and moved them around on my bed, categorising them into different groups which is how a theme for every page emerged. One group of quotes centred around family, another around memory, another around feeling, journey, haven, etc. – and in that process of organising them the images came to me automatically. It was a strange process and I got really carried away and finished the whole thing in a week or two. That's why I also went with a more naïve and child-like approach for the illustrations. It was more about the concept – the message. It was rough, honest and direct. So I didn't want to overly polish the illustrations either.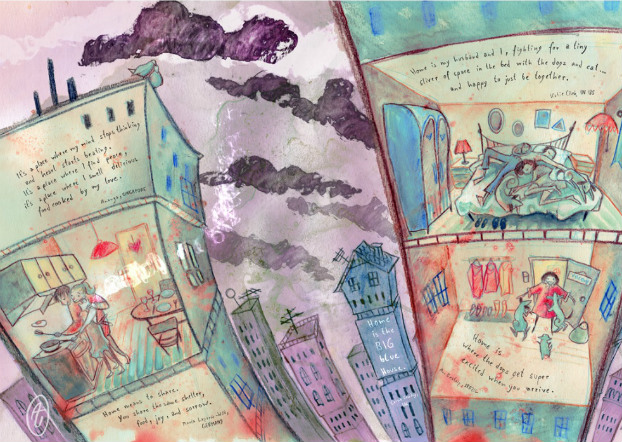 Can you describe your artistic process for your comics output? What mediums do you work in?
I think my answer to your previous question is a good example of how it's usually the nature of the project that defines the process and medium I use to realise it. Each story and concept requires it's very own approach to give it it's unique voice. I like to play with the printed book as an object too and carefully consider the whole reading experience as part of the delivery of the narrative. The longer graphic novel I mentioned earlier for example was a quite personal project so I made an effort to make every copy quite personal too by adding a range of cut-outs and fold-outs to the interior pages which were meant to create a more tactile and personal reading experience. It's also a limited edition of 250 and there'll never be a re-print.
Somehow knowing and considering all these aspects is a very important part of my artistic process.
Another Uhren offering that we recently reviewed at BF was the third in your Visual Thoughts series (video above and sample pages below), collecting a year's worth of illustration work with some comics content. What's the philosophy behind those bumper collections of your work?
The main motive behind starting the Visual Thoughts series was my own fascination for browsing other people's sketchbooks and to challenge myself to make drawing a constant habit. I get out of the flow from time to time and become quite rusty so I figured, knowing that I'll have to have enough decent sketches to choose from for an annual publication will be a good way to motivate myself to keep a sketchbook at all times. This doesn't work all the time but serves as a good reminder and it's also nice to see how a small overview of my creative journey is manifesting through them volume by volume.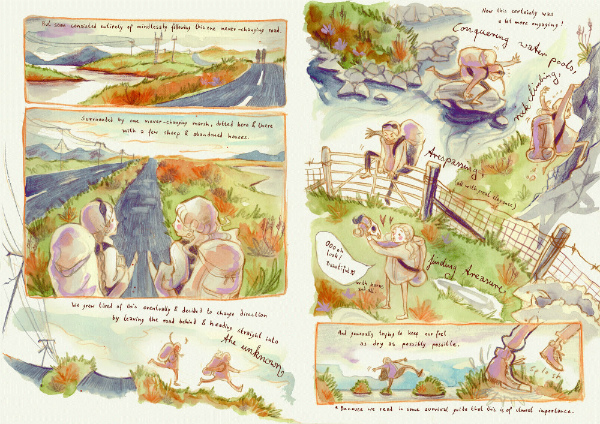 One thing that strikes me about your recent work is that it seems to be more about emotional connectivity – about bringing the reader into the experiences and feelings of the protagonists – rather than about involved or complex narrative. Is that a fair definition? And how would you describe the themes of your current practice?
Yes, I think that's a very fair way of putting it! My work is definitely more focused on capturing a feeling rather than a story.
I'm quite sensitive and emotionally driven by nature and fascinated by psychology and human interaction. Comics that deal with these themes speak to me the most, especially when they're not trying to give any answers. I really like the small stories and moments from day to day life. The ones that make you stop and reflect on your own life and create new connections thereby. I'd love for my own work to have a similar effect on the reader.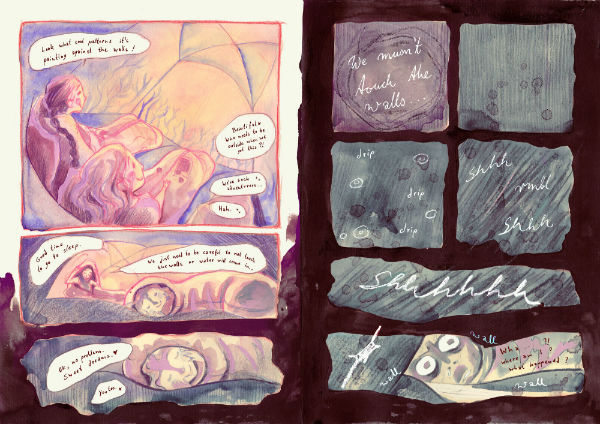 Your slice-of-life comics are so distinctive to me in that they have a slightly ethereal quality to them. They're rooted in reality and yet still have that dreamy, lyrical quality to them. A lot of that is down to the colouring. How vital a part of your storytelling skill set is your use of colour in evoking an emotional response in your audience?
Colour is incredibly important in my work, yet mostly an unconscious decision. I think it's bound to how I remember things. When I think back to certain episodes or past events in my life they always appear in a certain colour scheme, a bit like a filter. Maybe this is bound to the particular emotions I connect to those memories. I've never really thought too much about it but now that you mention it it might be interesting to read up on that a bit more.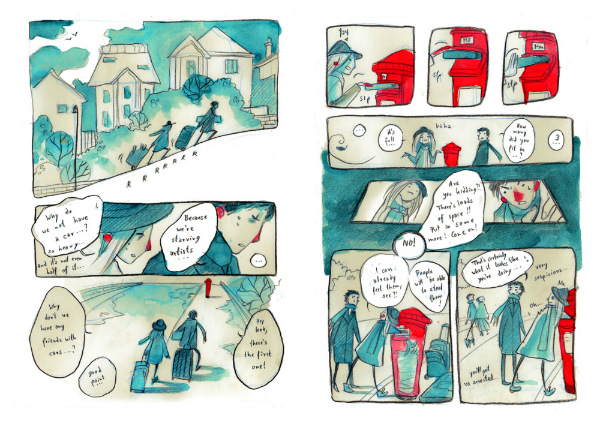 You recently contributed to the Big Brown Eyes Collective's new anthology Habitat (below). How important is involvement in group projects and collaborating with peers in building up an artist's profile on the small press scene?
It's both, important and inspiring and I definitely want to do more of it in 2018. You and the Broken Frontier team have really opened my eyes this past year to the wonderful small-press community here in the UK and I really want to get more involved.
There are two bigger projects I've been working on for a while and which will hopefully properly come to life this year but in between I'd love to fit in some smaller projects for which anthologies and collaborations are always a great platform.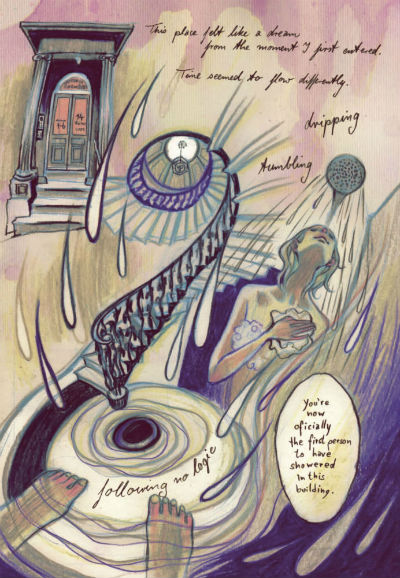 Have you any thoughts about the continuing evolution of your approach to comics? Do you have any plans for longer-form work?
Yes, I absolutely have! 2017 has been mainly consumed by getting my business on track – setting up my artist studio (twice), getting my head around all that boring paperwork and bookkeeping stuff that comes with being self-employed and test-driving all kinds of markets and sales outlets. It was a bit of a drag but all very necessary to put me in the position I am in now – starting the new year with all my focus on personal projects. One in particular I'm very excited about, which I've been plotting all way through last year but not revealed anything from yet. All I can say for now is that it'll be a longer-form graphic novel with considerable slice-of-life content.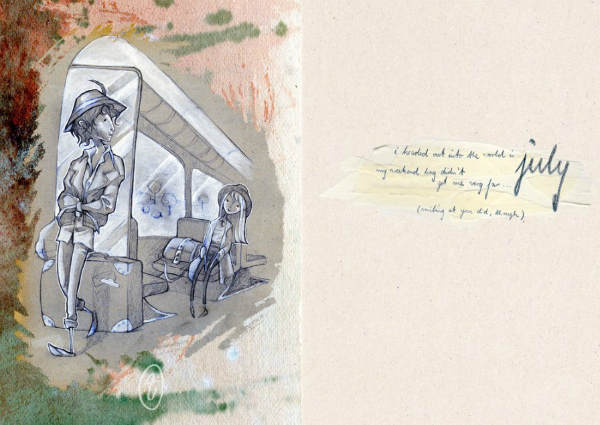 Anja's work in Encounters – reviewed here by BF's EdieOP
And, finally, what's next for Anja Uhren? Are there any projects you're currently work on that you can give us any teasers for?
Pretty much what I said in response to the last question. Unfortunately I can't give you any teasers yet but hopefully very soon!
For more on the work of Anja Uhren visit her website here and follow her on Twitter here. You can buy visit her online store here. You can buy Habitat from the Big Brown Eyes Collective here.
For regular updates on all things small press follow Andy Oliver on Twitter here.
Interview by Andy Oliver