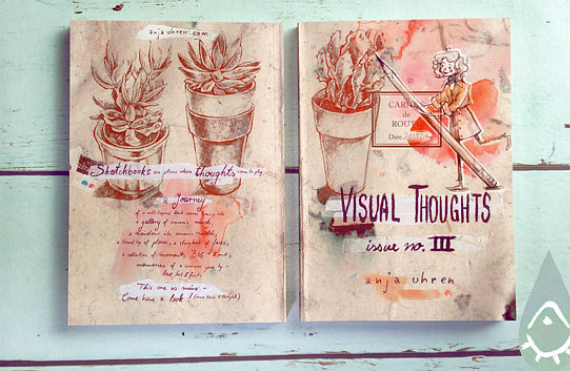 SMALL PRESS DAY IS COMING!
One of our 2017 'Six Small Press Creators to Watch' at Broken Frontier, Anja Uhren has a lyrical artistic style that lends itself to all manner of genres and subject matter. Visual Thoughts is her bumper annual collection of sketchbook pages and shorter work which reaches a third edition this year. And when I say bumper I really do mean bumper! This thick volume comprises almost 200 pages and is not so much a taster of her gorgeously rendered illustrative style as a sumptuous visual banquet.
As she makes clear in the introduction to the book Visual Thoughts III captures moments from her life as it initially entered a transitional phase. It's important to note that comics per se make up just one very small part of this compilation but Uhren's art is so spellbinding throughout that the small fragmentary narratives that can be gleaned from each themed series of sketches are just as absorbing as the pure sequential art.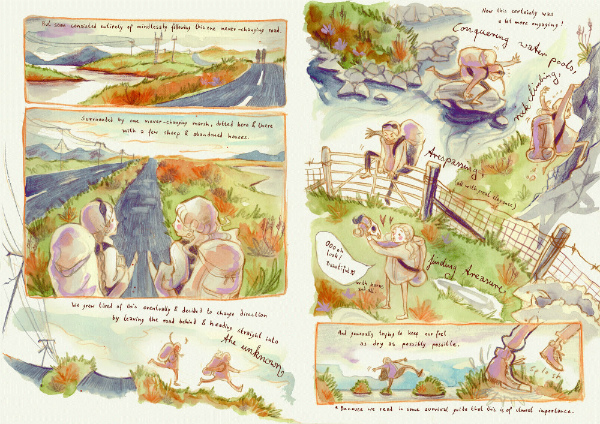 Last year at Broken Frontier I reviewed Uhren's What is 'Home'? – a collection of the thoughts of around 50 different voices on their definition of that titular question, all beautifully brought to life by the artist. From the comfortable and the cosy to the heartbreaking or the abstract, it was a book that underlined Uhren's ability to bring psychogeographical themes to the page with a powerful emotional range.
That's very much in evidence again in Visual Thoughts which takes us on a tour of some of the locations that Uhren visited during that time (Cardiff, Skye, Hannover) and presents almost ephemeral moments from those trips; glimpses of those experiences that are fragmentary and transitory and yet still full of warmth and substance. Visual Thoughts is a book you can just lose yourself within in that regard as you riffle through Uhren's studies of wildlife, street life and life drawing. Interspersed are quirkier, more individual pieces like a photo-enhanced guide to making a travel sketchbook cover and, of course, those all-important comic strips.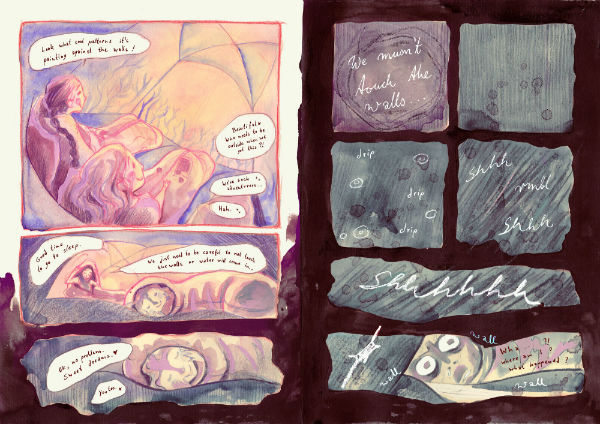 'Camping in the Marshes' (images above) is the first and details a camping trip in the Isle of Skye in 16 wittily paced pages. Uhren's ever expressive use of colour to emphasise changes in mood and tone is quite breathtaking here, initially drawing the reader in by conveying the natural beauty of the countryside and ensuring the audience feels the same sense of excitement in exploration and discovery that the on-page Uhren and her friend do. As the story progresses, and the duo's naivety about the realities of camping come to the fore, the hues change to gloomier and more oppressive shades. Joyous, charming and amiable, this is slice-of-life comics storytelling at its most engaging.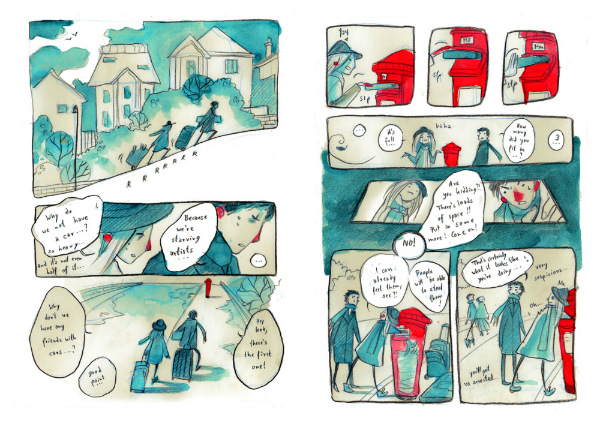 'Self Publishing Obstacles' is a 12-page autobio comic that details Uhren's frantic attempts to ensure her successful Kickstarter comic was mailed out to its backers in time. As a premise it may sound terribly self-referential and insular but such is the affability of her on-page persona we quickly find ourselves wrapped up in her desperate quest to get the books to her readership in time, as an expired postage crisis looms! Visual characterisation is fantastic here in portraying a sense of panic and worry, and the muted colouring gives an appropriate feeling of time closing in around her.
Those wanting to watch Anja Uhren at work will have the opportunity to do so this weekend on Small Press Day at London's Gosh! Comics SPD workshop sessions and see for yourselves why she was one of the very first names on my list for the 2017 Broken Frontier 'Six to Watch'. If you can't make that then do follow the link below to her recently reopened online store. Visual Thoughts III is the perfect introduction to her beautiful illustrative style and endearing autobio comics.
For more on the work of Anja Uhren visit her website here and follow her on Twitter here. You can buy Visual Thoughts III from her online store here priced £15.00. 
For regular updates on all things small press follow Andy Oliver on Twitter here.
Anja will be one of the artists taking part in Gosh! Comics's Small Press Day events. More details here.