As it's International Trans Day of Remembrance it seems more than appropriate today to be giving some space to the stories of trans creators, especially given the current atmosphere of transphobic toxicity online. Sabrina Symington's First Year Out: A Transition Story was originally published in hardcover by Jessica Kingsley Publishers back in 2018. This year Symington's slice-of-trans-life tale – one that blends her own experiences with those of friends – has been republished in a paperback edition, giving us an opportunity to spotlight the book as part of our in-progress trans and non-binary comics resources list.
From our own coverage here at BF we can see how approaches to capturing and exploring trans lived experiences in graphic novels/biographies have been many and varied. In First Year Out Symington looks to create a hybrid account covering a wide spectrum of challenges faced through the transition period. Her protagonist is Lily, a young trans woman, coming to terms not just with establishing her own identity in an often unempathetic world but also with the nuanced changes in her relationships with those around her.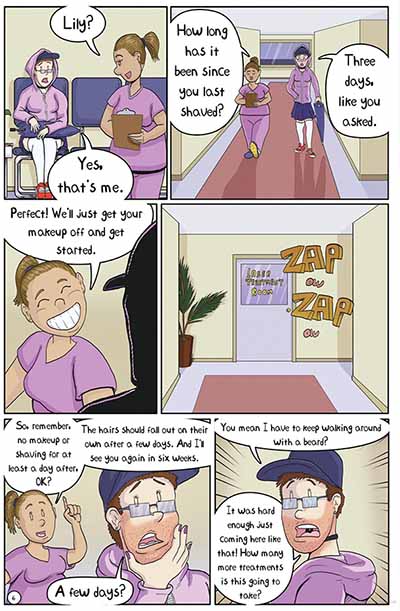 Symington's account is one that will resonate with those who have gone through a similar journey but is also incredibly informative to those wishing to educate themselves on the realities of transitioning. She examines the procedural side from a medical perspective (cosmetic treatment, medication and surgery) in combination with the social aspects (correcting inadvertent misgendering from friends, gaining familial acceptance, and forming relationships), and the mental health aspects (dysphoria, anxiety, fear of not being accepted).
What's interesting in the way that Symington approaches First Year Out is that interweaved with Lily's story we also witness a parallel journey for her parents from scepticism to acceptance and understanding. While never afraid to portray the difficult moments of Lily's life through these months with uncompromising candour Symington also gives us a tale that is full of positivity.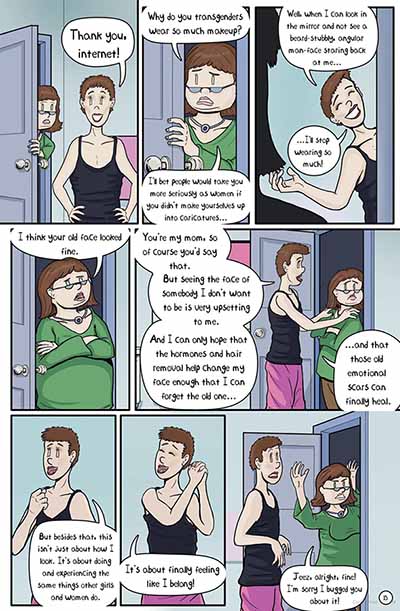 Symington's visuals are uncomplicated but full of heart; that relative lack of sophistication actually working to ensure our connection to Lily is all the more powerful for their raw honesty. An ultimately joyous account of embracing your true self, First Year Out is a worthy addition to any comics library of transgender stories.
Sabrina Symington (W/A) • Jessica Kingsley Publishers, £16.99
Review by Andy Oliver