Bulgilhan Press are a new micropublisher on the small press scene with a stated aim of "bringing new and experimental comics into the world." With that as their soundbite mission statement it will seem most apt to anyone versed with the indie comics world to hear that their first (currently crowdfunding) line-up includes a book by Jesse Lonergan, a creator whose fluency in the language of comics is indisputable (see our reviews of Hedra and Planet Paradise for two excellent examples of that).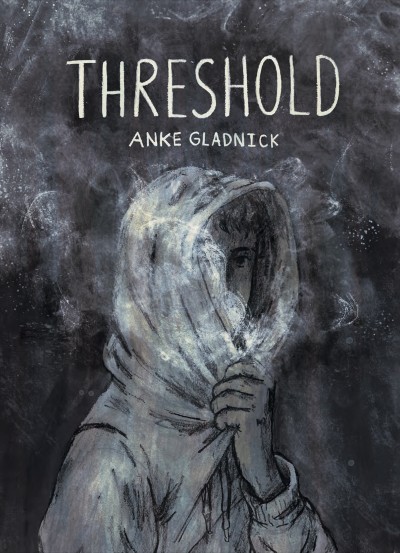 Equally exciting, though, is the second book in their initial two-comic campaign. Championing new voices in the medium is crucially important right now in these lean times for aspiring creators, especially as we continue to live in a world without the profile-raising importance of live shows and events. Anke Gladnick's Threshold is their first comics offering, a meditation on transitioning told in stark, haunting visuals and a profoundly effecting use of visual metaphor.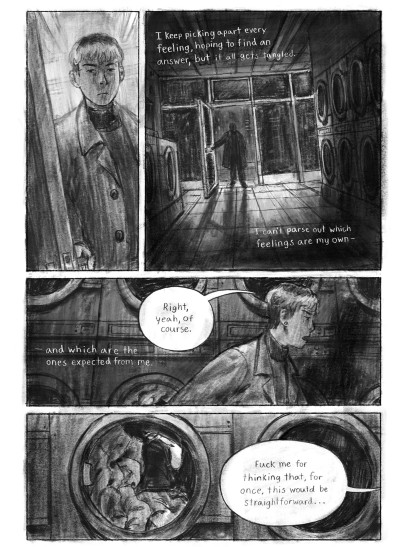 While Threshold isn't exactly a stream-of-consciousness piece of storytelling it does have an eerily ethereal, dreamlike quality to it. Gladnick's account is a journey through the mindscape of someone transitioning, a quest for identity, and a probing, sometimes confrontational, exploration of self. It's raw and candid in delivery, with the self-questioning narration mirrored in the shadowy, disorienting artwork and the often unsettling shifts in location and situation. But Threshold is also a journey with a very definite destination in mind, one both celebratory and self-accepting.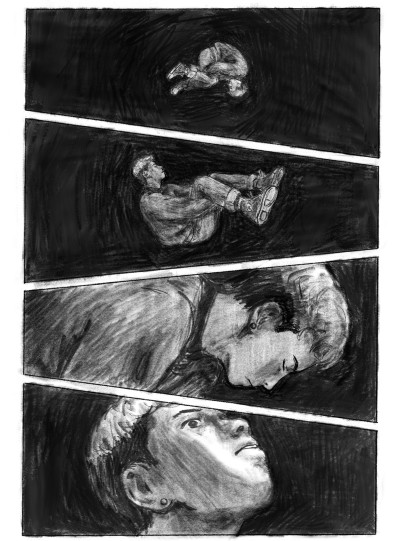 It's Gladnick's aforementioned use of metaphor that will doubtless be the immediate element of Threshold to capture the reader's attention though. The recurring motif of a closed door symbolic of moving forward, panels fracturing and shattering as characters move through them, naked statues accentuating feelings of isolation and solitude, and one thematically important use of colour underlining ultimate realisation and hope. It all combines to give the reader a more immediate and instinctual understanding of Threshold's themes; uncompromising narration and a kind of visual exposition perfectly complementing one another.
For a debut work Threshold is a markedly assured piece of comics that shows a deep understanding of its unique tools to share personal experience and connect with a readership on an intimate level. On the strength of this you would be well advised to keep track of both Anke Gladnick and Bulgilhan Press's output via social media. Those wanting to back the Bulgilhan Kickstarter are reminded they have just over a week to do so here.
Review by Andy Oliver