Throughout December the fine folk at the Forbidden Planet International blog ask the assembled masses of the comics world to look back on the previous twelve months and select their favourite comics, films and books of the year. For 2014 the likes of  Pat Mills, Gareth Brookes, Katriona Chapman, Rachael Smith, Robin Etherington, Richy K. Chandler and many more have already featured in these festive flashbacks.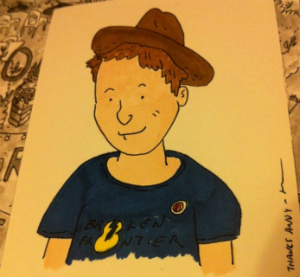 In my role as Broken Frontier's Managing Editor and 'Small Pressganged' columnist I was delighted to be asked to take part in this staple feature of end-of-the-year UK comics commentary again this year. So if you're interested in the Andy Oliver guide to the top three graphic novels of the year, some thoughts on just how the year panned out for us at BF, and three particular small pressers I selected as the people to watch for in 2014 then do visit the Forbidden Planet International blog here.
And for the full list of FPI's 2014 "Best ofs" so far click here. Lots of great reading there!
Picture of Andy Oliver (right) by Kevin Budnik whose autobio comics work has been both self-published and also published by Yeti Press