A fresh but darker take on time travel, Forever Forward #1 is the latest sci-fi thriller from writer Zack Kaplan (Eclipse, Port of Earth). Dr. Lewis Moody has finally cracked the secret of time travel…sort of. But to return to the present, he must travel forever forward in time. That small twist is enough to distinguish this story from others of its type, as is the reluctant nature of the travel when Dr. Moody inadvertently sweeps his friends into this adventure.
Rather than offer the slow buildup of Dr. Moody's research and how it ultimately leads to his being propelled forward in time, Kaplan's smart script starts with a harrowing chase through a city of the future complete with flying cars. If you were hoping for a team time travel experience similar to the lighthearted, sometimes comedic nature of DC's Legends of Tomorrow, you're in for a disappointment. This is a darker story, reflected in Arjuna Susini's (Made Men: Getting the Gang Back Together, Heist) thoughtful but brooding art and Brad Simpson's forebodingly moody colors.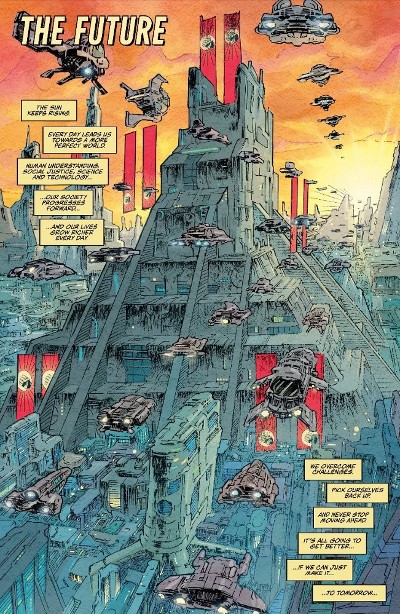 In the middle of the chase scene, Kaplan sweeps us backward in time to meet Dr. Moody. The scruffy university professor is out of funding for his research and refusing to publish his initial successful efforts that sent a mouse .33 seconds forward in time. Upon returning to his lab, he discovers that his friends have arrived, attempting in vain to give him a surprise birthday party. Kaplan's thoughtful character development in these scenes should prove useful as the series progresses. Such development naturally takes panels away from action sequences, however, likely prompting some readers to decide that the book lacks pace. I disagree and posit that if Dr. Moody and his friends weren't interesting, the time travel wouldn't have meaningful consequences. Besides, these scenes are where Arjuna Susini's art shines—the gorgeous two-page spreads convinced me to add this book to my pull list.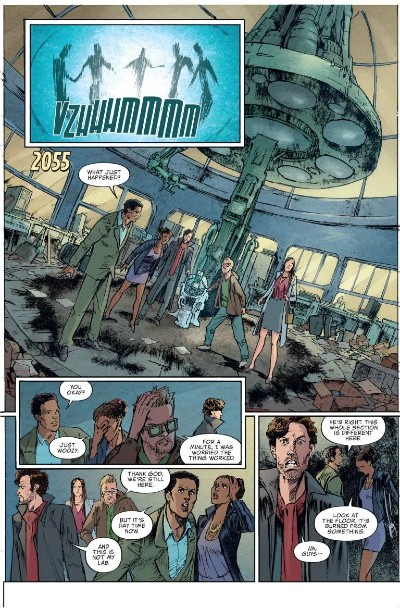 This debut issue of Forever Forward is a solid start to the series. Susini's panels maximize the nuances of Kaplan's script with a noir-inspired style and a fluid energy that give the story a good flow, even when abruptly jumping through time to the lab setting drastically altered by the passage of years. Brad Simpson's dark color pallet of rich blues, purples, and complementary earth tones further establish the ominous tone of the issue and enhance the tension of each scene. While tempting to compare this title with the adventures of the time traveler in H.G. Wells' The Time Machine, I'll hold off on that for now. Both characters certainly face uncertain and dangerous futures, but I get the sense that this creative team may have received more of its inspiration from the exploits of Doctor Who. I'm already looking forward to the next issue.
Zack Kaplan (W), Arjuna Susini (A), Brad Simpson (C), Jim Campbell (L), Jacob Phillips (CA) • Scout Comics, $4.99
Review by Karen O'Brien