Welcome to an introduction to one of the greatest comic loving days of the year.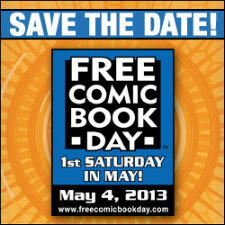 Saturday is Free Comic Book Day, an annual occurrence on the first Saturday in May. This year it also happens to be Star Wars Day, as in, "May the fourth be with you."
FCBD has been growing in popularity and mainstream coverage since its inception in 2002, and here you can find out if a comic shop near you is participating.
Now, it doesn't mean you can rock up, grab an armful of comics and just exit as you wave to the owners. There are certain limitations in place, with publishers offering issues that will attract newbies to the wonders of sequential art. This year, a staggering 52 titles are up for grabs, with shops imposing their own limits on how many partakers can walk away with.
Fear not however, as there is certainly something for everyone, and here are my recommendations, broken down in to handy categories, and a massive high-five to the wonderful people at Quality Comics in Western Australia for their generosity.
Old School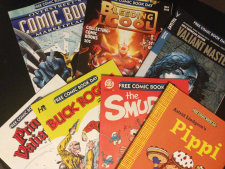 Prince Valiant. Fantagraphics. Inside are two, colour stories from 1950 from the much revered newspaper strip by the legendary Hal Foster. Anyone with an interest in comics history must familiarize themselves with the adventures of this Nordic prince from the 5th century, as Foster's storytelling and delicate linework truly stands the test of time.
Buck Rogers. Hermes Press. Another timeless hero from the strips, and another two, colour adventures. This time, it's from even earlier, 1936-37 to be precise. Also included are a few delightful pages that briefly show some of the memorabilia of the jetpack wearing sci-fi hero, including movie posters and a jigsaw puzzle. Oh, and good news! Howard Chaykin is bringing new stories of the the man from the 25th century in August.
The Smurfs. Papercutz. Three stories of the little blue creatures from Peyo, and two other features I haven't heard of. Annoying Orange is apparently a hugely popular web series about talking fruit and this short tale shows a bunch of them in a bowling alley, with the durian being ridiculed for his stink. (Understandably, if you know what that fruit is). There's also Ariol, which follows a blue donkey in sketchy style in a bookstore. It's all harmless, all-ages fun.
Anna & Froga/Pippi Longstocking Color Special. Drawn & Quarterly. Anna and her talking animal pals get up to mischief in a few stories that only last a handful of pages. They include playing tennis, preparing for a dancing contest, meeting a sneezing Yeti, and helping a worm called Christopher back in to his hole. Yep. The 1950s Pippi story is also delightfully simple and charming, with its bold colours. The first panel features Pippi lifting a horse over her head. I never knew she had super strength.
Valiant Masters. Valiant Entertainment. This publisher's recent relaunch is gaining new fans quickly, but they also have an impressive back catalogue of stories, and four from their '90s heyday are presented here. Catch pages of early tales starring Ninjak (with art by Joe Quesada!), Shadowman, Eternal Warrior (with art by Barry Windsor-Smith!), and Rai.
Miscellaneous
Overstreet's Comic Book Marketplace. Gemstone Publishing. The perennial publication for the collector doesn't have a price guide, but it does have a look at films based on comics, the top movie and TV-related issues, an article on collecting movie posters and an interview with Joe Field of Flying Colors Comics about FCBD.
Bleeding Cool Magazine. Avatar Press. The increasingly popular gossip/news,etc website's recent magazine has articles on collecting comics, where to start reading them, a chat with writer Christos Gage, a preview of upcoming releases from BOOM! Studios, plenty of ads, and more.
Cartoons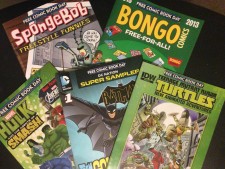 Hulk and the Agents of S.M.A.S.H. Marvel. This looks like screenshots from the upcoming animated series starring Bruce Banner's green-skinned alter ego and fellow super strong heroes, such as She-Hulk and Abomination. Here, Rick Jones and Red Hulk help Hulk battle Skaar in the desert. The back-up tale is from this month's Avengers Assemble cartoon, which features the cast we know from last year's cinematic blockbuster, and The Falcon.
DC Nation Sampler. DC Comics. A tale featuring the latest animated Bats update – Beware The Batman! A tough Alfred with a bowler hat, Anarky in white rather than red, and the biggest ears Batman's cowl has ever held. The second story is a reprint from the fairly recent Teen Titans show, and not the upcoming relaunch of sorts.
Teenage Mutant Ninja Turtles Animated Adventures. IDW Publishing. IDW are launching a new series based on the Turtles' new show in July, and from this complete, 22 page issue, it looks like it combines everything we love about the heroes in a half shell.
Spongebob Freestyle Funnies. Bongo Comics. An entertaining series of tales that poke fun at comics, superheroes and FCBD, and based on the popular animated show.
Bongo Comics Free-For-All. Bongo Comics. See above. Plus, Scratchy's exploding head and a naked baby Homer.
In tomorrow's final Part 2, I'll look at the plethora of all-ages, and superhero/adventure issues available.