Here is my final examination of this year's offerings for the awesomeness that is Free Comic Book Day (see Part 1 here).
All-Ages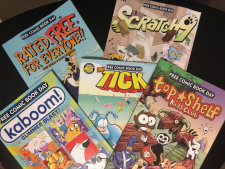 Kaboom! Summer Blast. BOOM! Comics' all-ages imprint has six stories, including the hugely popular Adventure Time, and Regular Show tie-ins. There's also Garfield, Ice Age, Peanuts and the return of Mike Kunkel's excellent Herobear and the Kid. Plus, the Adventure Time story is a choose your own adventure! Involving punching! This is a definite grab for the kids, and kids at heart.
Scratch9. Hermes Press. Debuting in 2010 and gaining an Eisner nomination is this fun and unique series, with a new one, entitled Nine Tails, kicking off in July. The titular feline can call forth his previous nine lives when required. Handy. In this reprint, he escapes from a bath and meets a mad scientist. It's fun and has a great cartoony vibe.
The Tick. New England Comics Press. This superhero parody has been around for years and gave us one of the wackiest cartoons ever, and a too short live action series starring Patrick Warburton. There's three new stories here, with great dialogue, mermaids, lobster men, a desert island, and The Tick discovering the internet.
Top Shelf Kids Club. Top Shelf Productions. Top Shelf are one of the most interesting and diverse publishers around, and their all-ages books are always a treat. This black and white anthology features the cute Owly, the even cuter, and wonderfully drawn, Korgi, Johnny Boo, a vampire getting excited about free comics in Upside Down, Pirate Penguin vs Ninja Chicken (at a buffet), and finally a peek at July's charming OGN, Monster on the Hill.
Rated Free For Everyone. Oni Press. Another diverse and dependable publisher, Oni offer two colour stories, with Mermin, about a boy Merman (Merboy?) who runs afoul of a killer whale at a zoo, and a story called The Black Brigade from The Crogan Adventures.
There are also issues from other publishers focused on Sonic the Hedgehog, Tinker Bell, Archie, Strawberry Shortcake, Stan Lee's Indian superhero Chakra The Invincible, Jamal Igle's upcoming Molly Danger, Antarctic Press' My Little Pony: Friendship Is Magic/Adventure Time inspired Action Time Buddies, and more. FCBD is often geared towards younger readers who may be experiencing the joy of comics for the first time, so be sure to pick something up for the little one in your life.
Superhero/Adventure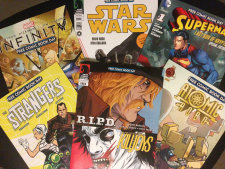 Infinity. Marvel Comics. Jonathan Hickman, and Jim Cheung create a teasing epic for Marvel's Infinity series that's coming in August. There's also a reprint of a 1977 Thanos story, and the preview pages that have previously been released online for the Warren Ellis and Mike McKone Avengers OGN, Endless Wartime. It looks pretty , but Marvel should've taken the opportunity to introduce more characters to first timers, even if it was just one page bios.
Superman: Last Son of Krypton. DC Comics. Timely, for the June releasing Superman film, this issue reprints the first issue of the Geoff Johns, Richard Donner and Adam Kubert collaboration from a few years ago, and includes a brief chat with artist Jim Lee and writer Scott Snyder about their Superman Unchained series which debuts next month.
The Strangers. Oni Press. Another full issue, but this one is for an upcoming series. It's all very kitshcy and charming, with an obvious, yet hard to resist wit with pop-infused shades of The Avengers (the '60s TV show). This looks set to be a fun series.
Atomic Robo. Red 5 Comics. One of the funniest comics out there, along with Axe Cop, and Goon, Robo is filled with chuckles and adventure every issue. If you're new to Robo, grab this to see why it's praised, as Robo battles a mecha! There's also a few pages from the recent, and very cute medieval adventures of a troll who desperately wants to be scary, in Bodie Troll.
Mass Effect/R.I.P.D/Killjoys. Dark Horse Comics. This flip book offers short tales from the tie-in comic to the popular sci-fi game,  a tale of the dead cop partners (with the Ryan Reynolds and Jeff Bridges film out soon), and a peek at next month's The True Lives of The Fabulous Killjoys written by My Chemical Romance's Gerard Way. Great art and intriguing stories.
Star Wars/Avatar: The Last Airbender. Dark Horse Comics. The Horse's second freebie this year also has a preview of the old pulp hero Captain Midnight, which launches in July. I'm not very familiar with Avatar, but it has a suitably animated approach, while the Star Wars story has Darth Vader and Boba Fett teaming up against an attempt on the Sith Lord's life, and is written with aplomb by current Wars scribe, Brian Wood.
There are also issues from other publishers focused on Judge Dredd (new and reprints), Viz Media's black and white Dragonball/Rurouni Kenshin (with a poster inside), a tie-in comic to TV's Grimm, gorgeous art (and ladies) in Dynamite's Damsels: Mermaids, and the anthology Worlds of Aspen, and the return of Top Cow's Aphrodite IX with Stjepan Sejic's dazzling visuals, the in your face brutality of Absolution, the Indian mythology collection of stories by some top creators in Ramayan 3392 AD, Governor, and Michonne-centric tales in The Walking Dead,  a steampunk version of The Wizard of Oz from Arcana, and more.