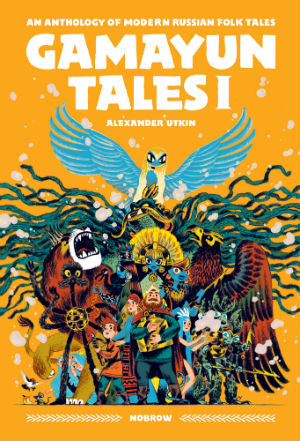 Nominated in the 2018 Broken Frontier Awards in the Best Artist category, Alexander Utkin's Gamayun Tales series (translated by Lada Morozova) has so far run to three books of what publisher Nobrow Press describe as "modern Russian folk tales". Stories with an all-ages appeal, we've described them at Broken Frontier as work that "can be enjoyed by a younger audience as an enchanting fairy tale or appreciated by an older one for its truly gorgeous illustration and craft."
This week Nobrow Press release a collection of the three stories, previously published in individual hardcover volumes, in one paperback compilation. Accessibly priced at just £12.99 it gives a whole new audience of readers an opportunity to enjoy these stunningly illustrated folktales. As we've already reviewed each adventure in the series it seems a fitting time to revisit those articles and journey through the world of Gamayun Tales once again.
Gamayun Tales: The King of the Birds
The Premise: Via the titular Gamayun – a human-faced bird from Slavic mythology who fills the dual roles of guide and commentator on the action – Utkin throws us into a story-in-progress from the very beginning. Events surrounding a disputed magic apple lead to a breakdown in the relations between the Animal Kingdom – ruled by its leonine monarch – and the Kingdom of the Birds, overseen by a majestic eagle. The tensions between them eventually lead to war and a climactic and devastating final battle between the two sides.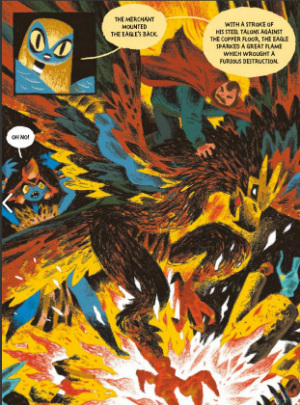 Broken Frontier Soundbite: "It's Utkin's art that is, obviously, the true draw of Gamayun Tales and its sumptuously coloured pages are rich in lavish detail. It's that same carefully chosen use of colour that enhances the fantasy feel of the story, creating a world that is both beautiful and brutal, captivating yet unforgiving."
Gamayun Tales: The Water Spirit
The Premise: A merchant makes the fatal mistake of opening a magic chest he was given as a reward but warned not to tamper with until he got home. When the magical effects of the chest anger the powerful water spirit Vodyanoy this error of judgment proves to have terrible consequences. Forced to promise his newborn baby to this entity, the merchant and his wife must seek a way out of their bargain or face condemning their son to a life of underwater servitude.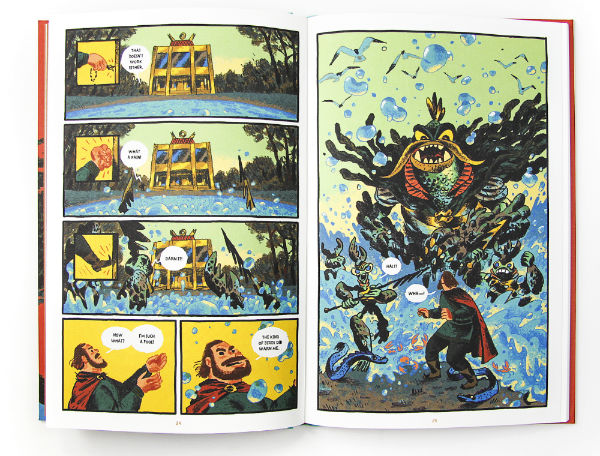 Broken Frontier Soundbite: "Like all the best fairy tales The Water Spirit is a parable reflecting on very human foibles; in this case highlighting the foolishness and irresponsibility of its main character the merchant. Utkin creates a world of enchantment and awe but also one that is cruel and unforgiving; the everyday and the fantastic inextricably intertwined."
Gamayun Tales: Tyna of the Lake
The premise: The merchant's son is in the servitude of the water spirit Vodyanoy. Fortunately, though, the boy has been befriended by this aquatic entity's daughter Tyna, and a glimmer of hope that his fate can be escaped remains. Together the pair must work together and face the challenges of Vodyanoy's realm if they hope to be free of his clutches…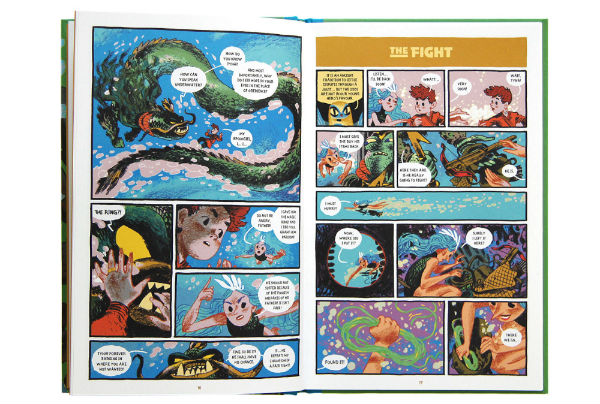 Broken Frontier Soundbite: "Alongside Lorena Alvarez's Nightlights books (reviewed here at Broken Frontier), Nobrow have found another series in Gamayun Tales that deserves the same acclaim and following of Luke Pearson's Hilda books. Both are a perfect entry point to the form for younger readers but, crucially, they are also appealing reads for the slightly older kids among us (!), enticing us not just with the magical worlds they conjure but with the confidence of Utkin's standout storytelling craft."
Alexander Utkin (W/A), Lada Morozova (Translation) •  Nobrow Press, £12.99
Article by Andy Oliver