While stories of addiction – in all its multiple forms – are an established sub-genre of graphic medicine it could be argued that when that dependency is alcohol-related the amount of material is disproportionately lower in number. There are probably a number of obvious reasons for this, not least of which is that it's a subject that we cannot easily step away from and say it doesn't apply to us. In that regard it has uncomfortable and awkward truths to it that many of us will not want to confront. Rachael Smith, though, has never been afraid to tackle such considerations head-on, and Glass Half Empty is another entry in her hugely lauded series of autobiographical comics work.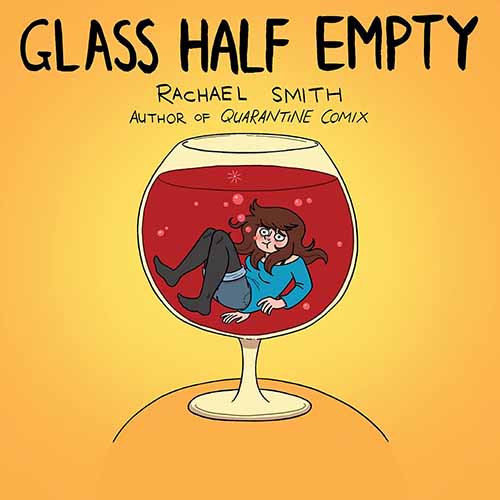 Fans of Smith's particular slice-of-life oeuvre will be familiar with the approach Glass Half Empty takes. Again it uses a small cast of characters – real life people (her mother, late father and boyfriend Rob), anthopomorphised cast members (her cat Rufus), and metaphorical entities (Barky, a canine representation of her anxiety and depression, and Friendly, another dog-like manifestation but this time of her more positive outlook on life.)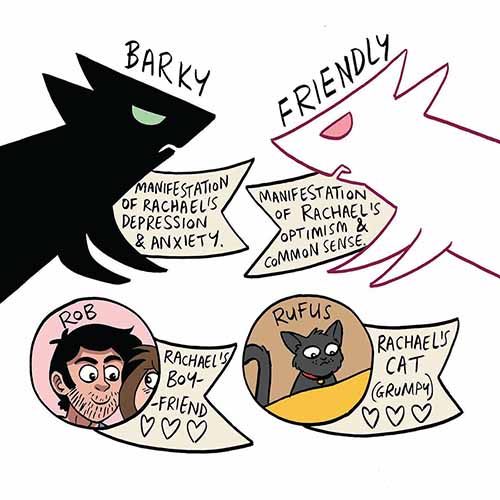 Herein Smith is perhaps less rigidly structured in the pacing of each strip. There are those 4-panel strips, building up to a punchline (sometimes humorous, sometimes poignant), but there's also a use of one-page images to emphasise emotional beats, and strips that run across pages depending on the tempo needs of each instalment. Occasional commentary again runs at the bottom of the page emphasising theme, making an additional witty aside, or simply adding information on the terms used above it.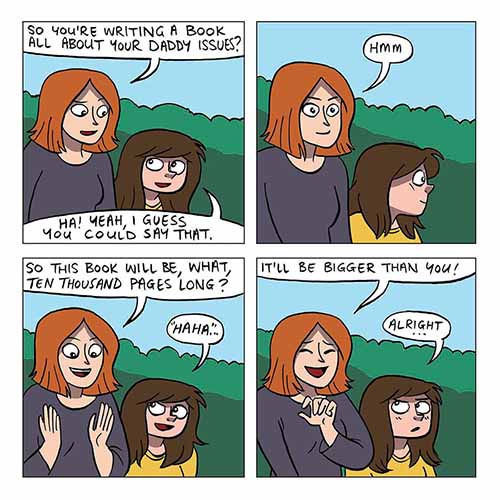 Split into sections Glass Half Empty starts with a quietly devastating account of Smith's life as a child in a household with a father struggling with alcohol dependency. Beginning with her "atheist origin story" (itself one of the most affecting comics in the entire book) we are silent witnesses to the confusion the young Rachael feels towards a father who can be loving and attentive but also unpredictable and thoughtless. It's a difficult read as we observe Rachael attending Alateen meetings, the obvious love between her parents being overshadowed by the spectre of drink, and heartbreaking moments like the times her school lunch money was stolen by her father to spend on alcohol.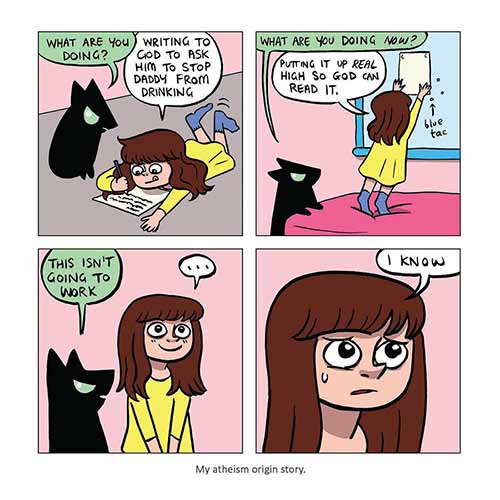 In the second section which deals with the grief she feels after her father's death (both immediately and to this day) Smith reflects on the could-have-beens (what her father would have made of her art, the lost family moments growing up, and so on). This is a creator who has always had a remarkable gift for visual metaphor and this chapter's use of that to so deeply connect with the reader is at times emotionally overwhelming in its delivery. It continues into the third chapter on addiction with the powerful final image below that begins Smith's exploration of her own addiction.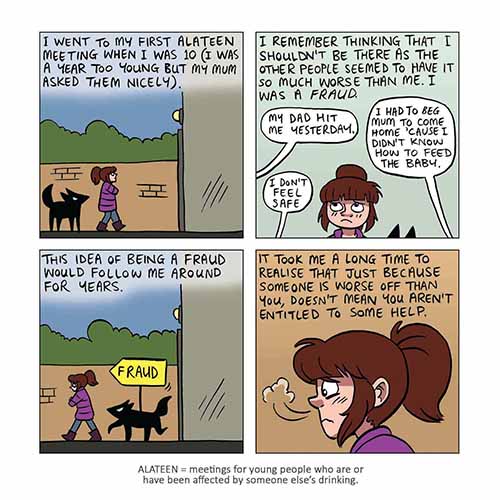 Smith's unflinching honesty here – a quality that runs through all her autobio material – links her own issues with alcohol to her grief at her father's passing. A savage irony that makes her reflections here all the more affecting in their candour. When we move to the recovery section of the book. and Smith's decision to stop drinking for a time, she also explores societal attitudes to alcohol – the hypocrisies, the pressures, and how drinking is accepted as the norm but subsequent addiction as some kind of victim-blaming moral aberration.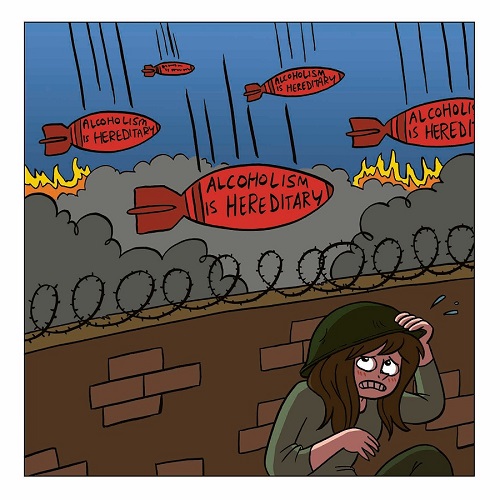 Glass Half Empty is an unfettered treatment of its subject matter from a cartoonist with an ability to blend the poignant, the knowing, the laugh-out-loud funny, and the admirably honest in one heady mixture. Perhaps most importantly, though, this is ultimately an incredibly hopeful book. Every time I review new Rachael Smith graphic medicine work I find myself saying something to the effect of it being her most important comics yet. Instead of repeating that kind of sentiment let's just agree that Rachael Smith is the Wolverine of autobio/diary comics – the (very) best at what she does.
Rachael Smith (W/A) • Icon Books, £12.99
Review by Andy Oliver