Back in 2016, when I reviewed the original edition of Wired Up Wrong – Rachael Smith's account of living with anxiety and depression told via witty vignettes, visual metaphor and candid confession – I described it as probably her most important work to date. It was a statement I repeated when Rachael asked me to record a short piece for the Kickstarter video to accompany the 2017 crowdfunding campaign for a hugely expanded version of the book and one that also adorns the new volume's back cover in the form of a pull quote.
I meant every word of it.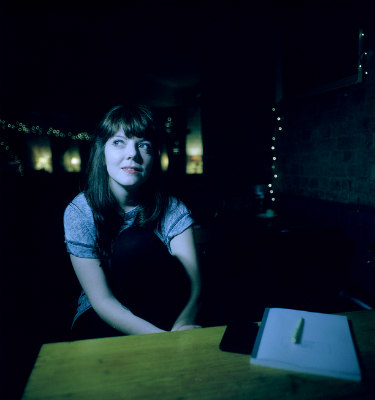 Why is Wired Up Wrong such a vital piece of comics? Simply put, it's one of the most accessible treatments of depression and mental health issues that I've seen in any medium, let alone comics. It tackles its themes with warmth and humour but never to the point of trivialising the subject or patronising its audience. It's raw, it's honest, it fully embraces the potential of the comics form and it's a beautifully connective book that reminds those in similar situations that they are not alone.
Today at BF I talk to Rachael Smith in depth about her own experiences of living with depression and anxiety, why she chose comics to tell her story and the reactions to Wired Up Wrong to date…
(Photo above by David Wilson Clarke)
ANDY OLIVER: One of the most important aspects of Wired Up Wrong is that it has had a reach far beyond a traditional comics audience. For those discovering your work in its pages for the first time, though, could you give us some details on your comics journey so far?
RACHAEL SMITH: I got my start in comics with my autobio webcomic One Good Thing, which I started in 2011. I was struggling with my depression and I decided to draw one good thing that happened everyday, in an effort to think more positively. I collected each month's drawings in little books and started taking them to comic conventions, where I met like-minded people and was inspired by all the different stories being told.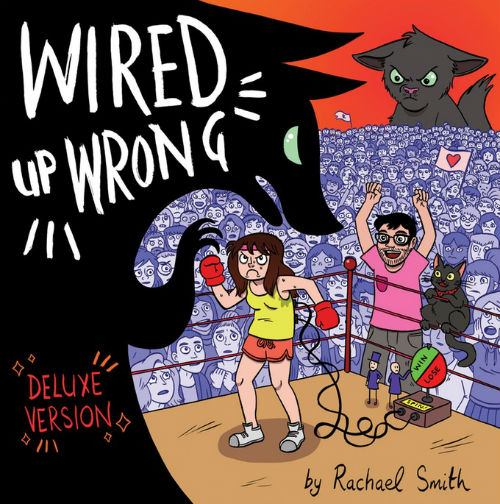 I wrote my first two minicomics shortly after this: The Way We Write, and  I Am Fire. They were very silly, energetic little stories and they got some very kind reviews. I was then approached by Marc Ellerby, then of Great Beast Comics, asking if I'd like to release a longer book with them, and thus House Party, my first book (with a spine!) came to be. I was nominated for the Emerging Talent category at the British Comic Awards that year (2014). It was around this time I started doing the monthly humour strips for Titan's Doctor Who: Tenth Doctor comics, which opened a lot of doors for me.
In 2015 I brought out The Rabbit with Avery Hill Publishing, which got me my second British Comic Awards nomination, this time for Best Book. I brought out my third book in 2016 with Avery Hill as well, called Artificial Flowers. I self-published Wired Up Wrong in November 2017. That's a bit of an abridged version of my journey so far but I think that's all the important points!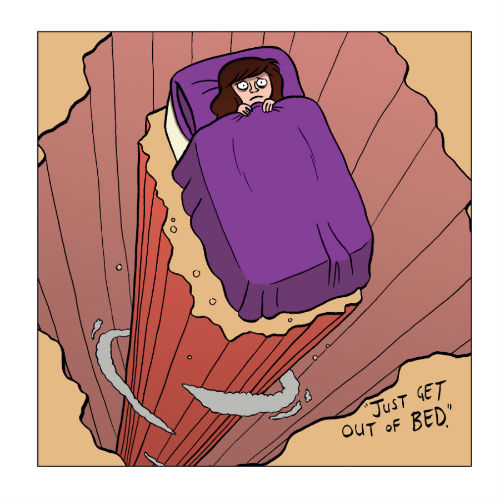 How would you describe the premise of Wired Up Wrong and the cast of "characters" the audience will meet in its pages?
Wired up Wrong is a collection of autobio comic strips that I made in an effort to better understand my own brain. The strips deal mainly with my struggles with anxiety and depression; some are lighthearted, some are potent, some are just straight-up advice. The cast of the comics includes me, my boyfriend Adam, my cat Rufus, as well as two giant black dogs called Barky who follow me around, and two tiny game show hosts who live in my head.
Why do you feel comics is such an effective medium in expressing and communicating the kind of personal experience you're documenting in Wired Up Wrong?
I think the comics medium really lends itself to explaining how depression can physically feel sometimes. People who don't suffer from depression often don't understand that part very easily. 'Why didn't you just get out of bed?' they say. But sometimes it literally feels like there's a weight bearing down on you, or a fear that paralyses you. I tried to draw how this feels in different ways.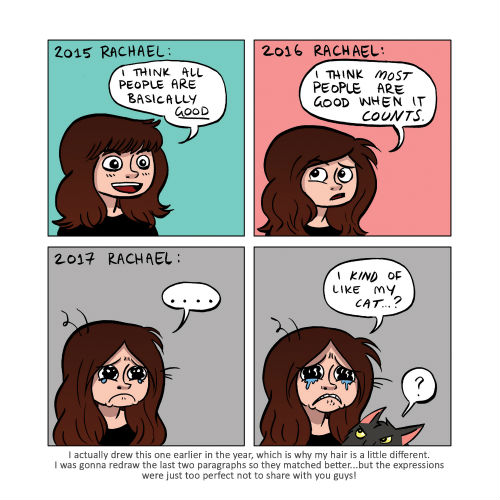 This is a greatly expanded version of the original edition of Wired Up Wrong that was published in 2016. Firstly, can you tell us a little about the new material and, secondly, what were the advantages of publishing a revised edition over a Wired Up Wrong Volume 2?
The original edition of Wired Up Wrong was a little 40-page comic with a very small print run. I just did it as a bit of fun, I thought people might get a kick out of it, while at the same time being cathartic for me to make it. The books sold like absurdly quickly. People came to me to tell me it helped them cope with their own mental health issues, or made it easier to help people they knew. It was kind of overwhelming, in a very awesome way! So more copies of the book were needed, obviously, but instead of simply reprinting the original 40 pages, now that I knew the book had such a big audience, I wanted to do something a bit more special.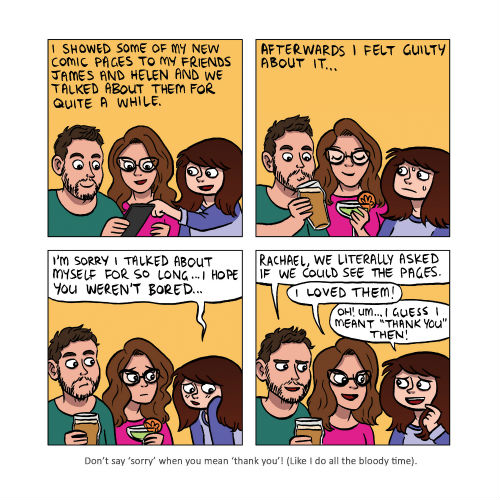 I decided to crowdfund a deluxe version of the book on Kickstarter. I added 100 more pages, and designed a new cover for it. It was a hit, it made over 200% of its funding goal and I was able to add French flaps and a spot varnish to the cover. We also made cute stickers and bookmarks!
It was important for me to do the deluxe edition as a new book rather than a 'volume 2' because the first iteration hadn't really been distributed that far, what with its very small print run. I also didn't want any new readers to miss out on those first 40 pages, as I think they gave a good foundation to a lot of other things I wanted to talk about.
Have there been any opportunities that expansion has given you to play with the format of the book in terms of pacing and ordering of the material?
It's certainly given me the opportunity to expand on things, and talk about new things. I wanted to talk about my experience with therapy and anti-depressants, for example. As well as tell a story of my first dealings with harassment. I kept most of the original 40 pages near the beginning because, like I mentioned, I think they give a good foundation to my little world, but I did mix some things up a bit.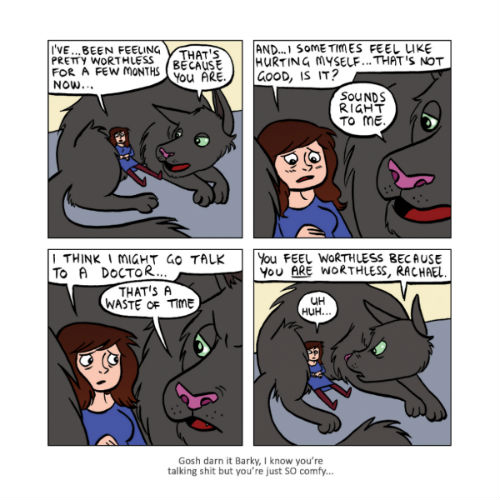 How do you deal with the sense of vulnerability that putting such personal work out there must entail? And, conversely perhaps, was there a feeling of catharsis when placing the events of Wired Up Wrong on the page?
Some of it was cathartic, but some of it was very difficult to put on paper. I worried mostly about my Mum reading some of the pages and worrying about me. I wanted the book to be honest though, above anything else. I owed my readers, and fellow sufferers that. As far as vulnerability goes I'm actually not sure. People have told me I'm very brave to put myself out there like that but I don't feel brave at all. I don't exactly feel vulnerable either though. It was a book I think I simply had to make and I'm proud of how well it's done so far, and how many people it's helped to feel less alone.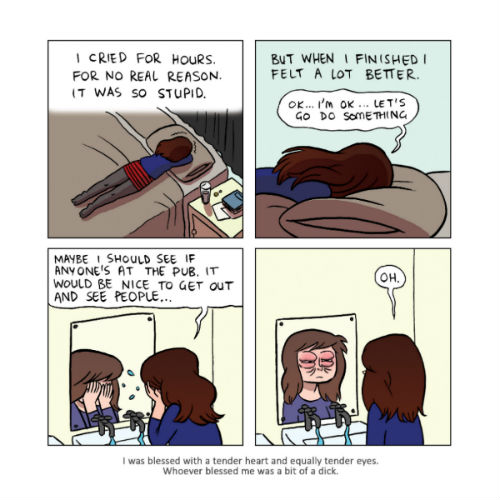 What has feedback been like to both versions of Wired Up Wrong to date?
It's been amazing! Readers and reviewers alike have been so kind about it.
What are the particular responsibilities inherent in discussing mental health issues in a comics format?
I guess the one thing that worried me about this book was that people would think it's a 'self-help' book and buy it instead of seeking medical help. I added a page right at the beginning making it clear that I'm not a doctor and that everyone is different. Hopefully people will read that before deciding if the book is what they want/need right now.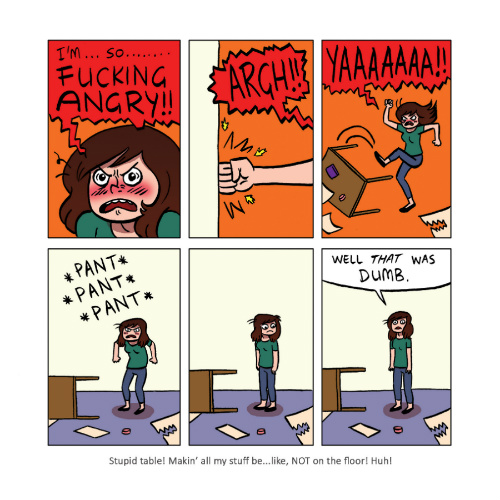 What are the advantages of presenting your experiences in the more vignette style you do in Wired Up Wrong with a pronounced use of visual metaphor over, say a more traditional narrative approach?
It made a lot more sense with this book to show snippets of everyday life rather than forcing it into a beginning a middle and an end. With depression often there is no 'end'. For me, depression, I think, will always be a part of my life, and a part of who I am, it will come and go and get better and worse and I'll just have to find my own ways of dealing with that. I guess I just hoped that seeing it in such an everyday setting will help to normalise it for people who perhaps have a hard time understanding what depression is.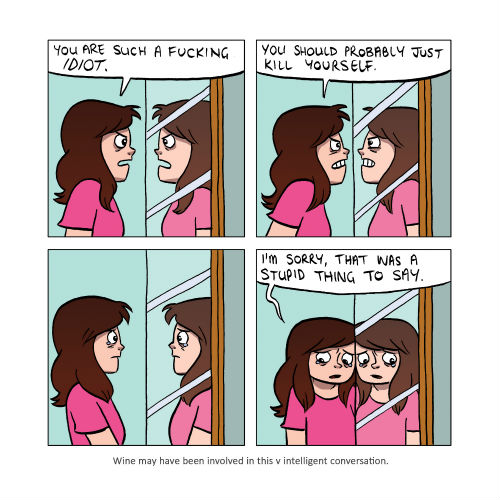 You crowdfunded this new expanded volume. How daunting an experience was that?
When I set the Kickstarter up I was pretty confident I would make the £6000 goal, having run a successful Kickstarter for House Party back in 2014. I now had a bigger audience, as well as a very enthusiastic response to a smaller version of the book – it had been tried and tested, if you like. So at the start I actually wasn't too nervous. I was also super lucky as the book got funded super quick, so I didn't have much to worry about after that. The sheer number of people talking about it and pledging was a little daunting though! (in a good way!)
And, finally, what's next for Rachael Smith? What can we expect to see from you in 2018 and beyond?
Argh it's a little frustrating right now as I'm on the cusp of a few projects but nothing's been announced so I can't really talk much about them! I am working on a new book though, it's a made up story rather than autobio and it has a witch in it. It'll hopefully be out next year. I am busy with stuff though I promise!
For more on Rachael Smith's work visit her site here and follow her on Twitter here. You can order Wired Up Wrong from her online store here.
For regular updates on all things small press follow Andy Oliver on Twitter here.