As we all know, comics is a medium of infinite possibilities. And as a long-overdue openness about mental health has become increasingly prevalent, it's no surprise that creators have used the form to explore their experiences. In Constantly, Canadian artist GG brings craft and insight to an intimate vignette of depression and anxiety.
GG maintains a low profile that seems in step with the understated craft of her beautifully precise comics. I first came across her work in the form of 'Don't Leave Me Alone' – a nightmarish and unsettling 20-page episode that was selected by Roz Chast for the 2016 edition of The Best American Comics.
If the presentation of that comic – originally produced for the Comics Workshop Composition Competition – put the reader in mind of a subtitled film, then Constantly evokes nothing as much as a tightly choreographed solo dance performance.
Across its 48 pages we share the experience of a young woman beseiged in her apartment by anxiety and/or agoraphobia. Her unease takes the visual form of shadowy hands that assail her with their unwelcome attention. From the restless sleep that opens the book to her yoga routine and efforts to make a smoothie, she is buffeted by their malevolence. Only while tending one of her houseplants does she achieve a moment of serenity.
The defining characteristic of GG's art is a sense of control. The depiction of the protagonist's body language suggests the precision of modern dance, while the use of space almost turns the apartment into a stage set. There's a clear sense of purpose behind every choice the artist makes, from the rhythm of the pages to the carefully selected palette. And that clarity puts the reader right there – almost voyeuristically – with the protagonist.
The only text that appears throughout the book is a changing list of the young woman's wishes. However, reflecting the enervating negation of depression, the lists tend to focus more on what she doesn't want: to eat, to sleep, to live, to die. She doesn't want to leave a trace, but she doesn't want to be forgotten.
Time is also a factor: but the recurring image of the clock doesn't really give us a sense of it as something that anchors us in the world. Instead, it seems more of an abstraction or an irrelevance. Time can fly when we're having fun, apparently. But when we're not?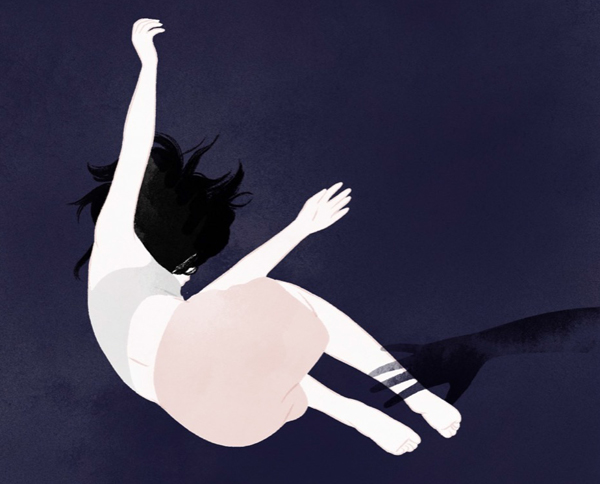 As an almost entirely visual piece of work (which uses mostly full-page images), Constantly makes for quite a rapid read. However, GG's command of her style and material gives the work a gentle power beyond any amount of verbalisation or chunks of text. In the world of anxietysplaining – as in most things – less is often more.
Find out more about GG's work on her website here.
GG (W/A) • Koyama Press, $10.00
Review by Tom Murphy