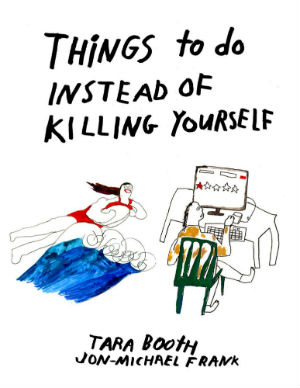 We've spoken at length in the past here at Broken Frontier about the particular communicative strengths of comics as a medium in regard to exploring mental health issues. Indeed we have an entire resource list of comics and graphic novels on mental health awareness here on Broken Frontier for those wanting to look at this particular area of graphic medicine in more depth.
Jon-Michael Frank and Tara Booth's Things to Do Instead of Killing Yourself, recently released by Floating World Comics, takes the creators' own experiences of "depression, anxiety and suicidal ideation" as its starting point in a distinctly different take on the subject. It's not entirely comics but, through its series of incremental and often bleakly humoured single illustrations (with occasional sidesteps into the sequential) it builds into perhaps a thematic narrative if not a literal one. Comprising around 100 individual cartoons the creators look to communicate to their audience via "surreal and sadly relatable one-panel comic suggestions about how to live life."
Frank and Booth point to the cathartic as being a reason for the project's genesis but also to the hope that its perspective may be a springboard to more open discussions of mental health. It's admittedly a very different approach than the biographical slant, or the symbolic and visually metaphorical ones, that account for so much of the mental health-related output in graphic narrative. But from that stark, blunt and almost brutally honest title onwards its darkly comedic attitude and candour will doubtless be an important reminder to many that they are not alone in their experiences.
Of the suggestions contained some are practical and therapeutic ("change the colour of your hair", "take a Google map road trip"); some are reflective and maudlin  ("get into a shitty relationship", "pull a fire alarm to let people know you're dying inside"); some are cuttingly triumphant ("get the most expensive and intensive gym membership and never go"); some are mischievous ("edit in the word 'shit' on the moon's Wikipedia page", ); some are worthy ("find someone who is doing worse than you and befriend them"),  and some are just wonderfully bizarre ("adopt a highway", "rate your soul on Yelp").
For all the dark humour, though, it's the appealingly constructed naivety of Booth's art which proves so eloquent on such a crucially empathetic level. Accessible in presentation with a universal connectivity, Booth's images run an emotional gauntlet with their ever shifting tone and mood. Backed up with a full details of further resources this is a unique entry in the graphic medicine strand.
For regular updates on all things small press follow Andy Oliver on Twitter here.
Review by Andy Oliver