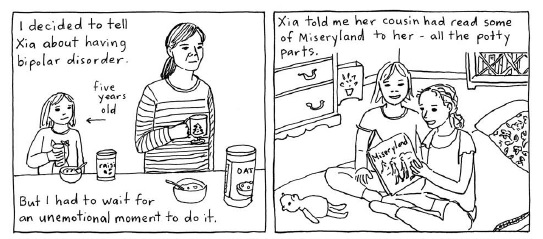 Two years ago at Broken Frontier I reviewed Miseryland by Keiler Roberts and described that self-published book as "autobiographical comics at their absorbing best – frank, blunt and forthright on the one hand but engaging, inspiring and utterly genuine on the other. A standout offering for those who love accessible slice-of-life comics work." Her sequential art revolves around the daily routine of the Roberts household: raising daughter Xia with partner Scott (with guest appearances by Crooky the dog), her artistic practice and her health issues, particularly in regards to living with bipolar disorder.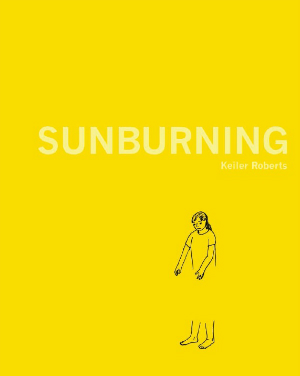 What stood out to me then – and what stands out again now about her latest offering Sunburning from Koyama Press – is that Roberts makes no concession to a structured narrative in translating her experiences to the comics page. Like some of the very best practitioners of autobio comics – John Porcellino, Simon Moreton, Wallis Eates and Katriona Chapman all spring to mind – she realises real life isn't ordered into neat arcs and, instead, presents to her readers vignettes of the day-to-day family routine. Honest snapshots of their existences that are never compromised by being reorganised into a tighter whole.
To this end, Roberts' observational commentary on human nature is acute and quietly witty. Principally this revolves around Xia through whose eyes our adult world becomes one of puzzling incongruity on which she pins her own form of logic – one that in its own way is so irrefutably rational in its straightforward clarity. Why wouldn't a child whisper about her dog's flatulence in order to save it embarrassment? What could be more fitting for her mother's Christmas gift than a bottle of pills?
What's very different in Sunburning though, in comparison to Miseryland, is that this time around Roberts considers the wider implications in having recorded Xia's early life in online/print comics form. The responsibility of autobio work is one I've discussed with a number of creators at Broken Frontier over the years. To give just two examples Wallis Eates spoke eloquently about it here in a 2015 interview while Jessica Martin also discussed it here earlier this year in regards to her upcoming graphic memoir Life Drawing.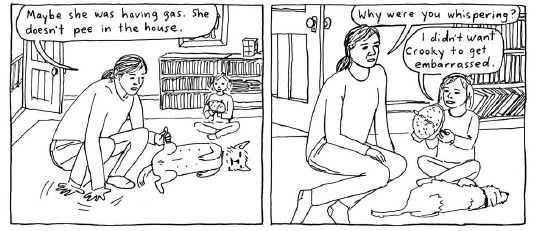 Indeed, there's something very meta about the portrayal of those considerations as Xia becomes aware of her place in her mother's work, at one point even going as far as to ask her not to include one scene – where she breaks some eggs after being told not to – in the pages of a comic. It's a very funny sequence in a knowingly self-referential way and yet it also underlines the intrinsic obligations of autobiographical work and the problems inherent in such practice.
There are no easy answers here and a diversionary cutaway to a future Roberts household wherein Roberts had never produced her comics only underlines the uncertainty surrounding such creative duties of care. What is all the more intriguing is a moment of almost subversive parallel later in the book when Roberts realises "Everything I do is material for Xia" as her daughter begins to construct her own playful flights of fancy based on her mother's life.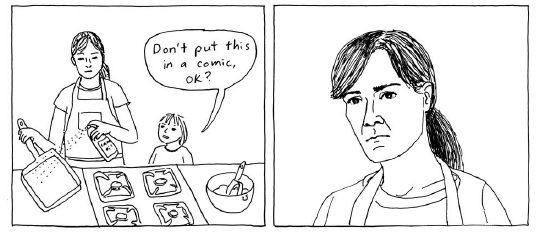 Sunburning is not simply an account of endearing childhood foibles however. Roberts is as candid as ever about her own health – both mental and physical – and its ramifications. One section with her explaining her bipolar disorder to Xia is particularly memorable for its sensitivity, its portrayal of the mother-daughter bond, and for that child's view interpretation of the situation ("You and Crooky take the same pills… you get them at the same store").
Self-deprecating seems hardly sufficient a word for Roberts' on-page depiction of herself. She has no qualms about creating a comics version of herself who can seem occasionally slightly petty (as in her attempt to keep the one unused padded envelope in the house from husband Scott when he needs it) or liable to disproportionately dramatic over-reaction ("He bought cabbage instead of lettuce. I can't make a salad with this!") and yet retains our empathy throughout. Throughout it all Scott seems to play the role of the traditional comedy double-act straight man, feeding the lines and occasionally ushering the gag-like bantering punchlines to their natural conclusion.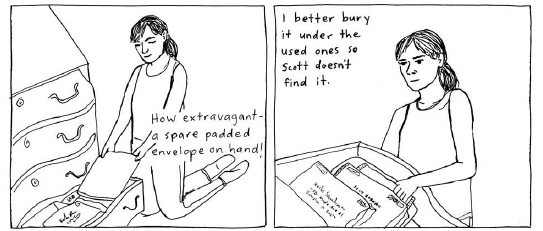 There are flashbacks and rapid movements back to more contemporary times as the book continues to play with a sense of time, location, mood and tone as it progresses. Powerfully raw and poignant pages rooted in the graphic medicine strand of comics can suddenly, and seamlessly, move into ephemeral and brief observational humour without warning, as the fragmentary nature of Roberts' narrative approach again reminds us of life's unordered flow.
In terms of visuals Roberts adopts the same uncomplicated, straightforward and yet always expressive style we have come to expect from her and her sense of timing and panel-to-panel pacing is as exquisite as ever in construction. There's something all the more tangible about the sheer humanity of her comics for their constant sidesteps and shifts between the recognisably everyday, the humorously relatable and the undeniably resonant. Uncompromising and ever engaging Sunburning is, once again, an exemplary piece of autobio comics from Keiler Roberts that underscores the uniquely connective power of the form in building an empathetic bond between creator and reader.
For more on Keiler Roberts visit her site here and follow her on Twitter here. Sunburning is published by Koyama Press priced $12.00. 
For regular updates on all things small press follow Andy Oliver on Twitter here.