One of the most vitally important indie publishers in comics have announced their Fall 2019/Winter 2020 line-up and it's an awe-inspiring collection of projects and creators. Koyama Press's next batch of six books sums up everything that has made the Canadian publisher such an influential creative force over the last decade so we're not even going to try and pick out the highlights in this preamble! The full press release is below.
Koyama Press Presents Our Fall 2019 / Winter 2020 Season!
Our Fall 2019 / Winter 2020 season is filled to the brim with stories about what it means to be alive in our modern age.
First up, GG returns with the follow up to 2017 I'm Not Here with Constantly, a poetic rendering of isolation that sees depression and loneliness creeping out of the shadows of any safe space. Constantly is not a physically big story in size or scope, but it is full of weight.
Next is Connor Willumsen's Bradley of Him, his first book with us since 2018's Anti-Gone. Willumsen presents a visual feast of singular cartooning in this deeply strange yet strangely familiar near future version of our reality in the manner of Terry Gilliam, Margaret Atwood or Samuel R. Delany. His funhouse distortions offer insights into humanity and the structures that shape us.
Michael DeForge has been bringing the world incredible books with us for over a decade, and Stunt is no exception. In our frequently fragmented social society we present various versions of ourselves on various platforms. In his most recent release, DeForge mines this disconnect and the idea of avatars, and manufactured selves, and the entropic drive to destroy them.
Over the course of two previous titles, Sunburning (2017) and Chlorine Gardens (2018), Keiler Roberts has laid her life bare with a deft hand and droll humour. Roberts' work appeals to an audience of mothers with young children, and parents in general, that are juggling their own life, interests and illnesses while trying to care and guide another human being.
Patrick Kyle is another artist with whom we have been working for over a decade, his final book with us is the appropriately titled The Death of the Master. The Death of the Master, a perfectly pitched satire of late capitalism and power structures, marks the completion of a rich working relationship that has seen Kyle grow as an artist and storyteller, often considered one of the more original and influential comics makers of his generation.
Finally, the celebrated cartoonist Ben Passmore will be making his Koyama Press debut with Sports Is Hell, a biting satire of our current climate with analogues of Colin Kaepernick, Black Lives Matter, neo-liberalism, far-movements, and more mixed into this mediation on a melange of methodologies and approaches to navigating the current state of affairs. Passmore's comics are infused with his interest in anarchism and punk politics. They are mediations on the issues of the day filtered through a punchy, pop art cartooning style and genre tropes.
Fall 2019 / Winter 2020 is a mixture of humour and horror, love and pain. The realities of being a part of society, and wanting not to be a part of that society, or being incapable, are explored by a collection of incredibly talented cartoonists of varying style and authorial voices in a season we can't wait for you to see.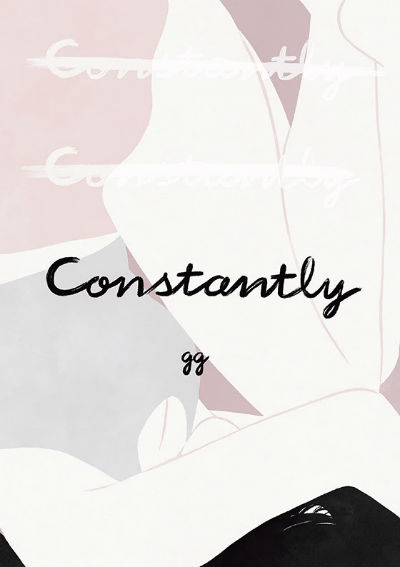 CONSTANTLY
ISBN: 978-1-927668-72-6
$10.00
6 x 8", 48 pages, full colour, trade paper
January 2020
The author of I'm Not Here turns their lens inward on anxiety and the inescapable ghosts within.
A poetic meditation rendered in beautiful pastels and black line on managing and struggling to get through the small tasks of every day. The claustrophobia of thought and the crippling of anxiety make any house haunted, any body possessed.
GG lives and works in the small Canadian prairie city where she grew up during the 1980s. In this pre-Internet era, isolated geographically and culturally, drawing and making up stories was the means to connect to something more. It was romantic and lonely. She made her major publishing debut in 2017 with I'm Not Here.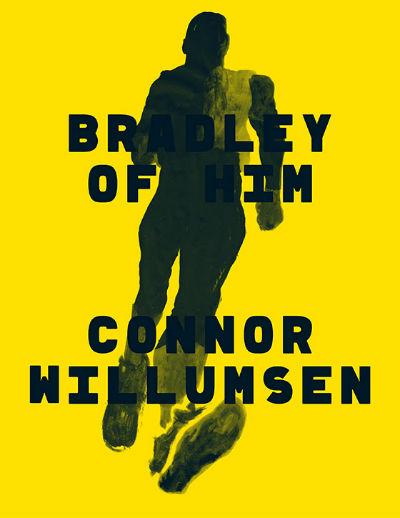 BRADLEY OF HIM
ISBN: 978-1-927668-73-3
$15.00
8.5 x 11", 80 pages, spot colour, trade paper
November 2019
Bradley's gone running for a role, but his life is as hazy as a hot- road mirage.
A somewhat familiar method actor prepares for a role as long-runner under the heat and bright lights of a near future Las Vegas. The lines between character and actor are blurring under the verisimilitude of the Vegas strip, the desert sun and the impossibly shiny surface of Bradley's shades.
CONNOR WILLUMSEN is a Montreal-based artist originally from Calgary, AB, where he received a design degree at The Alberta College of Art. He began making comics while attending the School of Visual Arts in NYC. Since then, he has drawn stories for Marvel, DC and Dynamite and illustrated the covers for Criterion editions of David Cronenberg's Scanners and Stanley Kubrick's The Killing. His Koyama Press debut Anti-Gone was nominated for the 2018 Ignatz Award for Outstanding Graphic Novel.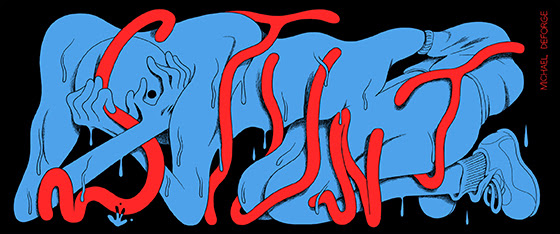 STUNT
ISBN: 978-1-927668-69-6
$15.00
8 x 3.25", 72 pages, two-colour, trade paper
September 2019
A stunt double is hired by an actor to serve as his doppelgänger in order to sabotage his career.
Seeing your double is often viewed as an ill omen, a portent of bad luck, and an harbinger of death. Hiring a professional double, an actor spurs on his own demise as he and his double explore the depths of degradation and self-destruction.
MICHAEL DEFORGE lives and works in Toronto, ON as a cartoonist and commercial illustrator. His one-person anthology series Lose has received great critical and commercial success, having been nominated for every major comics award including the Ignatz and Eisner Awards.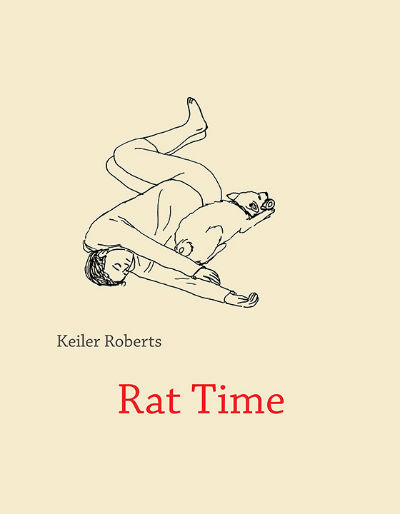 RAT TIME
ISBN: 978-1-927668-70-2
$12.00
7 x 9", 124 pages, b&w, trade paper
September 2019
Keiler Roberts is a droll documentarian, unfaltering in her ability to find humour and levity in her life's unflattering moments.
Pet deaths and parenting, embarrassing childhood memories and mental illness, Roberts documents her daily life's minutiae, its up and downs, with the deftness of an observational comedian. Her comics demonstrate that sometimes life can deal you a punch to the gut, but it doesn't have to be devoid of a punch line.
KEILER ROBERTS is a Chicago-based artist whose autobiographical comic series Powdered Milk has received an Ignatz Award for Outstanding Series, and her work has been included in The Best American Comics. Her first book with Koyama Press, Sunburning, was published in 2017, followed by Chlorine Gardens in 2018.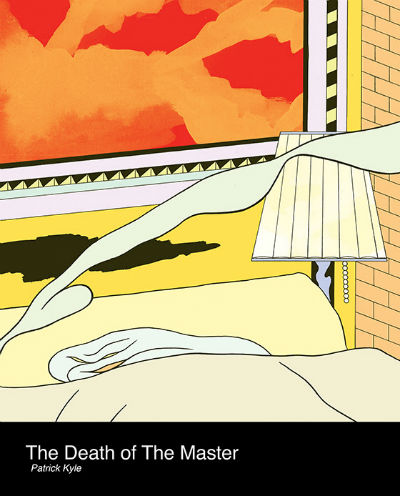 THE DEATH OF THE MASTER
ISBN: 978-1-927668-71-9
$19.95
6.75 x 8.5", 224 pages, b&w, trade paper
October 2019
An absurdist, art brut rumination on society's structures presented in Patrick Kyle's singular style.
After the sudden death of a beloved patriarch who promised eternal life to his followers, a topsy-turvy society attempts to reconcile the deluded teachings of their late leader with the harsh reality he left behind.
PATRICK KYLE lives and works in Toronto, ON. He is the author of the graphic novels Black Mass (2012), Distance Mover (2014), Don't Come In Here (2016), Everywhere Disappeared (2017), and Roaming Foliage (2018). At the 2016 Doug Wright Awards, he won the Pigskin Peters Award for New Comics #6 and 7.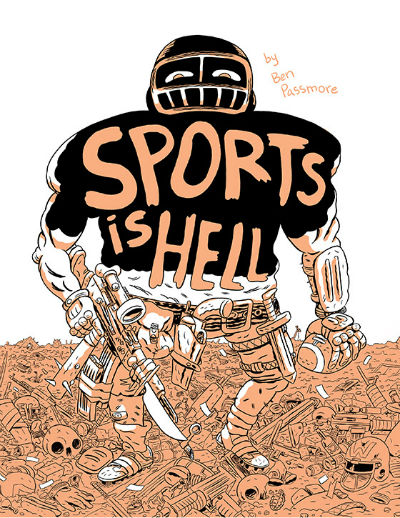 SPORTS IS HELL
ISBN: 978-1-927668-75-7
$15.00
8.5 x 11", 60 pages, two-colour, trade paper
February 2020
Some wars are for religion and some are for political belief, but this one is for football.
After her city wins the Super Bowl for the first time, Tea is separated from her friend during a riot and joins a small clique fighting its way through armed groups of football fanatics to meet a star receiver that just might end the civil war or become the city's new oppressive leader.
BEN PASSMORE is a Philadelphia, PA based cartoonist and illustrator best known for his award-winning comic Your Black Friend, which deftly tackles issues of racism, identity and alienation, and was adapted into a short animated film. His political cartooning appears in The Nib, and he self-publishes the post-apocalyptic Daygloahole. He will be partnering with Ezra Claytan Daniels (Upgrade Soul) to bring the body horrific BTTM FDRS (Fantagraphics).