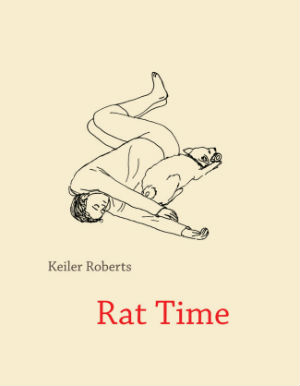 The third Keiler Roberts book from Koyama Press after Sunburning and Chlorine Gardens, Rat Time is another fine example of the artist's distinctive voice in the world of autobiographical comics. Since I first covered Roberts' work in Miseryland a few years back she's quickly become one of the slice-of-life practitioners whose comics I've found the most rewarding and connective. With a quiet authority she can imbue the seemingly trivial with a universal profoundness; life's quieter moments having an echoing resonance that we can all identify with. Because in a Keiler Roberts book the richness of the human experience is embedded in the very minutiae of existence.
Over the years we've become invested in the Roberts family – Keiler, husband Scott, daughter Xia and Crooky the dog – to the point that sometimes it's easy to forget these are real people on the page rather than characters. We've watched Xia grow up since those early comics when she was a small child interacting with her environment for the first time; seen Keiler dealing with bipolar and an MS diagnosis; and we've shared in the family's daily routines, as Roberts' dry sense of humour has brought their world to life.
Rat Time adopts the same structural approach as the previous Koyama Press volumes with short stories and observational vignettes running into each other, giving an impression of the vagaries of time that perhaps ironically feels more real than a structured linear approach would. The titular story details the arrival of some new murine additions to the family whose shortlived presences nevertheless prove to have a great impact. "Rat Time" becomes an eagerly awaited daily ritual but the childhood rite of passage of dealing with the death of a pet takes on a more darkly humorous tone here; ceremonial farewells eventually giving way to casual disposal.
Again it's those small things that Roberts details in her musings that grab our attention – receptacles for childhood treasures; the differences between a dork, a jerk and a nerd; an accidental teenage break-up; and a visual essay on what makes her cry. It's all so beautifully observed from the sometimes awkward interactions of teaching through to the soothing comfort of canine companionship. Reflections on narrative seem to weave in and out of events with slightly meta thoughts on why Roberts doesn't write fiction, and questions posed as to why we tell the stories we do and why we focus on certain themes; all neatly juxtaposed with Xia's own play realities.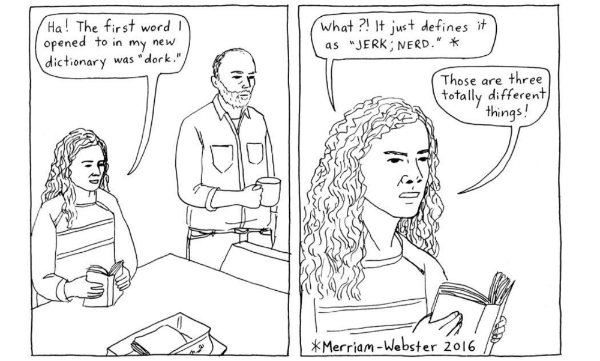 Illustrated with Roberts' usual accessible layouts and deft comedic/dramatic timing, Rat Time is replete with a line in often almost exasperated visual characterisation that reminds us that sometimes there's a triumph in just keeping going. As ever, Roberts' always likeable warts and all, unfiltered portrayal of herself and her thought processes underlines that simply coping with life's everyday challenges is something we are not alone in. In Rat Time the profound and the ephemeral are bound up in an unlikely union, and it's in that contradiction that the relatability, familiarity and truth of this quite remarkable autobio creator's work resides.
Keiler Roberts (W/A) • Koyama Press, $12.00
Review by Andy Oliver