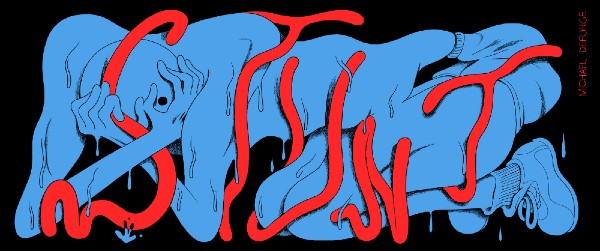 TW: Suicide, self-harm.
Short form in narrative and physical size, Michael DeForge's Stunt delivers a concentrated, high-octane hit. The comic's format befits the fleeting nature of celebrity it explores, as we witness the sudden rise and spectacular downfall of the nihilistic stunt man at its centre. It's thematically apt that this novella ruminating on a life in the spotlight should be DeForge's final output via his longtime publisher Koyama Press, before the Toronto-based small press outfit closes up shop next year.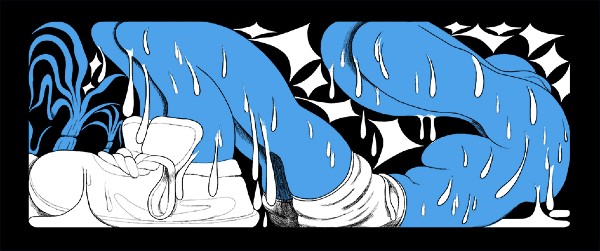 Part of DeForge's genius is his ability to stretch a deceptively simple idea to its limits. The conceit of a suicidal stunt man who's "open to accidents", and who fantasises about one day having his death acknowledged by "a little note in the credits" of a movie, would make for a darkly humorous story in and of itself. However Stunt takes its self-destructive protagonist's brush with fame further, going on to explore the shifting sands of identity, the performative relationship between body and self, and the death of the individual at the hands of the masses. Hired as a body double for Hollywood actor Jo Rear, our central character (whose name, from an obscured glimpse, appears to be Burton) takes on work of an increasingly personal and exploitative nature, with the ultimate goal of self-sabotaging Rear's A-list career. "The performances were excruciating at first, but I got used to it after some months. It wasn't me, after all," reads the narration. In an accelerated process of physical and psychological degradation, the boundaries between Burton and Jo, dream and reality, and coerced and self-inflicted all but disappear. Each propulsive panel paces the story forward like a motion picture as Burton compromises more and more of himself to Jo's demands. Meanwhile, tones of black, white and blue shadow the visuals with the mysterious, moonlit quality of that great land of illusions, Hollywood itself.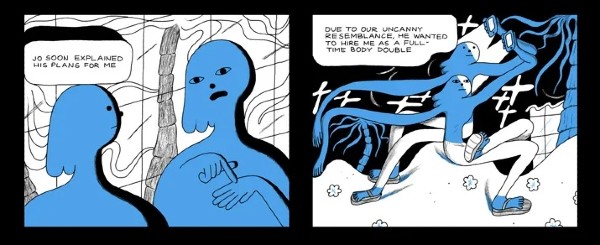 As in his previous work, DeForge's expert use of design here reminds us of the power of graphic storytelling when operating at full impact. His characters take the shape of fluid, boneless bodies, malleable to the demands of the movie-making machine, yet imprisoned by their claustrophobic circumstances. The effect is enhanced by a CinemaScope aspect ratio, in which figures are unable to grow or extend, and become increasingly prostrated to the world around them. Even the physical format of the work, with its 72 pages bound in a flip book style, evokes the earliest film techniques of the Kinetograph, in which moving images flick before the viewer's eyes. Every attribute of the comic, however minute, is intricately embroidered with meaning.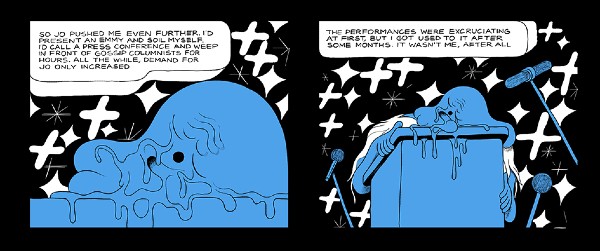 Streams of excessive bodily fluids have also by now become somewhat of a DeForge motif (see 'Talking Sweat' from On Topics #2), and both Burton and Jo are shown to sweat profusely from the constant exertion it takes to survive when cameras are everywhere, and private life becomes public. While egocentric Jo is in many ways the villain of the piece, it's hinted that the plot to "annihilate his public image" is in part intended to shield his sexuality from the headlines. Meanwhile, Burton's horrifying breakdown on Jo's behalf is considered entertainment, lapped up by audiences who wonder whether it might be the latest stunt in method acting. The thinly veiled vulnerability of both characters, when coupled with the sting of these all too real scenarios in which people are commodified for our amusement and just as quickly discarded like yesterday's news, makes an otherwise preposterous satire feel keenly lifelike; particularly at a time when every one of us has, to varying degrees, a public image to maintain.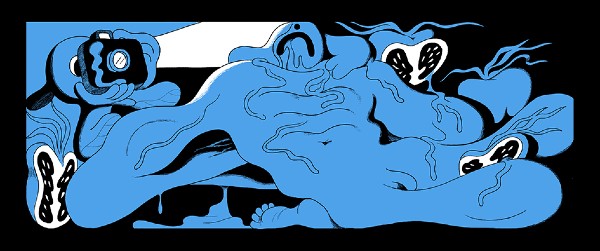 Stunt is the latest work from a prolific creator operating at the top of his, and arguably the entire industry's, game. It stands as a testament to the fine work Koyama Press has championed over its 13 years in business, and makes for a fitting conclusion to this heavenly match between creator and publisher.
Michael DeForge (W/A) • Koyama Press, $15.00
Review by Ally Russell Shields