Comics have a particular connective power when it comes to depicting and exploring issues of mental health. So much so that we've dedicated a whole list of sequential art resources on mental health awareness here on Broken Frontier for easy reference. Part of this strand of graphic medicine, Things to Do Instead of Killing Yourself draws on creators Tara Booth (whose Nocturne we reviewed recently on the site) and Jon-Michael Franks' own experiences of "depression, anxiety and suicidal ideation". It's published by Floating World Comics this September and, if you're quick, there's still time to order with Diamond code JUL191942 before the FOC on August 2nd.
The press release and preview pages of the book are below (click to enlarge).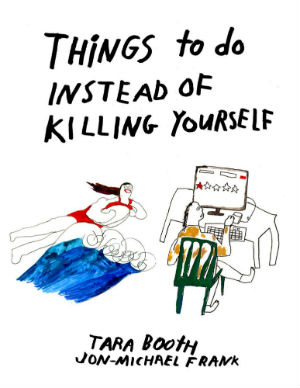 THINGS TO DO INSTEAD OF KILLING YOURSELF
by Tara Booth & Jon-Michael Frank
September 2019
112 pages, $15
ISBN 978-1942801740
Published by Floating World Comics
Distributed to the book trade by Consortium
Available to the direct market from Diamond Comic Distributors
Surreal and sadly relatable one-panel comic suggestions about how to live life.
Instead of ending it all, you could paint a face on an egg and crush it, search for something that you'll never find with a metal detector or edit the moon's wikipedia page. 100 snapshots to help one live life, using dark humor and a focus on the inane as a vehicle for self-help. Featuring alternatives to struggling with poor mental health by way of untamed animals, positive affirmations and one-star yelp reviews.
"There is so much unnecessary stigma and shame surrounding issues of mental health. This book began as a way for us to work through our own experiences with depression, anxiety and suicidal ideation. We found catharsis in this project, and hope that it will make space for those who may be suffering to engage in a more neutral and open dialogue about the state of their own mental health."
– From the introduction by Tara Booth & Jon-Michael Frank
Proceeds from the sale of individual art-prints from this book will be donated to the National Suicide Prevention Lifeline.
If you or someone you know is struggling with suicidal thoughts, here are some resources:
National Suicide Prevention Lifeline: Call 1-800-273-8255
Contact a local crisis center: www.suicidepreventionlifeline.org/our-crisis-centers/
Suicide Prevention: www.sprc.org