The three stories in Sun Bakery, Corey Lewis's anthology, sacrifice plot-heavy narrative for sparkling graphic energy.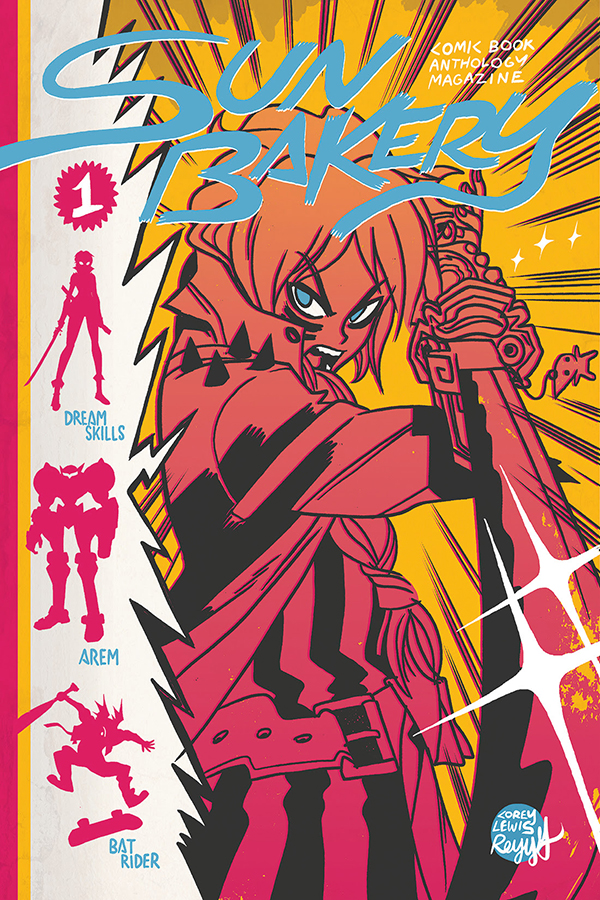 As a foggy-brained dolt who drifts around thinking of ponies and kabaddi most of the time, I have to admit that I was unfamiliar with Corey "Reyyy" Lewis prior to the release of Sun Bakery
However, the acclaim for his previous series Sharknife*, a successful Kickstarter for an earlier version of Sun Bakery and variant covers from Jim Mahfood and Paul Pope indicate that – fortunately – other people have been taking a lot more notice.
(*A very pleasing alternative to shout out at the end of every line in a certain Blur song.)
Lewis bills Sun Bakery – a bi-monthly 48-page anthology – as an attempt "to bring a Shonen Jump-type flavour to Western comics". Quick synopses of the three stories in this opener highlight his approach and what you can expect from the book.
In 'Arem' (below), a mech-suited astronaut cruises the cosmos in search of things to photograph – and 'likes' on her Nextagram account. In 'Dream Skills', two young women negotiate a futuristic city where guns have been mysteriously rendered useless and combat and culture are largely defined by swordplay. And finally, in 'Bat Rider' (originally produced to be read via smartphone), a skateboarder gets drawn towards a supernatural mystery.
In his brief backmatter, Lewis deftly describes the sort of work this is. He describes 'Arem' as "a very dialog-light explorative comic", and 'Bat Rider' as "another comic where the environment and action speak more than dialogue".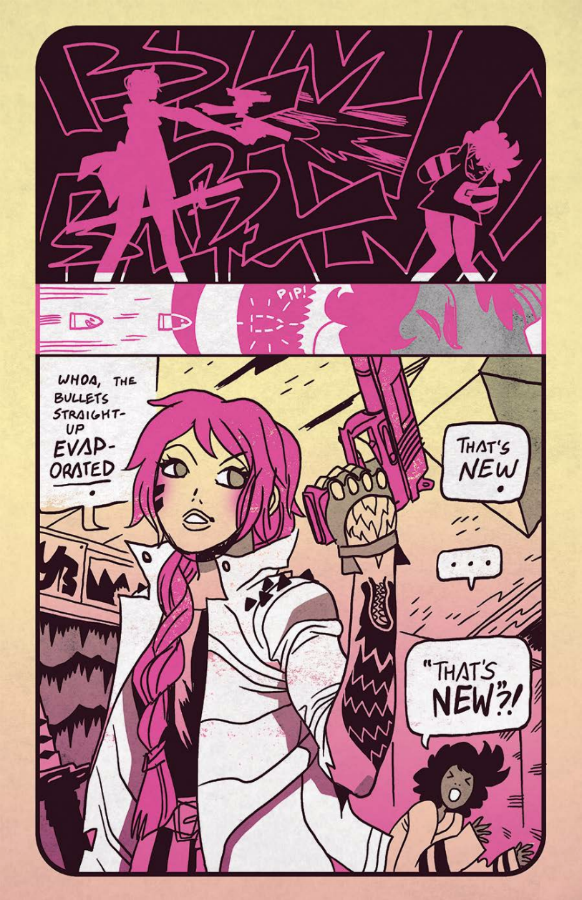 Alongside peers such as Brandon Graham and Katie Skelly, Lewis is very much one of those pop comickers whose work is steeped in manga, video gaming, skating culture and street-art graphics. His chunky graphic style and striking page designs are backed up by some very strong colour choices, with blues and purples in particular bringing to mind Kevin Czap's Fütchi Perf.
Maybe we need to come up with some sort of generic label for this sort of comic, which works in an almost musical way. Sure, a series of sequential events is being depicted, but what you're really enjoying is almost pure form – relishing the medium for itself rather than just as a vehicle for a didactic story.
Too often when we read stuff, we look for the stepping stones of plot to take us from page to page. However, sometimes we should just kick off the old flip-flops, take the plunge and feel the water around our tootsies. Every now and then we need to get beyond the grind of cause and effect and immerse ourselves in an experience – and this is something that comics, with their infinite stylistic possibilities, can do par excellence.
Variant covers by Paul Pope (L) & Jim Mahfood (R)
Anyway, this is slightly dreary talk for such a vibrant and enjoyable bit of work. The defining quality of Lewis's comics is energy – so much so that Sun Bakery almost jumps out of your hand while you're trying to read it. Catch it while you can!
Corey Lewis (W/A) • Press Gang, $5.99
(In case you're wondering, Press Gang is a new imprint from Alternative Comics, formed by Floating World Comics (the highly esteemed comic shop in Portland, Oregon) and Study Group Comics.)