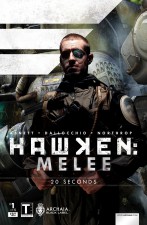 Press Release
Award-winning publisher Archaia Entertainment, an imprint of BOOM! Studios, and free-to-play video game publisher Meteor Entertainment, have teamed up with comiXology to debut the Digital First title HAWKEN: MELEE, a five-part miniseries based on the celebrated online, free-to-play mech combat video game, HAWKEN. Featuring original stories from some of the top names in comics, the first digital issue is now live on comiXology. It can be accessed at this link: http://bit.ly/13LnxaD.
The five Digital First issues will be released four weeks apart, and will be followed by the bi-weekly release of single-issue print editions starting in December. The print issues will contain additional backmatter that will appeal to gameplayers, such as mech and map schematics, combat strategies, and a peek behind the development curtain to enhance the gameplaying experience.
Following the success of HAWKEN: GENESIS, the previously released hardcover graphic novel that established the world history for the game, HAWKEN: MELEE focuses on high-stakes action and fast-paced combat in five standalone stories, each presented by a different creative team. The premiere issue features work by Tim Bradstreet (The Punisher), Dan Abnett (Legion of Super-Heroes), Federico Dallocchio (Suicide Squad), and Chris Northrop (The Reason for Dragons), while subsequent issues will feature work by Jim Mahfood (Grrl Scouts), Jock (The Losers), Nathan Fox (DMZ), Mike Kennedy (Bleedout), Andrew Gaska (Space: 1999 – Aftershock and Awe), Dan Dussault (Critical Millennium: The Dark Frontier), Michael O'Hare (Birds of Prey), Bagus Hutomo (HAWKEN: GENESIS), Francisco Ruiz Velasco (Thunderbolts), and Bengal (Flight Vol. 1).
"We really wanted to amp up the adrenaline factor for this second volume," says Mike Kennedy, editor of the series, "and went after an A-list of amazing storytellers to bring their unique, individual vision to this rich universe.  Following the lush, painted concept style set by [game creator] Khang Le, we're really excited by the quality of each standalone story.  We really think gamers and non-gamers alike are going to find this series pretty thrilling."
The first two print issues of HAWKEN: MELEE will ship in December and will be available for pre-order through comic book shops starting Sept. 25.
HAWKEN is a free-to-play, online, multiplayer, mech combat shooter developed by Adhesive Games and published by Meteor Entertainment. It creates an intense and immersive battle experience that captures the feeling of piloting a heavy war machine while keeping the action fast-paced and strategic. Called one of the most anticipated games of 2012, HAWKEN won more than 22 press awards at industry events. For more information, visit playhawken.com.