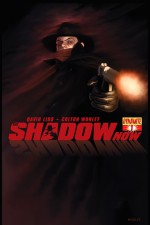 Dynamite is proud to announce that beloved pulp-era crime-fighter will appear for the first time in the modern age in the upcoming The Shadow Now comic book series.  Mystery/thriller novelist David Liss, whose previous comic book credentials include Black Panther and Mystery Men from Marvel and Dynamite's The Spider, will usher the classic character into present day New York City with the assistance of talented artist and painter Colton Worley.  The first chapter in this six-issue miniseries is slated for release in October, featuring cover artwork by Tim Bradstreet (Punisher) and interior artist Colton Worley.
In The Shadow Now, the greatest pulp hero of all returns to New York City in modern times, having spent decades in the mystical East to rejuvenate himself.  Lamont Cranston seeks to resume his old life, and his heroic alter-ego is ready to stand once more as an enemy to evil.  But while he was gone, his foes have remained vigilant, and the most dangerous man The Shadow has ever faced prepares to rise once more.
"The Shadow is, without doubt, one of the coolest pulp characters of all time, so I was thrilled to get a chance to add something to the legend," says the critically acclaimed David Liss, whose first book, A Conspiracy of Paper, won the coveted 2001 Edgar Award from the Mystery Writers of America for Best First Novel.  "While we are working within the long and storied tradition of Shadow adventures, I think we're also doing something original with this character, and that's always a great combination.  I was especially happy when I heard Colton would be doing the art for this miniseries.  His art is stunning, and a perfect fit for our neo-pulp tone.  This story is dark and moody, which I think a Shadow story should be, but I think we're also portraying a very human and fallible version of the man behind the mask.  Fans who have followed The Shadow in comics over the years are going to be very interested to see how we run with what's come before this."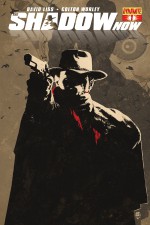 The Shadow began its existence in 1930 as a narrative voice on the Street and Smith radio program Detective Story Hour.  The audience thrilled to the serialized adventures of this mysterious figure, whose mythos expanded to include Occidental mysticism, hypnotic powers over weak criminal minds, and twin .45 caliber handguns.  With a keen intellect and relentless drive, The Shadow hunted criminals without mercy in an era when gumshoe detectives and bootlegging mobsters was a thrilling yet fearsome reality.  The character's popularity has endured for over 80 years, bolstered by appearances in radio serials, novels, comic books, films, and more.  In recent years, Dynamite published a groundbreaking and well-received ongoing Shadow series launched by comic writer Garth Ennis (Preacher).
David Liss has written comic books for Marvel and Dynamite, including Black Panther, Mystery Men, and The Spider.  He is also the author of five novels, with more on the way.  His debut novel, A Conspiracy of Paper (2000) with its hero, the pugilist-turned-private investigator Benjamin Weaver, was named a New York Times Notable Book and won him the 2001 Barry, MacAvity, and Edgar awards for Best First Novel.  David's second novel, The Coffee Trader, (2003) was also named a New York Times Notable Book and was selected by the New York Public Library as one of the year's 25 Books to Remember.  His third novel A Spectacle of Corruption (2004), the sequel to A Conspiracy of Paper, became a national bestseller. David's fourth novel, The Ethical Assassin (2006) is his first full-length work that is not historical fiction.  David's most recent novel, The Whiskey Rebels, is set in 1790′s Philadelphia and New York. The third Benjamin Weaver novel, The Devil's Company, arrived in stores in late 2009.
"David Liss is one of those writers who just naturally understands pulp noir," says Nick Barrucci, CEO and Publisher of Dynamite.  "He understand the feel of it, the chills down the spine, that paranoid feeling that danger lurks at every turn.  The whole idea behind The Shadow Now is that, despite all our advances, the world can still feel that way — there's still evil lurking in the hearts of men, and only The Shadow knows how to deal with it.  David can perfectly capture that old-time Shadow spirit, the foreboding and menace, the kind that would terrorize even today's criminal element."
The Shadow Now #1 is being offered in the August 2013 Previews catalog, the premiere source of merchandise for the comic book specialty market, with an intended street date of October 2013.