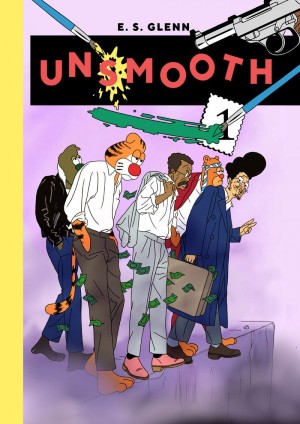 Pleasingly recreating the visual appeal of a European album-style comic but with a cheekily alt sensibility, E.S. Glenn's Unsmooth #1 from Floating World Comics merges crime caper, urban fantasy, anthropomorphic animals and autobio in an offbeat hybrid of genres. Those who enjoy the surreal slice-of-life comic anecdotes of Joe Decie or Matthew Dooley, alongside the introspection and fragile ego of Anna Haifisch's The Artist from Breakdown Press, will find this a tonal midway point between the two.
Comprising one longer-form story with a number of short strips, Glenn presents an on-page version of himself whose reflections on his lack of recognition as a creative feed into an unlikely parallel career path. The main offering 'A Life of Crime for Me' takes up the bulk of the issue's 45 or so pages with a tale of Glenn as artist become criminal gang member. With witty incongruity he juxtaposes a soliloquy on his failure to become the "great artist" he felt he was destined to be at a young age with the violent exploits of his crew's armed robberies.
Narration and visuals come to mirror each other as Glenn reflects on his shortcomings, lack of confidence, and his own imagined inadequacies. It's fatalistic bordering on the nihilistic; his life of crime becoming a refuge, albeit a fleeting one as old insecurities and self-loathing come once again to the fore. The action sequences here are particularly kinetic in the way that panels can crash into each other, and sound effects have an autonomy that sees them taking on a life of their own across the page. That fluidity of motion is underlined by Glenn's clean lines. dramatic pacing and unpredictable page structures.
Similar motifs abound in the short stories which often inject meta elements into events (Glenn as time traveller realising he has materialised within the confines of a comic strip being one example). They make use of a mix of brutal slapstick, off-kilter slice-of-life and unlikely science fiction standards in a series of knowingly self-aware vignettes. It's always encouraging to see previously self-published practice reaching potentially far wider audiences via a publishing imprint and Glenn's comics certainly deserve that greater exposure.
E.S. Glenn (W/A) • Floating World Comics, $10.00
Review by Andy Oliver