Scab County, a grim little vignette of a short cut gone wrong, is an accessible introduction to the work of DIY culture hero Carlos Gonzalez.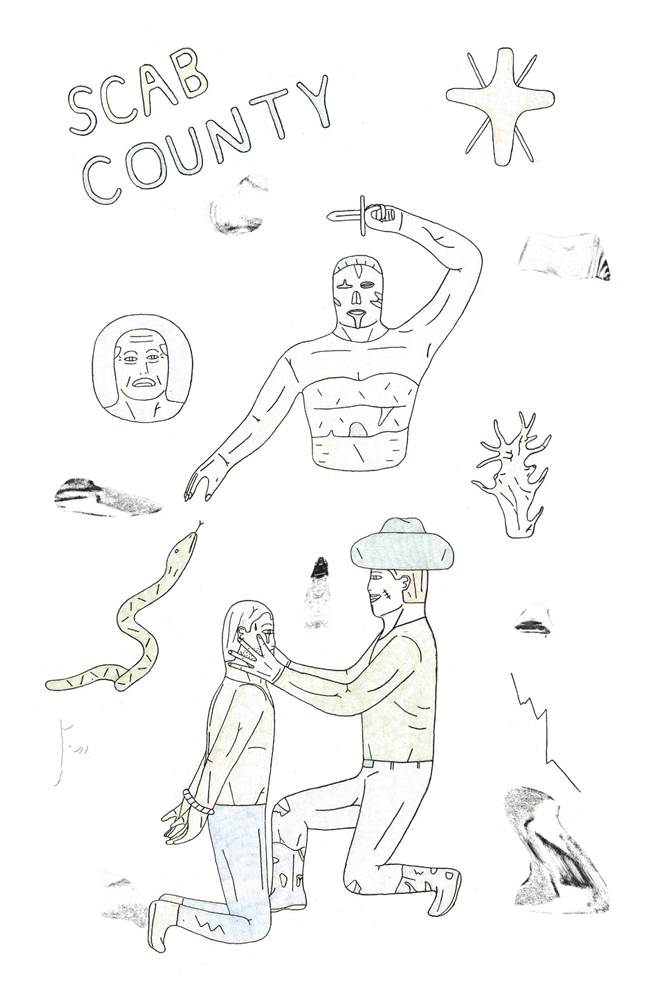 Not long after collecting his self-published Test Tube comics, Floating World Comics have reprinted another work by cult cartoonist Carlos Gonzalez – a DIY culture hero, whose work stretches beyond comics to span performance and underground music (as 'Russian Tsarlag') and experimental video.
Scab County is a 28-page one-off that's considerably less dense than Test Tube (and certainly more accessible than his 500-page sci-fi epic Slime Freak). In his introductory blurb, Gonzalez describes it as "a single stand-alone tale of a father and son who venture into a bleak landscape and fall into 'bad company'."
However, the playlist he adds – including 'Slut Dependent' by Truckstop Strangler and 'Slab Horror' by Severed Heads – gives a clear indication of the grim tone of the book.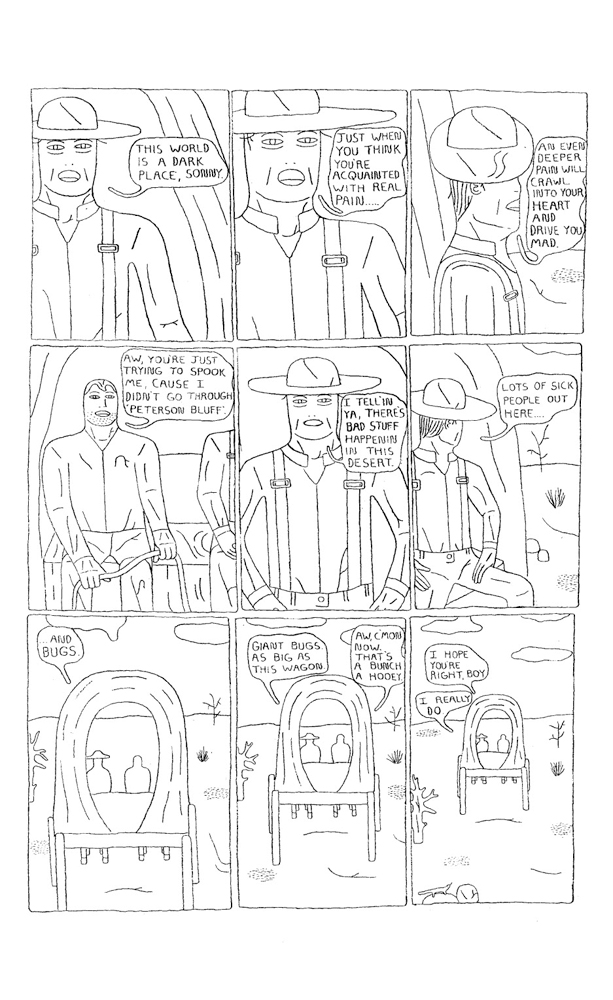 Set against the stark imagery of the mythical old west, it tracks the dire consequences of a decision to go right rather than left at a fork in the road. Rather than heading for Peterson Bluff, the youthful driver of the wagon, decides to take a short cut…
In outlining why they should have swerved the notorious Scab County, his father issues a horribly prescient statement on the world: "This world is a dark place, sonny. Just when you think you're acquainted with real pain… an ever deeper pain will crawl into your heart and drive you mad."
And when they do run into the sadistic 'bad company' promised in the intro, things go downhill rapidly, pitching the misplaced travellers into a hellish situation and leaving them with a horrible decision.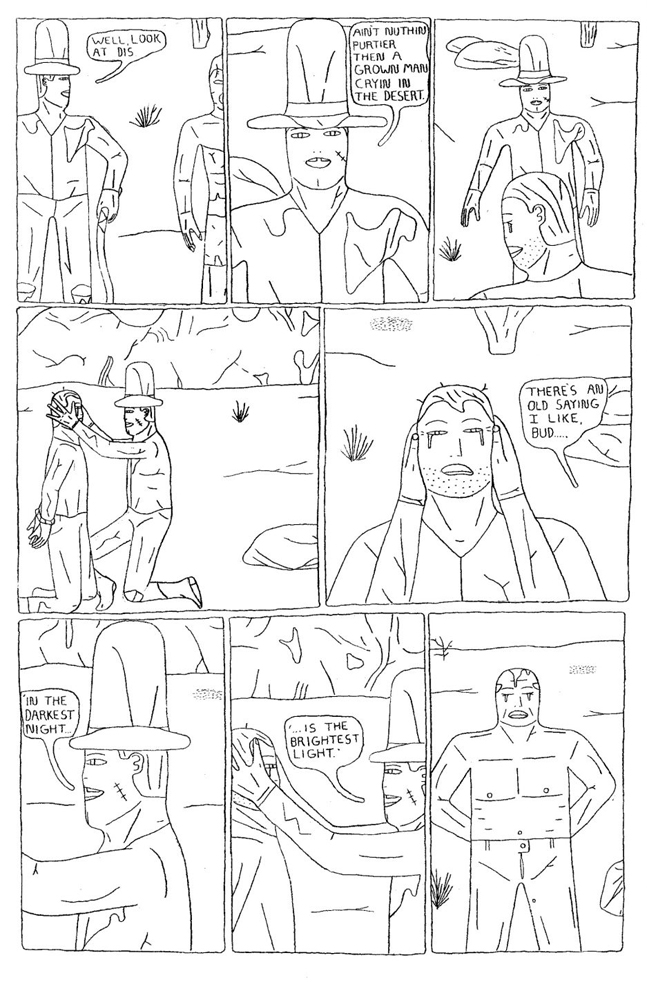 The book is entirely defined by Gonzalez's untutored, spontaneous style, which enhances the dreamlike/nightmarish feel of the story, pitching us into a warped situation that starts bad and just gets worse.
Sparse and awkward, it epitomises the theme of the book: the notion that you're only ever one wrong decision away from a world of threat and chaos. And despite the book's singular style and the remoteness of its setting, its depiction of inhuman cruelty and the desert setting summon up a more contemporary resonance, bringing to mind the atrocities currently being enacted in the Middle East.
Drawing narratively on a blend of wildernessploitation survival tales and Lynchian surrealism, Scab County serves as an accessible introduction to the wide-ranging – and even slightly intimidating – body of work produced by Carlos Gonzalez. Hats off to Floating World Comics (and distributor Alternative Comics) for putting it and its creator in front of a wider audience.
Carlos Gonzalez (W/A) • Floating World Comics, $5.00