SAFARI FESTIVAL FORTNIGHT!
If there is such a thing as a group of headlining artists at Safari Festival 2017 then Charles Forsman is most certainly among those who qualify for that title. With an upcoming television version of his much lauded The End of the Fucking World (first published in minicomics format via his Broken Frontier Award-nominated Oily Comics operation) his stock has never been higher and, aside from Safari, you can also see him in conversation at London's Gosh! Comics later this month.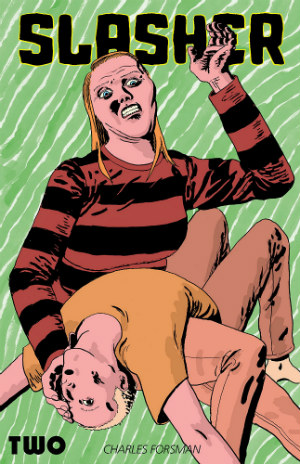 Forsman has branched out from acclaimed fatalistic dramas like TEOTFW and Celebrated Summer to pursue other creative endeavours in the last couple of years with work like retro-style thriller Revenger. His most recent series Slasher, published by Floating World Comics, sits somewhere between those two approaches combining intense character study and extreme action.
Slasher follows the unlikely relationship between two characters existing on the peripheries of society. Twentysomething Christine is an office worker who, when we first meet her, is barely suppressing the violent urges that threaten to consume her. Joshua is an emaciated-looking teenage boy who is smothered by a mother who is either convinced (or intent on keeping up the charade) that he is seriously ill. The pair meet online on a video-sharing site where Christine becomes sexually fascinated by his violent short films.
This odd friendship develops as the pair begin to text commentaries on their existences to each other and it also provides Joshua with a temporary outlet for his maternal imprisonment. But, as Christine faces family tragedy and personal stresses, her life begins to collapse around her and she starts to succumb to bleaker impulses that manifest themselves in frighteningly violent ways…
Slasher, as the title more than implies, is an obviously disquieting read. Every character here feels fractured and damaged in some way and there's very little likelihood of the reader feeling any great empathy with any of them in these first two scene-building issues. Forsman, though, is a creator who can pull off that difficult trick of ensuring we engage with often largely unsympathetic leads by immersing us in the strangely alluring nihilism of his characters' lives.
He's also an artist who has an ability to notably adapt his style to the tone of each individual project and there's a kind of subdued grotesqueness to his characters here. It complements that sense of something nasty bubbling just under the surface; something dark growing and waiting to burst free.
Those occasions where Forsman breaks out of the confines of the 8-panel grid become all the more dramatic and memorable for their measured use. Similarly, in terms of building up mood and tension, the sequences of dual narrative – where Christine and Joshua's electronic back and forth acts almost as a commentary on events – use panel-to-panel storytelling in ways that emphasise senses of space, place and time to underscore the nature of a connection that is totally dislocated in nature and yet incredibly close as well.
Slasher's serial form allows for an incremental growth in tension that could, perhaps, never be achieved in quite the same way as a single sitting reading experience and guarantees a greater deal of reader investment in events as characters, themes and subplots converge in future. Where this psychosexual thriller goes next remains to be seen but there's no doubting what a darkly entrancing set-up Charles Forsman has provided in these first two chapters…
For more on the work of Charles Forsman visit his site here and follow him on Twitter here. Slasher is published by Floating World Comics priced $4.99. 
Charles Forsman is a guest at Safari Festival on August 12th and will also be in conversation at Gosh! Comics on August 9th in association with Bergen Street Press in a panel event with Jonathan Entwistle and Charlie Covell. More details here.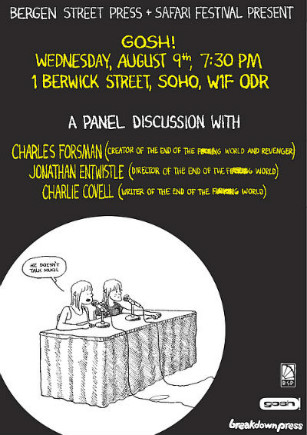 For regular updates on all things small press follow Andy Oliver on Twitter here.