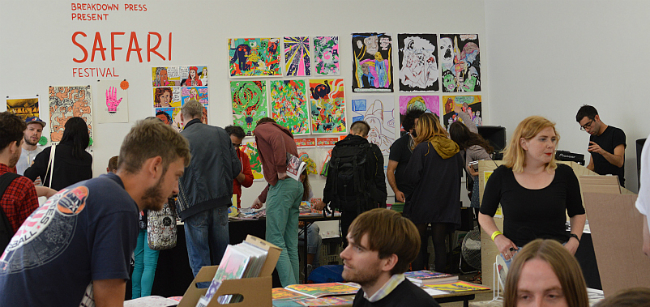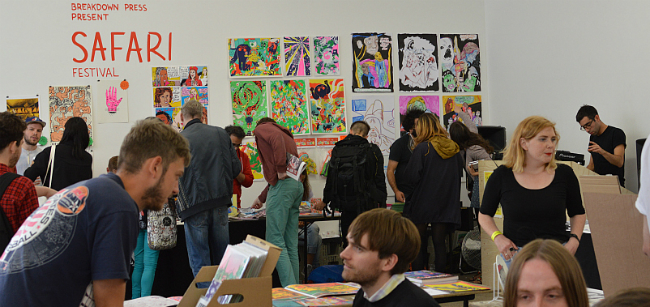 Last year's debut Safari Festival, curated by micropublisher Breakdown Press, was one of the most welcome developments on the UK events circuit of 2014. I described it as "a happy middle ground between the boundary pushing graphic design on show at ELCAF and the democratic philosophies of the DIY Cultures fair" when I reported on it here at Broken Frontier, and also remarked on it being "a great day of comics community." We can never have too much of the latter.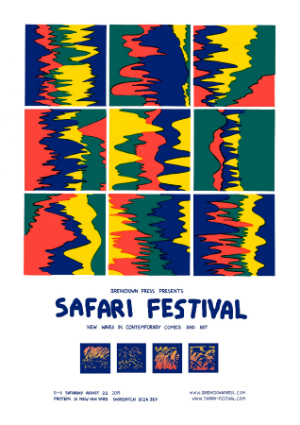 2015's Safari takes place on Saturday August 22nd at the same venue of the Protein gallery space in Shoreditch. As with last year's occasion there will be both pre and after-parties. The former will be in Gosh! Comics the night before when Breakdown will be launching Jonathan Chandler's Another Blue World and Latvian micropublisher kuŝ! will be releasing their latest ŝ anthology (with a theme of 'fashion' this time around) while the latter is, once again, held at The Shacklewell Arms.
Today we kick off a fortnight of related coverage on Broken Frontier with a visual reminder of some of the work on offer and creators who will be tabling later this month. With guests like kuŝ! and Treasure Fleet in attendance the festival will have a truly international feel this year and for any fan of small press and self-publishing this looks set to be an indispensable date in your comics calendar.
Full details of Safari can be found on the Breakdown Press site here. Watch out for articles tagged 'A SAFARI FESTIVAL TIE-IN!' at Broken Frontier over the next fortnight…
Sample page from Early Learnings by Babak Ganjei of Anti Ghost Studio, Yoko Honda's Summertime Love from Belly Kids, and Antoine Cossé's Showtime from Breakdown Press
Sample pages from Brigid Deacon's Coma Deep and Becca Tobin's Hotel World from Comic Book Slumber Party, and Joey Fourr's Zulu Christmouth zine from Crumb Cabin
The latest issues of Decadence Comics and Donya Todd's Bimba, and Eleni Kalorkoti's Space zine
Sample pages from Emix Regulus and Esther McManus, and the latest Eyeball Comix anthology
Work from Stefan Sadler from Famicon Express, Faye Coral Johnson & Michael Redmond will also be tabling, as will Grace Wilson
Sample art from Isaac Lenkiewicz, Jack Teagle's latest Teagle Comics, and a Disa Wallander offering from Jazz Dad Books
Joseph P. Kelly will be exhibiting, as will kuŝ! and Landfill Editions
Art from Laura Callaghan, Marijpol and Matthew Swan
Publications from attendees Mothership and One Beat Zines
Ocular Anecdotes from Otto Press, Olivier Schrawen's Mowgli's Mirror from Retrofit Comics, and the latest issue of Simon Moreton's Smoo Comics
Comics from Sina Sparrow, Darren Cullen/Spelling Mistakes Cost Lives and Takayo Akiyama
And finally distro collective The Treasure Fleet and Will Sweeney will also be at Protein on August 22nd
For regular updates on all things small press follow Andy Oliver on Twitter here.