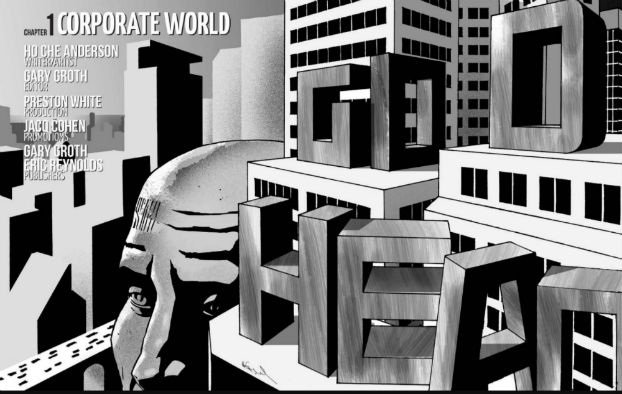 The crime noir opener to Ho Che Anderson's latest output via Fantagraphics reveals a man blindfolded and held at gunpoint. Painted contours depict a masked kidnapper, his motivations as shadowy as his identity, as he taunts his captive with riddles about disparities of wealth and social justice. This veil of mystery overhangs the sci-fi thriller to unfold, leaving the reader disoriented and discomfited as the kidnapped CEO – addressed throughout only as 'Sir' – at the story's centre.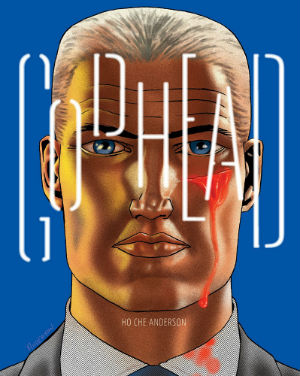 Soon the atmospheric brush tones make way for clean ink lines in the cold light of the boardroom. The backstreets and basements of Miller's Sin City stand in contrast to the Plex of Chaykin's American Flagg, or the futuristic prison of DeConnick's Bitch Planet, as analogue artwork blends with digital gradients. These are the split personalities of Godhead; the dimly lit, small-time criminal world of people grafting to make a living, versus the faceless mass destruction brought about by a callous corporate conspiracy.
As the panels flit between settings both physical and temporal, the reader begins to understand that 'Sir' is the CEO of a major multi-national corporation, working to build 'Oceanus'; a machine that will enable its users' direct contact with God. His company is poised to alter the fabric of reality forever, yet the CEO's personal knowledge of its motives and methods doesn't begin to scratch the surface, making him an ignorant figurehead to a questionable cause. As Birdey Brooks, the company's chief of security assigned to investigate his kidnapping, explains: "Information is parcelled out in fragments on a need-to-know basis. No one person is privy to the entire picture", and Godhead's narrative structure follows this ethos of elusion accordingly.
Meanwhile, the most human element of the story is offered via Randall Calhoun, A.K.A 'Racer'. A former construction worker on Oceanus, who has done a tour in the mysterious Medellin War and also a term behind bars, Racer finds himself at the centre of Brooks's investigation. The nuanced interplay between these three central characters, diverse in race, gender, and opportunity, is where Godhead offers the greatest potential. Anderson puts forth a number of parallels, particularly through Sir and Racer, to represent two sides of the capitalist coin. As circumstances set their stories on a collision course, we witness a rare interaction between the powered elite and those they employ to build their machines and fight their wars. Yet both figures are as much victims of a corrupt social system, in which the absence of God sees corporations attempting to privatise religion, and in turn positing themselves as false idols for a hopeful populace to believe in.
While the thematically and structurally ambitious saga strives to investigate the fallout when science and religion are forced to coalesce in the interest of capitalist greed, the paranoia and distrust that plagues Sir, Brooks and Calhoun is what stands out against the elaborate backdrop of human experimentation, off-world robot tactical squads, and malevolent clergymen. Anderson conceived of this project all the way back in 2002, and post-9/11 antiestablishmentarianism palpably colours the work. Yet the multifarious ideas and storylines competing for space amongst Godhead's 160 pages come at the cost of a coherent chronology and satisfactory character development.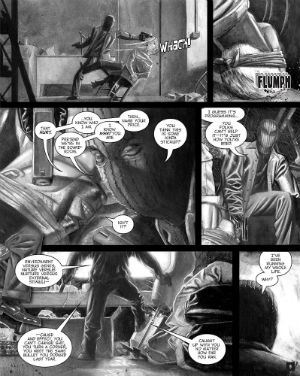 "Spread throughout the corporate world – certain key players [are] groomed, sometimes with their knowledge, sometimes without. Trump cards perhaps never to be played … or to be used sparingly, and with great care", describes a monk who makes a brief and unexplained appearance early on in the story. Much like the countless volunteers whose lives are sacrificed to the Oceanus experiment, Anderson operates his characters as emotionless ciphers performing various functions in support of a complex framework; a technique in keeping with the impersonal nature of his subject, however difficult for the reader to empathise or engage with.
As the artist's first foray into speculative fiction, and a considerable departure from his indie roots, Godhead sets out to be enormous in scale and potential. The concept is intriguing and the visuals impressively rendered, however the second volume of the story will be the true test of whether its characters are sufficiently equipped to bear the weight of Anderson's lofty ideas.
Ho Che Anderson (W/A) • Fantagraphics Books, $24.99