Mikaël Ross's The Thud takes its inspiration from the real life inclusive German village of Neuerkerode, a location largely populated and run by residents with learning disabilities. Ross spent two years visiting Neuerkerode and experiencing life there through the stories of its inhabitants. The result was the graphic novel The Thud, a book that has already been critically acclaimed in Europe and has now been translated into an English language edition, published by Fantagraphics.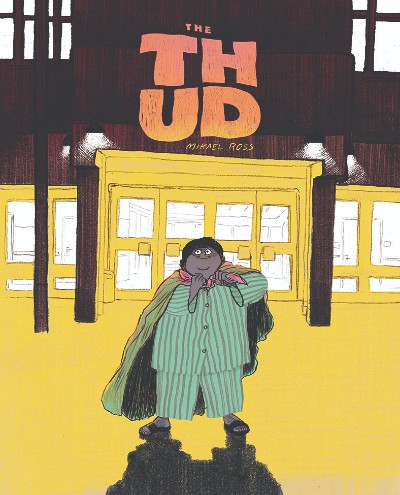 The Thud of the title describes the noise that forever changes the life of central character Noel – an ominous thump when he hears his mother (and carer) collapsing in their apartment after having a stroke. With his beloved "Mumsie" in a coma Noel is informed that he cannot return home to the flat they shared and instead must be moved to a care facility in a place he has never visited before. Here he meets a number of memorable characters including the number and dates-obsessed Valentin, besotted Alice who is prone to epileptic seizures, and Penelope who becomes the object of his affection.  But, away from the constant parental support he has relied on all his life, how will Noel cope with beginning again in this strange new community?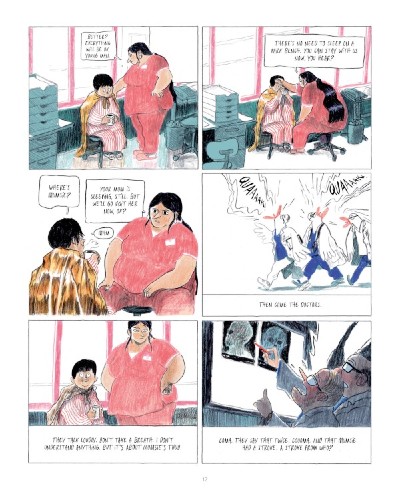 On a first consideration Ross's decision to step back from direct exposition about Neuerkerode and its ethos may seem a strange one. But it's allows us to experience Noel's confusion and his initial alienation from his own perspective as we discover the area and its inhabitants alongside him. It's an extension of one of the most efficient storytelling tools Ross employs throughout The Thud. On that one vitally important level he allows us to see the world as Noel sees it, via both the differing ways he interacts with it and his distinctive relationship with his environment. Smaller, nuanced moments like how he visualises things to remember them, or how he interprets events on his own terms (one memorable sequence where the doctors attending to his mother are depicted as a group of unintelligible ducks stands out), give valuable insights into Noel's thought processes.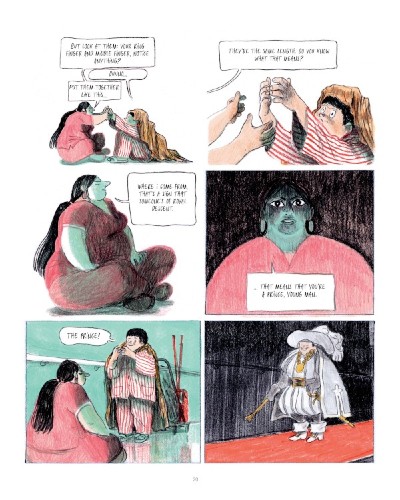 The book's structure takes the shape of a number of shorter stories that tend to focus on Noel's relationships with other residents of the facility in Neuerkerode. Valentin is a frequent fixture, both companion and occasional antagonist, while Noel's doomed pursuit of Penelope is mirrored by Alice's nervous attempts to catch his attention. Ross mixes poignancy with humour in a book that runs the emotional gamut, culminating in a heartrending finale where events come full circle. It's a beautifully realised denouement to Noel's story but also the beginning of something else.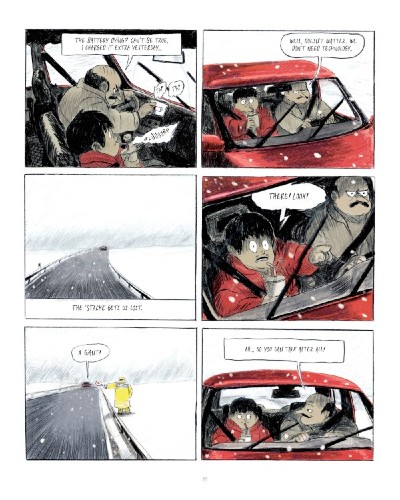 Ross's expressive cartooning is a delight throughout, particularly his characters' body language in their interactions with each other, and an often exaggerated line in visual characterisation in terms of the varied ways the cast respond to their world. Lettering is used to great effect here to reflect emotional states from frustration to fear to anger, with the characters' own adaptations of language underscoring how they interpret their surroundings on their own terms.
While The Thud is an uplifting if bittersweet story Ross does not ignore the darker periods in Neuerkerode's history with one central flashback recounting the fates of many of the town's residents under the Nazi regime. Ultimately, though, this is Noel's story and this empathetic account is a truly touching and very different coming-of-age story.
Mikaël Ross (W/A), Nika Knight (T) • Fantagraphics Books, $16.99
Review by Andy Oliver