Fantagraphics' anthology series Now (subtitled The New Comics Anthology) has gained deserved critical acclaim in its seven-issue life to date. Indeed it was nominated in both our 2017 and 2019 Broken Frontier Awards, and has had similar recognition in the Eisner Awards (you may have heard of them as well). Our own Tom Murphy memorably described this three-times-a-year event at Broken Frontier as "like a special comics art festival just for you and your cat, without the agonising small talk." No surprise, perhaps, that it originated from the direction of Fantagraphics' Eric Reynolds, the long-time editor of the much-loved 2000s Mome anthology.
Bringing together familiar names and new talent within its collections of short strips and stories, Now acts as both entry point for newer readers and celebratory showcase for those more familiar with the work of its contributors. Entries in #7 (with another striking cover, this time by Will Sweeney) run from single page strips to multi-page shorts and it hosts a truly international line-up of names. To summarise, then… Now is a constant reminder of the potential of the medium; of its unique narrative tools; of the way it can tell stories in ways that no other art form can; and of how there is still so much scope for experimenting with and redefining the boundaries of the page. All of which makes it a very Broken Frontier-friendly publication!
Cover by Nick Sweeney and story page from Tommi Parrish
The diversity of approaches in issue #7 is testament to that ethos. Theo Ellsworth's one-pager 'Yellow Slip' playfully manipulates ideas of movement, time and panel placement in one particularly notable three-image sequence in its story of a worker desperate to avoid being late to his place of employment. El Don Guillermo's 'The Cherry Season' has an initially apparent slice-of-life set-up. But its conversation between neighbours over the garden fence (during a couple's nude photo shoot) slowly evolves from awkward social interaction to something far more unsettling and paradoxical, as parallel narratives catch up and embrace each other. James Romberger (also nominated for a BF Award for For Real in 2019) uses a monochromatic sandy hue in 'Au Jour d'Hui' to brutally juxtapose the inconsequentiality of life with its joyousness in a tale of tragedy on the beach.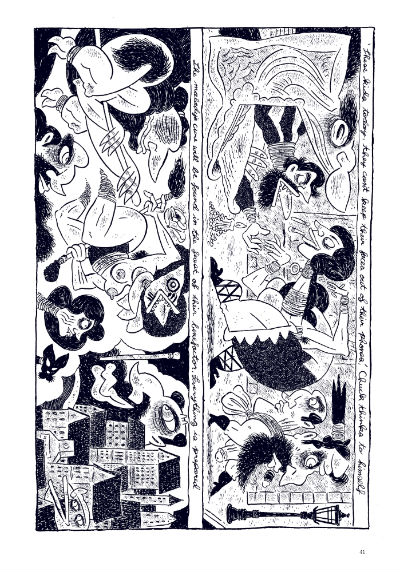 Craft is always as intriguing as narrative in Now and it seems just as important to highlight the manner in which it plays on the interpretive relationship between reader, creator and page in #7. Tommi Parrish's 'Sasha', for example, where we can fill in not simply the space between panels but also imagine wider character arcs that exist outside the events we are shown. Or Chris Wright's 'The Tonguebard Cycle' where deliberately unintuitive page layouts (above) are used to disconcert and disorient as much as the fantastically grotesque inhabitants that lurk within its panels do.
Similarly, Maria Medem's 'Exercise 08' (above) employs colour and unconventional panel structures to create an unlikely sensory overload, while Kurt Ankeny's 'Between December and March' touches on family secrets and memories by asking the reader to piece together differing viewpoints within its impressionistic reality. 'The Boy Who Wanted to Laugh', another Now offering from Keren Katz, again reminds us that panels are a construction we impose on the page and certainly not a necessary component of sequential art.
Every issue of Now acts not just as a gateway into the practice of the artists involved but as a powerful advocate for the storytelling potential of the language of comics. It remains the perfect package for anyone wanting to further explore the worlds of indie, alternative and experimental comics and a continuing statement of intent for the Fantagraphics philosophy.
Will Sweeney, Theo Ellsworth, Tommi Parrish, El Don Guillermo, James Romberger, Chris Wright, Kurt Ankeny, Maria Medem, Kate Lacour, Keren Katz, Nick Thorburn, Noah Van Sciver, Nathan Cowdry • Fantagraphics Books, $9.99
Review by Andy Oliver